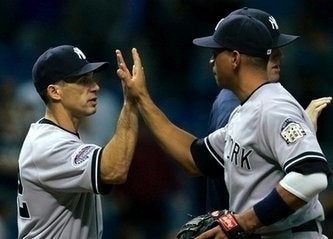 I doubt Cliff Floyd has heard of Bill James, or sabermetrics. I'm willing to stake my Huffington Post paycheck he has no idea what his VORP (value over replacement player) level is, how high his PECOTA (player and empirical comparison optimization test algorithm) stats are or how he contributes to his team's Pythagorean expectation.
Here's what I do know. Wherever Cliff Floyd goes, his teams win. Not only do they win, they turnaround. It's as if before Floyd got there not only weren't they winning but his teams appeared to have little idea how to win. Here's what I mean:
Florida Marlins
In 1996, the team was 80-82, finishing 3rd in the NL East. Floyd joins the team in 1997. They go 92-70 and win the World Series.
New York Mets
In 2001, the team was 75-86, finishing 5th in the NL East. Floyd joins the club in 2003. Three seasons later the Mets are one strike away from going to the World Series.
Chicago Cubs
In 2006, the team was 66-96, finishing last in the NL Central. Floyd joins the team in 2007 and they go 85-77, winning the NL Central.
Tampa Bay Rays
Since their inception in 1998, this franchise has only finished above last place in their division once. They have never won more than 70 games in a season, and reached that meager total but once. Floyd joins the team this season and they are leading AL East through the first third of the season. Their record has been at times the best in baseball.
(There is one statistical anomaly in Floyd's career. In 1993, the Montreal Expos finished 2nd in the NL East with a distinguished 94-68 record. They were already a "winning team" before Floyd's rookie season the following year, 1994. In that next season, however, before Major League Baseball closed up shop due to a work stoppage, the Expos with Floyd were in 1st place,34 games over .500. (74-30), enjoying the best winning percentage in franchise history. Coincidence?)
It's not like Floyd carries his teams. He's typically not the best player. It's something about his presence that does it.
Unfortunatley sabermetrics cannot nor can any kind of metrics measure the unmeasurable little things teammates do for each other to make each other better. You can't measure a conversation that instructs or motivates or takes pressure off. You can't quantify a well timed joke that eases tension in the clubhouse. Or a look that reassures. Or a skillful deflection of the media away from a player who can't handle it. Or a million other little things that go into the relationships that are bonded over the course of season together. These are the human qualities that elude objective statistical analysis. But they're crucial to creating a winning team. In order to win, especially to win a championship, it's not simply about being the best player but about making other teammates play better.
A brief but relevant digression (optional reading):
Whether it's Ping-Pong, bowling, or a game of UNO (and I've played them all with him), it's always better to be on John's team. John is the most competitive person I know. He's always thinking, always trying to find a way to win. He never lets up. He knows how to get at you--how to get in your head. And he does it with a big smile. John's younger cousin, Eric, became one of the best basketball players in our high school's history, but nobody gives him more trouble than John. Eric knows it.
I played basketball against John in junior high school. We didn't really meet then, but it was my first experience with him. We had a better team, but John was so intense. No matter what the score, this kid never stopped coming at us. A year later we went to the same high school together. We became the best of friends there.
My sophomore year I got called up to the varsity basketball team after playing seven games on junior varsity. That's what I wanted, but I was never more satisfied playing high school basketball than when I played those seven games on JV with John; him on the point and me on the wing. I wanted to win more because I was on his team and I knew how much we wanted to win. Maybe I was a better player than John, but playing with him made me play better.
(In 1985, the Villanova men's basketball team recorded one of, if not the greatest, upsets in NCAA Tournament history by playing near-perfect basketball to win the national championship, stunning Patrick Ewing's overwhelmingly favored Georgetown team. John attended Villanova that same year. Coincidence?)
I'm not anti-statistics. I don't think you can seriously understand the game without them. (Though guys like Billy Martin did a pretty good job managing on instinct. And, as Malcolm Gladwell would be quick to point out our instinct is the cumulative product of our experience. The more experience we have the more accurate our instinct is. A guy like Billy Martin carried around a vast accumulation of baseball experience so his managerial instincts calculated odds as good any statistical formula.) But regardless how many PhD's from MIT concoct new statistical formulae to analyze the game, sports is still played by the athletes on the field. They are fallible, unpredictable human beings capable of change - change that exceeds their past record of performance or the opposite. Their motivation to perform well must come from somewhere outside beyond statistical probability, beyond the paycheck, beyond the ingrained goal of winning.
There's a compelling moment in Mark Bowden's Black Hawk Down where Bowden interviews members of the participating Delta Force. These men were expert human fighting machines who had chosen to make frontline combat their life. The reason these men continue to take yet another tour of duty or another mission - the reason they risk their lives again and again -- isn't political, financial or because they're ordered to do so. The reason they do it is for "the guy next to you."
"They were waiting on Cliff Floyd ... and that really stood out for me -- what they think of him," Maddon said. "Cliff from the very first day I met him, among the position players, he had that influence."
Somebody ought to measure that.

Popular in the Community