Seattle's Kerry Park is half way down the south slope of the Queen Anne neighborhood. Overlooking a playground and nestled between charming hillside homes, the space has just a few park benches and a statue called "Changing Form." It is a small park, yet boasts a majestic view.
Several years ago, my husband and I happened to be driving by while the sun was setting. It looked so beautiful that we made a quick decision to pull over and take a look. We could see the city, the mountains and surrounding waters. In a town that has more overcast days than not, we were granted a rare evening with a view that was both stunning and crystal clear.
At that time, our future was far from crystal clear and we were in the midst of our own metamorphosis and changing form. Halfway down the slope, or halfway up the hill? We were existing in some sort of halfway space ourselves. Breathing enough to be alive, but yet not fully engaged in life. We were playing the part of happy tourists, but beyond the role, we were so very far from happy. Our souls had been crushed and our hearts broken.
Just four months earlier, without expectation or explanation, our daughter had been born still 38 1/2 weeks into what had been a perfectly normal pregnancy. On this June evening, I was still in the throws of a physical and emotional transformation.
Physically, my body had the markings of a woman who had just gone through a pregnancy and delivery. These postpartum symptoms were both a cruel joke and treasured testament. My skin was newly adorned with stretch marks, my stomach squishy, my thighs full and my hair thinning. But without our baby in my arms, my body bore the only physical proof of our daughter's existence. I believed that my body had done what nature intended it to do, and labored, pushed and delivered a tragically unnatural result: a silent and still baby.
The death of a child is a significant loss, but it is especially brutal when it is done at the same time you are preparing to meet your child. So emotionally, we were barely staying afloat and washed up in a wave of grief. The simple act of taking a shower in the morning required a great deal of energy and could deplete us for the day. We had lost our footing and now couldn't find the appropriate lens from which to view a world that was forever changed.

In an attempt to escape the pain and darkness that surrounded us in our hometown of Chicago, my husband and I decided to take a trip. Just the planning of this getaway might give us something to look forward to and provide us with an alternative point of focus. We needed a total change of scenery, to run as far away as we could from the flat surroundings of the Midwest and remove ourselves from every single person other than each other. As the parents of our baby, we were the only ones who shared the depths of love for our child and could come close to understanding the grief of the other.
So we got on a plane, indulged in some in-flight cocktails and landed in San Francisco. From there, we drove up the West Coast to Seattle through Eureka, California and Bandon, Oregon. For days, we weaved and climbed our way up Highway 101. Along cliffs and through forests, beaches and towns, we steadily progressed. At one point the GPS even lost track of us and placed us not on land, but smack dab in the middle of the Pacific Ocean. Somehow, seeing the image of us as a tiny dot, slowing advancing forward, yet in the middle of a giant blue graphic, felt freeing in a strange sort of way.
In the Northwest corner of the United States, Seattle felt like the farthest point that we could run away from a haunting darkness. But sitting on the park bench in Kerry Park, it became clear that this wasn't something we could run away from. While I had done my loud, angry, sobbing cries over the previous months back in Chicago, sitting in Seattle on that night, a slow and steady stream of tears quietly made their way down my cheek. The tears were turned on by a sound of summer. In the park on a lovely evening, these sounds were all around us, yet it was one sound in particular which seemed to drown out all others. This was the sound of delighted children laughing and giggling as they played on the playground. This was the sound of happiness.
Until that moment, happiness was foreign to me. It was a long lost emotion that I hadn't felt in months. But as the sounds of the delighted children pierced straight to my heart reminding me of what I had lost, I was able to process something else. It was fleeting, but present. Even if I wasn't yet able to feel it, I was able to recognize it and a shift began to happen. Happiness was present in the sound of the playing children. I wanted happiness.
With this recognition I could now resolve to move forward and allow myself to take the journey back towards happiness. Hundreds of miles from where we had said goodbye to our baby girl, I could allow myself to say goodbye to the dream of our baby girl. I knew I would carry her with me always, but now I could move forward. We had been stuck halfway down the slope, but could now start our climb up the hill. In that June evening, overlooking the Space Needle, the Olympic Peninsula and Elliot Bay, we watched the sun set, and instead of darkness falling, felt it begin to lighten. We decided that we would return to Chicago, and make the most courageous decision of our lives, and attempt to have more children.
Last week, nearly eight years later, my husband and I returned to that park bench. The "Changing Form" statue remained, the view was still majestic. Once again we were playing the part of happy tourists from Chicago. But this time our hearts were truly and sincerely full of happiness because on that park bench sat the three lights of our lives, our three living children. They were bickering and laughing, shoving and hugging as they provided the sounds of summer. As I saw them sitting there, I looked out over the landscape and I knew that my view was indeed, crystal clear.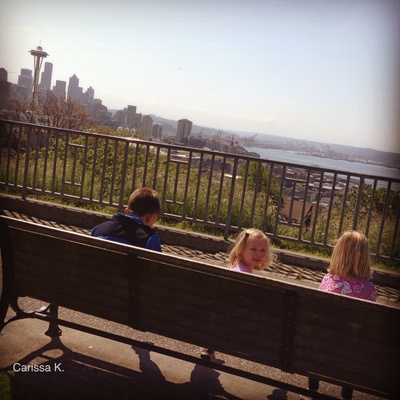 It was Mother's Day weekend and I needed to be in that space, with those people. They are my family, they are my heart and they are my soul. Because even before they were born, the promise of their existence provided me with the courage to move forward out of the darkness and back toward happiness.
Bravery was necessary during last week's trip because I was attending my first book signing and reading of a piece I wrote about our stillborn daughter and her role in our family called, "Our Family Love Story". The story is included in a book, Three Minus One, and associated with the film Return to Zero. Starring Minnie Driver and Paul Adelstein, Return To Zero is based on the true story of a successful couple who is getting ready for the arrival of their first child when the baby dies just weeks before the due date. The film premiers on Lifetime this Saturday, May 17th, at 8 p.m./7 p.m. Central.
The book and the film surround a difficult topic. Because the topic of stillbirth is so heartbreaking, it can lead to a silent suffering for those going through it. Director Sean Hanish and publisher Brooke Warner are hoping to break the silence of stillbirth, giving a voice to the parents who are grieving the loss of their children so that others can know they are not alone when this happens to them.
Breaking the silence last week in Seattle, myself and six other authors read our pieces in the book at the Pacific Northwest Writers Association. We had not met before, but were instantly connected by a bond of motherhood and united because of a love of our children. In a powerfully moving afternoon we shared our stories remembering our children: Bennett, Dash, Frankie, Max, Isaiah, Annabelle and Trinity. Through our stories, we were able to provide healing to one another and to others who attended the event, some who had suffered the death of a baby very recently and some many years ago. Because we were generous with our hearts and brave with our emotions, we know that the lives of our children have meaning and because of them, we have purpose.
I hope you will be brave enough to view the film this weekend, attend a reading if one is in your area and help others who might be going through the silent suffering of stillbirth.
Return to Zero airs on Lifetime on Saturday, May 17th at 8 p.m./7 p.m. Central.
Three Minus One authors will be reading at the following venues and dates:
Lake Forest Park, WA: Third Place Books, May 22, 7:00 PM
Goshen, IN: Better World Books, June 7, 4:00 PM
Oakland, CA: A Great Good Place for Books, June 9, 7:00 PM
Seattle, WA: Elliot Bay Books, June 15, 3:00 PM