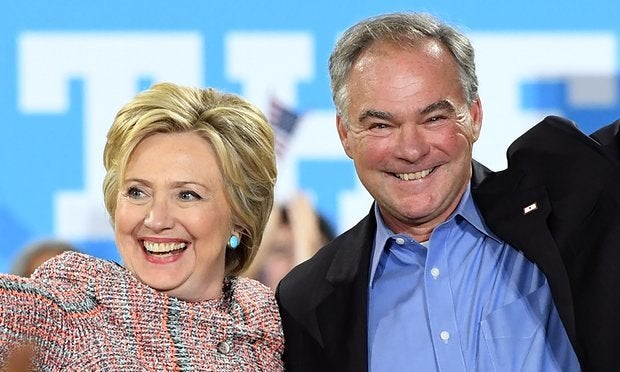 On Tuesday, vice presidential candidates Senator Tim Kaine and Governor Mike Pence engaged in the first and only vice presidential debate of 2016. The media verdict on this debate was clear: Gov. Pence, stumping for GOP presidential candidate Donald Trump, had defeated Sen. Kaine, who was speaking in support of his Democratic presidential running mate Hillary Clinton. Media accounts faulted the Senator in part over his "harsh tone and demeanor" during the debate. But Kaine also revealed a more substantive weakness that could continue to dog the Clinton campaign: Syria.
The conflict in Syria has left nearly 500,000 civilians dead and triggered a global refugee crisis. President Obama is now reevaluating his Syria policy, after a recent ceasefire attempt failed due to a massive Russian bombing campaign against civilians in the city of Aleppo. While Obama has sought to limit the U.S. military role in Syria, a recent Politico/Morning Consult poll found that Americans favor sending ground troops to fight ISIS in Syria by a 55%-36% margin. Overall, then, the American public is uneasy with President Obama's light-footprint approach to Syria.
During the debate, Pence quickly exploited this unease by attempting to tie Clinton -- the Secretary of State during Obama's first term -- to current Syria policy: "the situation we're watching hour by hour in Syria today is the result of...the weak foreign policy that Hillary Clinton helped lead in this administration." Later on, when the candidates were asked about Aleppo, Kaine only touched on "humanitarian zones" before pivoting to other topics, while Pence gave a more detailed answer. Kaine similarly omitted Syria from his response to a question on global terrorism, even though Syria is home to the ISIS capital.
There are probably two reasons for Kaine's newfound shyness on Syria. First, the Obama Administration is in the midst of a Syria policy review, and Kaine likely wishes to avoid comments that could have unnecessarily put his running mate at odds with the White House later. Second, Clinton herself has not discussed Syria policy in depth for some time. If Kaine had presented his full views, he would have risked getting ahead of Clinton on Syria during a particularly sensitive diplomatic period.
But as Pence's foreign policy attacks showed, long-term silence on Syria also has concrete political costs for the Clinton campaign -- and these costs could escalate sharply based on events outside the campaign's control. What if ISIS carries out a successful "October surprise" attack on U.S. soil? What if Aleppo succumbs to the regime's ongoing assault and churns out hundreds of thousands of refugees who break for Europe's shores? What if Putin, emboldened by having already bombed a UN aid convoy, decides to escalate threatening maneuvers against American special forces deployed in Syria?
These grim scenarios are all plausible extensions of events that have occurred in the past. Hundreds of Europeans have already been killed due to ISIS terror attacks; the opposition-held pocket of Aleppo is steadily shrinking, and if it collapses, 350,000 civilians will have nowhere to go; and Russian forces have already bombed a training base near Jordan used by American and British troops. Any one of these scenarios would make Americans more receptive to Pence's critique that "the situation we're watching hour by hour in Syria" stems from "the weak foreign policy that Hillary Clinton helped lead."
Given the unpredictable and deteriorating situation in Syria, and given that President Obama is conducting a Syria policy review anyway, Clinton and her campaign now have no good excuse for avoiding Syria policy issues. How would a President Clinton respond to a Russian air blitz on civilians like the one now occurring in Aleppo? Does Clinton still favor arms to moderate rebels as a way to check the growth of extremists? Clinton should begin answering these and other questions, starting at the next presidential debate this Sunday.
Popular in the Community