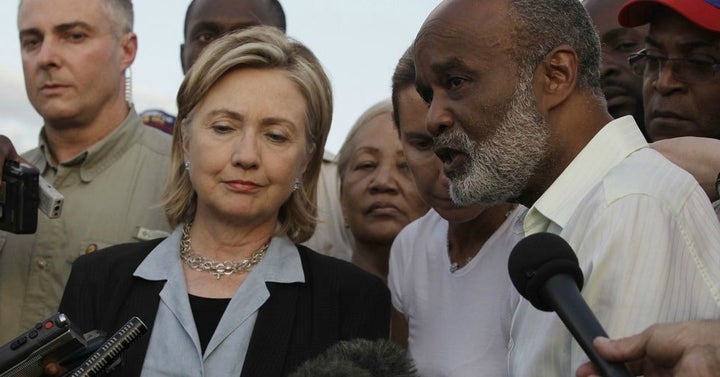 The Miami Herald has a video of Haitian activists protesting the Democratic National Convention, primarily because of the "Clinton Foundation's spending in Haiti after the 2010 earthquake." According to The Nation in a piece titled The Shelters That Clinton Built, the Clinton Foundation provided Haiti with trailers "structurally unsafe and laced with formaldehyde" that "came from the same company being sued for sickening Hurricane Katrina victims." Pertaining to the Clinton Foundation's legacy in Haiti, The New York Times writes "the Clintons have become prime targets of blame for the country's woes."
As a result of the Clinton Foundation's controversial involvement with Haiti, The Huffington Post reports that Florida's Haitian-American community might have a profound impact on Election Day. Ryan Grim explains the influence of Florida's Haitian-American community in a piece titled With All Eyes On Haiti, Its Diaspora In Florida Could Swing A Close Election. With a sudden shift in U.S. immigration policy dividing Haitian families, alongside the Clinton Foundation's role in Haiti, Florida's Haitian community's discontent might impact other ethnic groups on Election Day.
It's this backdrop that motivated me to interview Harvard-trained investor and financial analyst Charles Ortel. Dady Chery, Co-Editor in Chief of News Junkie Post refers to Ortel as "one of the world's finest financial analysts" and Mr. Ortel has spent over one year investigating the financial peculiarities of the Clinton Foundation. He's also researched extensively on the Foundation's involvement with Haiti and other countries around the globe.
During our interview, Charles Ortel provided a glimpse into various murky financials linked to the Clinton Foundation's legacy in Haiti. For the record, the interview below does not reflect the views of The Huffington Post and is purely the result of my interaction with Charles Ortel:
Goodman: What is the Clinton Foundation controversy in Haiti about?
Ortel: The simple answer is that billions of dollars in "aid" supposedly were raised to help the desperately poor people of Haiti, yet Bill Clinton and the Clinton Foundation refuse to account, in granular and verified fashion, for any of this aid. If Haiti (before the latest storm) had obviously been better off, perhaps this controversy would not now be swirling with hurricane force winds. But accounts from multiple parties suggest that Haiti has little to show in the parts of the nation that were devastated in January 2010.
So Haitians are more than upset over what happened to their missing aid.
Goodman: What role did the Clinton Foundation have in bringing multinational companies into Haiti?
Ortel: The simple answer is that no one really knows precisely because auditors have never checked any part of the Clinton Foundation properly since it was formed on 23 October 1997. Crucial documents concerning the period when Bill was Special UN Envoy forward are omitted from the Clinton Foundation website but available on State Regulatory websites, including here: https://www.charitiesnys.com/RegistrySearch/search_charities.jsp
Much of the multinational work seems to have been done through the Clinton Global Initiative. When you punch in "Haiti" to this searchable database of CGI "Commitments to Action", you may find numerous examples worth studying carefully to see whether anything concrete and positive ever happened.
Goodman: What were some major problems with the Clinton Foundation's efforts in Haiti?
Ortel: The Clinton Foundation began operating in Haiti around 2003 and 2004 and many have written about their activities. One excellent resource is the author and journalist Dady Chery. The first issue with Clinton Foundation efforts is that the main Foundation was NEVER validly authorized by the IRS to do anything outside the US, to provide international disaster relief, or to "fight HIV/AIDS" internationally. Though required by state, federal, and foreign laws to make truthful, granular disclosures concerning its key initiatives, the Clinton Foundation (meaning all of its related entities) has never done so.
Goodman: After the earthquake, did the Haitian government ask the Clinton Foundation for assistance?
Ortel: Prior to the Earthquake, Bill Clinton had been appointed UN Special Envoy to Haiti early in 2009. But they also did something quite curious in Florida related to Haiti―they set up an entity called William J. Clinton Foundation Corporation. Ordinarily, the Foundation might simply have registered its AR parent as licensed to do charity work inside FL, but instead Cheryl Mills et al seem to have established a brand new domestic FL entity with a similar sounding name as the main entity. This practice is frowned upon, and deemed by many to be a warning sign for charity fraud.
Goodman: How did the Clinton Foundation benefit from the disaster in Haiti?
Ortel: In the beginning, the Foundation received lots of positive publicity. This disaster created an opportunity for the Clinton Foundation and its allies to raise substantial funds, especially over the internet. With lax to non-existent financial controls and no real audits, the possibility to divert funds from incoming streams of donations presented itself.
Goodman: How much money did the Clinton Foundation raise for Haiti and how much of that money went to the Haitian people?
Ortel: The books of the Clinton Foundation and of Clinton-Bush Haiti Fund suggest that around $100 million or so may have been raised―but the truth is that no one really knows. One major warning sign is that the Clinton Fondation 990 for 2010 (and the amended return for 2010 filed in November 2015) show the largest single expenditure as being a $37 million grant to the CBHF―the trouble is that both declarations list a PO Box address in Baltimore, MD as that of the CBHF, whereas other declarations made under penalties of perjury state that the CBHF had one office only and that was in Washington, DC.
Another problem is that the CBHF claims in its 990s to the IRS that it had no foreign bank accounts― How did they manage millions of dollars inside Haiti? All told, high end estimates of how much money may have been sent towards Haiti exceed $10 billion and this amount is about equal to the total incomes earned by all Haitians during 2010, so it is a mammoth sum, considered in the context of Haiti.

Most of these funds were raised, not through the Clinton Foundation and CBHF, which are estimated to have raised $0.130 billion altogether, but through Clinton's Interim Haiti Recovery Commission (IHRC), which,

according to Dady Chery

, ran Haiti during a declared state of emergency from April 2010 to October 2011.
Very little, trifling amounts, seem to have actually helped. So where did all these missing billions go?
Goodman: Are there other examples similar to Haiti, where the Clinton Foundation utilized a tragedy in a similar manner?
Ortel: The Clintons seem to be "merchants around misery", operating as a kind of "Robin Hood in Reverse"―-there are many disasters that they seem to have exploited. In brief, the Clinton Foundation solicited massive sums to "fight HIV/AIDS" but did not check carefully enough to ensure that these drugs were supplied in intact form, and neither adulterated nor watered-down.
A key supplier, Ranbaxy, subsequently paid a $500 million economic penalty and plead guilty to numerous felonies―we may never know how many of the HIV/AIDS drugs that the Clinton Foundation claims credit for having distributed from July 2002 forward internationally may have been "dirty" and dangerous. Around the world, the Clinton Foundation seems to seek out desperate nations with limited infrastructure, or disasters, and then insert itself in front of incoming aid flows. They did this in Mozambique, in Papua New Guinea, in Haiti, and with Katrina in New Orleans, and in many other places.
Goodman: In terms of the money and the issue of the Clinton Foundation being a charity, are there any red flags in terms of the financial aspect of the controversy?
Ortel: Absolutely―-Americans and others in wealthy nations are generous. There is no global regulator for charities that operate internationally, while State regulators typically are stretched thin cover the estimated 1.2 million or more tax-exempt organizations that exist inside the U.S. alone. The easiest "red flag" to see is that there are no compliant audits of the financial statements of any Clinton Foundation entity from 23 October 1997 forward.
There is no information provided concerning the international HIV/AIDS fighting activities from July 2002 through 23 March 2004. The application to authorize Clinton Foundation HIV/AIDS Initiative, Inc. (the entity was formed 24 March 2004 in Little Rock, AR) is omitted from the Clinton Foundation website, as in any determination letter that may have been issued (if one was issued) by the IRS.
The Annual Reports for this entity on IRS Form 990 for 2004 and 2005 are omitted from the website―-I have these and they show that the entity and the Clinton Foundation failed, numerous ways, to register appropriately and to solicit in many legal jurisdictions. Financial information for 2000 through 2004 concerning the Clinton Foundation is omitted from the website, but available online―-this information shows that accounting during this key period, when the Clinton Foundation complex was being built was performed using accounting principles that are not allowed inside the U.S.
The final area that raises red flags arises when you check disclosures made by key donors to the Clinton Foundation (UNITAID (the largest cumulative donor at $650 million, and a collection of governments/Gates), other governments and Gates Foundation, Children's Investment Fund Foundation (UK), and others)―amounts these donors believe they gave are much larger than amounts Clinton Foundation entities appear to claim they received.
Goodman: How much money in aggregate did the country of Haiti receive and how much money did the citizens of Haiti receive?
Ortel: The math is staggering―-if we count all estimated donations $10,000,000,000 or more as the base, and use $100 million as the approximate amount declared, we arrive at 1%.
But then look here at how much benefit one donor, involved in Haiti, may have derived from the World Bank, potentially through intercession of the Clinton network, spread throughout many government and multi-lateral organizations:
When you click on each link and then add up the totals you will be amazed.
In terms of a financial critique of the Clinton Foundation, few have addressed the numbers behind its involvement in Haiti like Charles Ortel.
Florida will decide the election. If Florida's Haitian-American community doesn't side with Hillary Clinton, there's a very real chance Donald Trump can win the presidency. To prevent this potential outcome, it's imperative that Hillary Clinton address the issues important to Haitians and Haitian-Americans; specifically pertaining to the Clinton Foundation. Considering that Haiti is currently dealing with Hurricane Matthew, all Hillary Clinton must do is answer one simple question: Where did all the money go?
Related
Popular in the Community