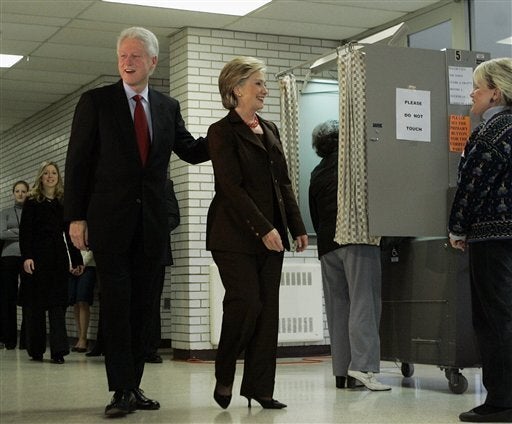 Hillary Clinton's ability to loan her presidential campaign $5 million demonstrates how extraordinarily lucrative the post-White House years have been for the former First Lady and her husband.
While Clinton campaign aides are quick to point out that Mrs. Clinton could easily cover the loan from the $9.2 million she made in royalties from her bestselling book Living History, she made the loan by writing a check on a joint banking account she and her husband maintain, according to her staff. Living History contributed less than a fifth of the money that the Clintons have earned over the seven years between 2001 and 2006, as documented in Mrs. Clinton's United States Senate and presidential financial disclosure reports -- a sum in excess of $45 million, not including the couple's earnings in 2007 or 2008.
The Clintons have become a case study in the interrelationship of money and politics, a relationship steadily strengthening in scope and magnitude.
A look at Hillary Clinton's financial disclosure reports over the last six years reveals the benefits available to those who hold high public office. Bill Clinton, for example, has become a political ATM, pumping as much as or more than $10 million a year into their joint account.
Some of the cash flow is fully documented in the disclosure reports, including payments of $150,000 to $400,000 for each of the 30 or so speeches Bill Clinton gives annually, for a six-year total of $39.1 million. In 2006 alone, Bill Clinton gave 57 paid speeches for a total of $10.15 million in a wide range of cities - including New York, Chicago, Cleveland, Las Vegas and Denver - and in several countries, among them Denmark, England, Germany, Ireland, Finland, New Zealand and Australia.
Other of the Clinton's income sources are far more difficult to ascertain -- for instance, the flow of cash from billionaire investor Ron Burkle and his Yucaipa companies.
In each of Senator Clinton's past four disclosure statements - 2003-2006 -- there is a line item that reveals only that Bill Clinton received "guaranteed payments to partner" of "over $1,000" from Burkle's Yucaipa.
The disclosure forms do not explain what the guarantee is, and they leave to the imagination how much over $1,000 the annual amounts are. President Clinton, according to news accounts, has helped Burkle in his business dealings.
In her financial disclosure statements, Hillary Clinton lists two seemingly modest investments in Burkle companies, under the category of "Non-Publicly Traded Assets and Unearned Income Sources." One investment in Yucaipa Global Holding is described as worth less than $1,000, while producing interest income of $200 to $1,000 annually. The other, in the Yucaipa Global Partnership Fund, is also listed as being worth less than $1,000, while producing interest payments of $1,000 to $2,500 a year.
Except for honoraria, which must be described in detail, federal disclosure requirements are much more stringent for the elected official than for his or her spouse. The forms declare: "For your spouse, report the source (name and address) and the type of earned income which aggregate $1,000 or more during the reporting period. No amount needs to be specified for your spouse."
Bill Clinton's financial ties to the Yucaipa Companies were first made public on April 11, 2002, when the firm issued a press release announcing that Clinton "will provide counsel to Yucaipa and its investment funds including the Yucaipa American Fund (YAF) and the Yucaipa Corporate Initiative Fund (YCIF). Mr. Clinton will participate in events related to the funds and provide advice in the development of potential investments....Ron Burkle, managing partner of The Yucaipa Companies, said, 'We are proud that President Clinton will serve as a Senior Advisor to our firm.'"
In April 2008, the New York Times reported that
"After leaving the White House in 2001, former President Bill Clinton was inundated with business and job offers, from investment-bank partnerships to seats on corporate boards. He turned them all down, with one exception: He agreed to be an adviser to a family of funds run by the Yucaipa Companies, a California private equity firm controlled by one of his best friends, the billionaire Ronald W. Burkle."
Neither the campaign nor aides to Bill Clinton would provide specific information as to how Bill Clinton is compensated for services he provides to Burkle. Frank Quintero, a Yucaipa spokesman, referred questions to the Clinton campaign.
"The Senator reports all disclosable financial information," Howard Wolfson, Hillary Clinton's communications director, responded in an emailed reply to a series of questions from The Huffington Post.
Matt McKenna, Bill Clinton's press secretary, wrote: "My understanding is Howard answered your Qs. Hope you got everything you needed. Please direct follow-ups on this issue to him."
The former president is said to be currently negotiating an end to his financial relationship with Burkle, in order to avoid conflicts of interest if his wife should become president. The settlement will result in the payment of a substantial sum - the Wall Street Journal reported on January 22 that the figure will be in the $20 million range - but aides to both Bill and Hillary Clinton are unwilling to shed any light on this matter.
Wolfson, referring to the WSJ story, said, "Contrary to published reports, neither the level of President Clinton's compensation for his advisory role, nor the value of his partnership share in the Yucaipa global fund upon his exit, has been determined."
In December, Douglas J. Band, a spokesman for Bill Clinton, told The Huffington Post that the former president "anticipates continuing his business relationships as long as they permit him to devote time to his highest priorities - the work of his foundation and supporting his wife's candidacy. He of course is taking steps now to ensure that should she receive the nomination, there will be an appropriate transition for those relationships."
There are a number of reasons the Yucaipa ties could prove embarrassing to the Clintons.
Bloomberg News on December 17 reported that three of the Yucaipa funds are registered in the Cayman Islands. Senator Clinton, in 2004, declared that she intended to close tax loopholes for "people who create a mailbox, or a drop, or send one person to sit on the beach in some island paradise and claim that it is their offshore headquarters."
Along similar lines, the WSJ's January 22 story pointed out that Clinton has an interest in Yucaipa Global Partnership Fund, making him a partner with the Dubai Investment Group, "an entity connected to the ruler of Dubai, Sheikh Mohammed bin Rashid al-Maktoum." Senator Clinton, according to the WSJ, had separately raised questions about investment funds controlled by foreign governments, because the funds "could be used by foreign governments as 'instruments of foreign policy."
On a much broader scale, Bill Clinton's involvement with the Yucaipa funds raises a basic ethical question for Hillary Clinton, both in connection with her presidential bid and in connection with her service in the U.S. Senate: The purpose in hiring Bill Clinton is to use the connections he had made as President to gain access and to make lucrative deals -- a commonplace but controversial practice regarding former officeholders, a practice with little or no public support - and the money made from these activities in the Clintons' case becomes part of Bill and Hillary's jointly held assets, according to Senator Clinton's communications director.
In other words, money from Yucaipa and the interests it deals with - running the gamut from public employee pension funds to supermarket chains to the Dubai Investment Group - is directly benefiting Hillary Clinton, an incumbent politician charged with voting on issues crucially important to the profits of Yucaipa, its clients, partners and investors.
Calling all HuffPost superfans!
Sign up for membership to become a founding member and help shape HuffPost's next chapter