Bill and Hillary are going to be my neighbors in Amagansett this summer. They arrive tomorrow.
But, they are definitely laying low this August, compared to their fancier digs of years past.
So, this year, the power couple has passed up the posh estates of Lilly Pond Lane and the glitter of East Hampton or Southampton for the badlands of Amagansett -- north of the railroad tracks.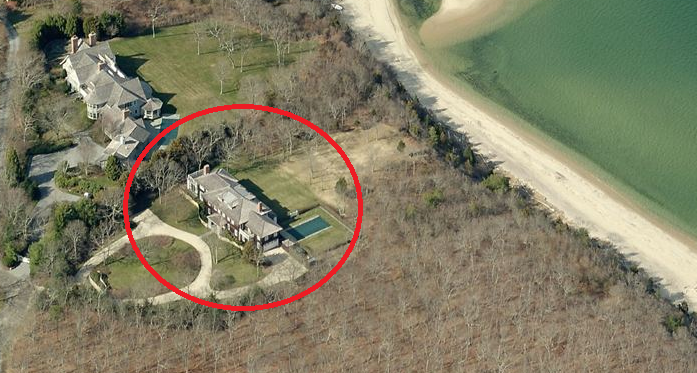 Photo: Screenshot from Bing Maps
Hillary, of course, has been stung by recent charges of insensitivity, since she made the claim that she and Bill were "broke" after they left the White House. Oops.
Since then, the Clintons have made more than $100 million in speaking and book fees, according to The New York Times.
This August, the Clintons will be in a "modest" $18 million home at 44 Broadview Road, on top of a bluff, 200 feet up, overlooking Gardiners Bay and Gardiners Island in what's known as the Bell Estate.
Gardiners Island is perhaps the most expensive piece of private real estate on the planet. If it ever came on the market (which it never will), it could be priced at more than $3 billion for just 3,318 acres.
The owners of the home the Clintons are renting, like many other chic Hamptons veterans, are getting out of town for August and decamping to Tuscany for the month to escape the usual summer frenzy.
So, this summer the Clintons are "slumming it" with the 99 percent of Hamptonites. No $100 million --- one-percenter --- ocean-front cottages for now. We have a presidential campaign coming up.
Not that their neighbors will be all that shabby. The Clintons will be next door to movie mogul Harvey Weinstein and will get to mingle with a number of his actresses lounging by the pool. They may even be able line up some monied Hollywood connections for a presidential run.
And about a mile away, Alec Baldwin owns a home, and Steven Spielberg has an ocean-front $25 million place. Spielberg gave $400,000 to the Democratic National Committee during Clinton's presidency, earning him an overnight stay at the White House.
Gwyneth Paltrow (another neighbor, and Weinstein protegee) and Bill Clinton threw a fundraiser for the for the Reuben Foundation in London in 2012, and this Saturday the Clintons will attend a fundraiser for the Clinton foundation in Water Mill, where tickets start at $5,000 and top out at $50,000 at the home of Joan and George Hornig.
This time their rental -- with 7 bedrooms and 7.5 bathrooms -- would sell for a lowly $18-or-so-million.
It's north of the highway and the railroad tracks -- the cheap side of town -- which means it's on the bay instead of the ocean.
This weekend, they will be watching me race my small sunfish across the bay and might get a glimpse of Paul McCartney on his sunfish with the multi-colored sail. McCartney is usually quite friendly and urges us on, but has declined my numerous invitations to join the racing. Although, he did stop at my son Jason's lemonade stand one time some years ago.
McCartney lives in two converted barns in the secluded woods down the street from us, sufficiently buffered so that none of his neighbors can complain about the music. They say that he was enticed to leave the Lilly Pond Lane area, where his former wife's family summered, because the neighbors complained about the noise.
Hillary will be at Bookhampton on August 16 promoting her book Hard Choices, but word has it that they will maintain a laid-back schedule of reading, listening to music at Stephen Talkhouse, and walking their dogs on the beach. They can also join Paul McCartney, Calvin Klein, and Ralph Lauren at the local gym, Body Tech.
I have met Bill twice in Amagansett. He played golf on the so-called modest South Fork Country Club that borders my house. The course, a "locals" club, has a paltry $85,000 initiation fee. Most of the other golf clubs have initiation fees upwards of $500,000.
In the past few years, most of the exclusive private golf clubs like The Maidstone and Shinnecock Hills have indicated it would be too disruptive to their conservative members to close their links down on a weekend -- especially for a Democrat.
Luckily, Clinton did not slice any golf balls on my lawn, or my scary, Belgian Shepherd Tervuren, Parker, would have run him off. He's as protective of his turf as The Maidstone Club members are of theirs.
But, after playing 18 holes in the hot sun, Clinton hung around for about 45 minutes to talk to the neighbors and kiss the babies. He was awfully red, and my wife, Jane, asked him if he was sure he had put on enough sunscreen. He sheepishly said he had. But, he was so flushed that we weren't sure he was telling the whole truth.
Another time, he went to a fundraiser at a friend of mine's house, where we had our pictures taken. He spoke for about an hour, and he was awesome. He had a complete mastery of details about everything, and yet presented them in a simple, logical, Southern way that everybody could connect with. The guy was positively amazing.
Welcome to the neighborhood.