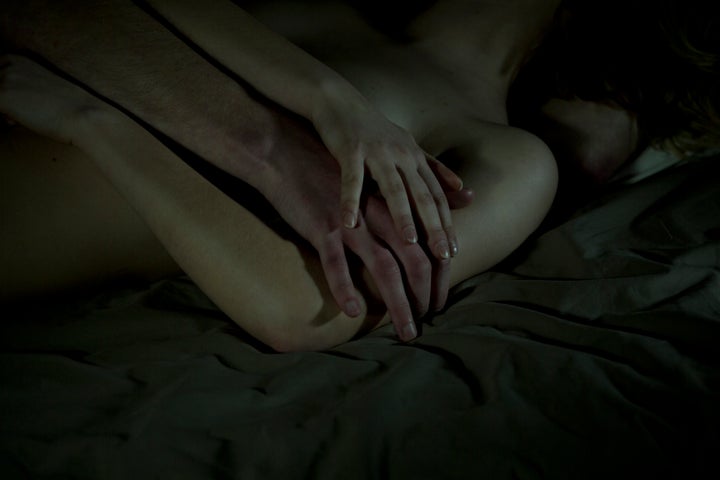 You don't need to consult the host of available statistics about sexual violence to know that the crime is a commanding force, one that can stun and stunt its victims, one that can take effort to push past.
In 2014, aware of discussion's healing powers, London nurse Pavan Amara founded My Body Back, an organization devoted to providing health care services to rape victims. In addition to cervical exams and STI screenings, these services meet mental health needs; the organization hosts a quarterly meet-up called Café V, which aims to help women love their bodies after violence. Sessions have explored new ways of achieving orgasm, experimenting with BDSM, fantasies and flashback triggers.
Women were saying they wanted to be visually turned on, but they felt they couldn't watch porn because they found it was violent in nature and reminded them of when they [were] attacked.

The Clit List Manager, Ella Eora
Over the course of several sessions, those involved with My Body Back noticed a trend in how attendees preferred to reintroduce themselves to sex. Although the narrative about female pleasure -- informed in part by psychological research, in part by overblown mythologies -- would have you believe that women would prefer to experience sex as a couple, many women at Café V preferred to masturbate as a means of reintroduction to pleasure. 
"A lot of the women attending Café V said they didn't necessarily want a partner and would be happier masturbating to figure out what they liked sexually after being raped, as they didn't need the complication of another person's sexual needs," said Ella Eora, manager of the organization's new arm, The Clit List. "Women were saying they wanted to be visually turned on, but they felt they couldn't watch porn because they found it was violent in nature and reminded them of when they [were] attacked."
This works against the popular, if contentious, notion that men are "visual," while women need an emotional connection -- or at least a narrative -- in order to derive pleasure from sex. To work toward filling the void of visual stimulation for women, especially for women seeking a safe space for rediscovering their sexuality, My Body Back created The Clit List, an online resource for assault survivors in search of advice, tutorials, and porn that won't catalyze the return of painful memories. The site will feature any porn that's not deemed patriarchal and especially videos directed or produced by women.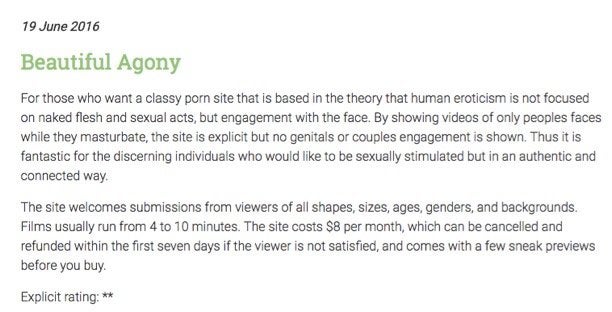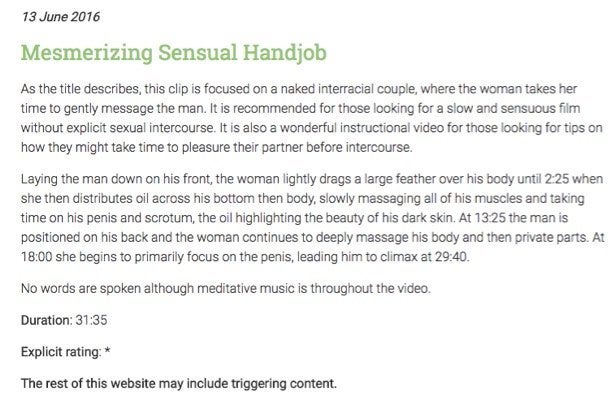 "Mainstream porn tends to be characterized by female actors that are young, overtly sexualized and very often treated with violence," Eora said. "We are focusing on porn that is body-positive where women are real participants who receive pleasure. As a result, any content that is misogynistic, objectifying, unethical or violent is not included."
"We hope that this project will dispel the current articulation of porn being 'only a men's game' which cannot be used by women to explore their sexuality," Eora said.
But what, exactly, can make porn -- notoriously objectifying as it is -- feminist?
Aside from excluding actions that can be squarely categorized as degrading, The Clit List regards choice as key. Instead of excluding all videos featuring power dynamics like BDSM, the site explicitly labels each video with the content it contains -- positions, phrases, role-played scenarios. Those labels allow viewers to browse safely.
"What is important is that women are effectively informed about the content of the porn so that they are empowered to make their own choices," Eora said. "If it's beneficial to women who may be accessing it, it's suitable."
REAL LIFE. REAL NEWS. REAL VOICES.
Help us tell more of the stories that matter from voices that too often remain unheard.
BEFORE YOU GO
PHOTO GALLERY
Images From 'Surviving In Numbers' -- A Project Highlighting Sexual Assault Survivors' Experiences