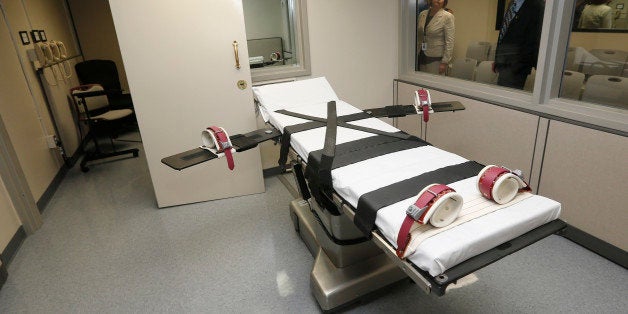 On Tuesday, U.S. Attorney General Eric Holder called for a national moratorium on executions while the Supreme Court revisits lethal injection. Read his speech to the National Press Club and see news coverage from USA Today. He is absolutely right. We need to go further. It's time to stop executions once and for all.
This latest case and the legal skirmishes leading up to it are more evidence of how unworkable and bizarre our current system is.
When Texas became the first state to use lethal injection as the means of execution in 1982, it masked death in a cloak to the public. Executions usually appeared to be quick and peaceful. The truth has always been more complicated.
Oklahoma originally developed what would become the standard lethal injection protocol, though Texas was quick to adopt it and the first to use it. It is supposed to be as simple as 1, 2 3: a fast-acting anesthetic; followed by a paralyzing agent and a third drug to stop the heart.
But it is not that simple. The first drug worked quickly, but it also wore off quickly. The second drug made it impossible for the person on the gurney to speak, to move, even to blink an eyelid to signal whether the first drug had worn off and consciousness was regained. Maybe death was quick and painless; maybe not. The point is that we don't know and we should.
Anesthesiologists were certainly aware of people who woke during surgery. It was rare, but it happened in even the best of circumstances with a patient being carefully monitored by a trained, experienced medical doctor. Doctors' warnings went largely unheard.
Apart from the lethal injection, the business of medical involvement in executions has been so murky that the American Medical Association and the National Nurses Association have long proscribed participation in executions. After all, the first commandment of medicine is "Do no harm."
The cloak of easy death was ripped off last year with botched executions in Ohio, Arizona, and Oklahoma. States had begun experimenting with different drugs and doses with very mixed results. What happened? Responding to larger concerns about the propriety of capital punishment, by 2011, Hospira announced that it would no longer produce sodium thiopental, the first of the drugs used in state killings. Other drug makers started restricting sales of drugs that were, or could be, used for executions. States insisting on executions were left to improvise.
Once again, the Supreme Court has agreed to look at the issue of lethal injection. It's a very different landscape since the Court's last major review of lethal injection in 2008, in the Kentucky case of Baze & Bowling v. Rees. It not just that the drugs used have changed and apparently continue to change, but our appetite for executions has changed as well. The death penalty is used only rarely in a handful of states and popular opinion is moving against it. The question should be not how we kill prisoners but whether we should kill prisoners.
It's too early to know exactly what the Supreme Court will do, but several states have responded to the confusion and uncertainty reigning in the field by trying to pull the cloak of secrecy on executions even tighter. When they turn to unregulated sources for execution drugs and skirt federal laws to import drugs from overseas brokers they assert the right to keep their activities and their dealers a secret.
Fordham University Law Professor Deborah Denno, an expert on lethal injection, wrote last year, "Amidst the chaos of drug shortages, changing protocols, legal challenges, and botched executions, states are unwavering in their desire to conceal this disturbing reality from the public."
Texas officials have routinely abused the state's landmark Open Records Law, despite earlier court rulings. A handful of state legislatures are passing laws to make private all the information about the drugs it plans to use for state executions. Oklahoma has reduced the number of media witnesses to executions.
In the desperate rush to execute, officials seem to be forgetting that their actions are supposed to be carried out in the name of all the people. Some states are attempting to remove public accountability.
Supreme Court Justice Louis Brandeis once called sunlight the best disinfectant. Instead of attempting to hide the reality of state executions behind the locked doors of state secrecy, state officials should be more forthcoming and honest about the reality of taking a life. Government needs openness and transparency.
Capital punishment degrades our respect for human life and subverts our basis for a moral appreciation of the law. Is that ultimately what state officials don't want us to see?
It doesn't have to be this way.
Capital punishment is an outdated practice that does not improve public safety. Our continued reliance on it is hindering our country's forward progress. Let's update our criminal justice system by ending the use of the death penalty. We can move our country forward when we make sure our criminal justice system uses practices that work to ensure public safety and well-being.
Calling all HuffPost superfans!
Sign up for membership to become a founding member and help shape HuffPost's next chapter