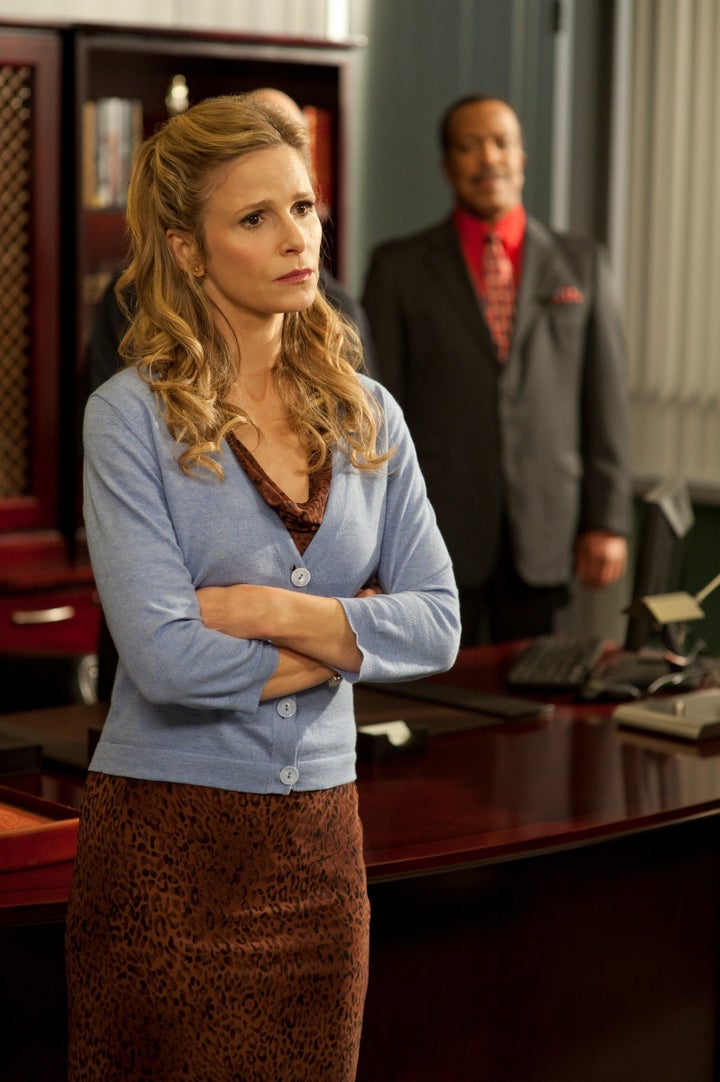 Starting this week the summer brings us the final six episodes of The Closer on TNT. But as this old show goes out, a new show comes in. Perception, a new drama starring Eric McCormack, follows each of the new The Closer episodes. So while you are grieving over one show ending, you can also be familiarizing yourself with a new one beginning.
The Closer has been one of the highest rated shows in the TNT arsenal. Kyra Sedgwick has revitalized her career as Brenda Leigh Johnson, the snappy, fiery and highly effective Detective Police Chief of the Los Angeles Police Department. Brenda is a southern girl from Atlanta who has found herself out of her comfort zone in LA. However, she has made lemonade out of lemons and gathered around her a wonderfully effective group of men who hold her in high esteem.
In these last six episodes Brenda goes through a few hits on the job and in her personal life but, as she has always done, she rises to the occasion and soldiers on. It is the audience who grieves for her and with her. They also begrudgingly count down the final hours in which she will enrich our lives.
The high degree of expertise with which this show presents its stories is the stuff of legend. Each and every character that regularly inhabits Brenda's world is essential to the atmosphere of the hour and the completeness that a fully told story must have. Sedgwick sets the standard for the level of acting but everyone rises with her to that bar.
Bringing The Closer back for six final episodes only makes the audience wish for more. Still, it is nice for a series to end its run with a feeling of total satisfaction that Kyra and Brenda have had their full time in the spotlight.
Perception is the new show. Having Eric McCormack as its star is a plus. He won America's affection when he played Will in Will & Grace. In this new show there is still a glimmer of the warmth that Will exuded but mostly it is a new and different character he is now creating.
Dr. Daniel Pierce (McCormack) is a professor of neuroscience and he is brilliant. He also has been diagnosed as a paranoid schizophrenic. He functions by having an assistant help keep him focused. In this sense the plot of this series is much too closely aligned with the old Monk series, but Daniel is more handsome and not as charming as Monk.
From time to time Daniel is contacted by FBI Agent Kate Moretti (Rachel Leigh Cook) to help consult on some cases. Kate is a former student of Daniel's and holds his opinions in very high regard. The relationship between these two is one that will bear watching as it should evolve as the season progresses.
It is going to take some time to get used to McCormack not playing Will, and for his new character being so much like Monk. Whether or not he will be successful in making the audiences switch allegiances is yet to be seen. At present Perception is a pleasant enough show but not a compelling one.
Having The Closer as a lead in is a great gift for Perception but it is also a curse. The excellence of The Closer will only highlight the flaws of Perception. Still, the ultimate judge of success will be the audience. So for the next six weeks tune in to TNT at 9PM for "The Closer" followed at 10 by Perception.

Jackie K Cooper
REAL LIFE. REAL NEWS. REAL VOICES.
Help us tell more of the stories that matter from voices that too often remain unheard.