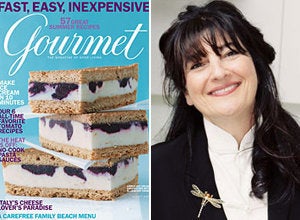 Goodbye, grilled Chicken Heart Brochettes. Goodbye to the Weekly Cocktail; goodbye, Short Ribs Braised in Coffee Anchillo Chile Sauce; goodbye to that delicious chimichurri-to-go from an amazing street vendor at Tenth and 204th Street.
Perhaps you aren't taking the sudden shuttering of Gourmet magazine quite as hard as I am, but let me tell you, my oven has gone dark. I've subscribed to it, off and on, for the nearly twenty-two years of my married life. Just last week I was inspired by the current issue to race out and buy Aviator gin, maraschino cherry liqueur and Crème de Violette--the ingredients for a modern revival of a vanished 1920s cocktail. When poured, it resembled a pale blue sky with milky stratus clouds.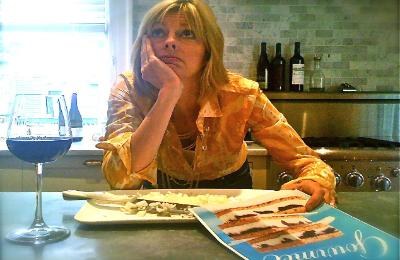 There's still Bon Appetit, you might reply. And I subscribe to that, too. (You don't want to know how many food magazines I subscribe to, but put it this way: I am a restless cook.) But Gourmet magazine was to food what Conde Nast Traveler is to luxury vacations, and Martha Stewart Living is to a quilting bee. It was aspirational in every possible way. Sometimes I might have cooked a recipe from it. But most of the time it showed me what I might cook. If I lived in an Upper East Side maisonette and were having a fashion designer to dinner. Or were hosting a "casual" clambake for my fellow Met board members at my East Hampton estate. Each issue offered, as well, a glimpse of what kind of exotic foodie lifestyle I might be leading if it weren't for the three-kids/three-dogs/one husband/one mortgage lifestyle I actually have. Its travel advice would certainly be indispensable if, on my next Small Luxury Hotels of the World journey, I would be relying on the editors' recommendation for the best mohingar in Burma.
Perhaps in retrospect the writing was already on the wall when Gourmet launched its "Gourmet Every Day" section - a nod to the harried mothers who might not be breezing into their coolly furnished loftspaces, pulling on their Vince cashmere separates, and embarking on the first of three nights of cooking in preparation for that fashion designer. (FYI, the Jade soup, without the herb oil, can be chilled up to two days in advance. Add herb oil just before serving.)
These were the recipes I admittedly always turned to first when the new issue arrived (you can see in the readership demographics where I fell). Here I'd find a beautifully photographed insert of "simple" weeknight dishes organized by length of time the recipe would take to make (the longest clocked in at 25 minutes). But who was I kidding? What would my seven-year-old say when I placed before her the "Spicy Adobo Shrimp Cocktail" as a starter? Or my 15-year-old when I offered him a slice of Eggplant, Green Olive and Provolone pizza? (Apparently Gourmet children never say, "Eww." They are what their mothers proudly describe as "adventurous" eaters.)
Sometimes I lucked out: the Baked Chicken Meatballs with Peperonata (August 2009) was well-received, as it didn't lean too heavily on the "peperonata." But I came to accept that this section, like the rest of the magazine, wasn't really directed at me. It was directed at the loft woman in Vince who would toss off these dishes for her husband/lover/companion after she got home from a long day in the gallery--and a quick pitstop at Dean & Deluca. "Southeast Asian Rice Noodles with Calamari and Herbs," no matter how short and easy the preparation, was not going to be greeted with slobbering mouths at my family's table (and would only end up in the slobbering mouths of Labradors under the table).
But who cares? I loved reading these recipes the same way I love poring over expensive shelter magazines and the designer dresses of Vogue. I loved the descriptions of town square banquets in the Dordogne. I loved knowing where the best new fusion cuisine was to be found in America, even if I would never visit the restaurant or even know what was fused with what. I loved knowing which wine to serve with Miso-Glazed Sea Bass with Asparagus.
Now it's gone -- the magazine's recent attempts at highlighting more frugal menus, notwithstanding. (And frankly I always winced at these features: It was like watching a once very wealthy woman trying to economize by buying a cheaper brand of champagne.) Another great American dream has been shuttered, like the foreclosed mansions lining the seaside dunes of Long Island.

Related
Popular in the Community