Readers of my column will undoubtedly notice that I tend to like and support the underdog in any situation. I do appreciate scrappy, little start-up threats to bigger complacent incumbents.
Underdogs are particularly attractive to me in the crowded or over-hyped sectors which abound in technology today.
Let's see: of course we have the Social Networking sector which is the gorilla.
And we have the Apple product 'iWorld' which seems to be cooling off a bit though the stock isn't.
Smart-phones show no sign of abating in their vast and gripping popularity while their consumption drives a number of peripheral categories such as apps.
And, software has and will continue to empower us and our devices to do more faster, cheaper.
But one of the hottest current technology sectors is 'Cloud Storage' and there's even been increasing references to the "Cloud Storage Wars." This kind of hyperbole conjures up images of Genghis Khan saddled up and roaming the steppes for conquerable peoples.
Let us investigate: We have the independent, entrepreneurial initiatives such as Aaron Levie and Box whom I profiled a few months back (total invested in Box: $162 million). In this same vein, there's new entrant and current fair-haired boy Drew Houston and Dropbox who are sporting more than $250 million in venture capital. There is stunning big money being invested in this super-heated, mid-level sector.
And we haven't even discussed the tech giants protecting their operating system, device or search/advertising turf. The big storage companies are there, as is Apple with its 'iCloud' service hoping to capitalize on what I feel will be their very temporary iPhone supremacy.
Nobody can forget the forgettable Microsoft' SkyDrive offering in this area because of their massive computing installed base.
Add Google Drive the much heralded, ballyhooed Google-product designed to upload Google Docs and Android users' data from PC or phone to Cloud. These powerful, deep-pocketed incumbents are coming to the dance very late giving Box and Dropbox a significant lead in time-to-market. But are the behemoths too late?
Even virtualization force-to-be-reckoned-with VMware is horning in on the action with a product.
Then there's Egnyte. This scrappy new (relatively) competitor into the Cloud Clash has secured a slot in the middle-tier, entrepreneurial niche with scrappy competitors, Box and Dropbox.
Vineet Jain is the founder and CEO of Egnyte.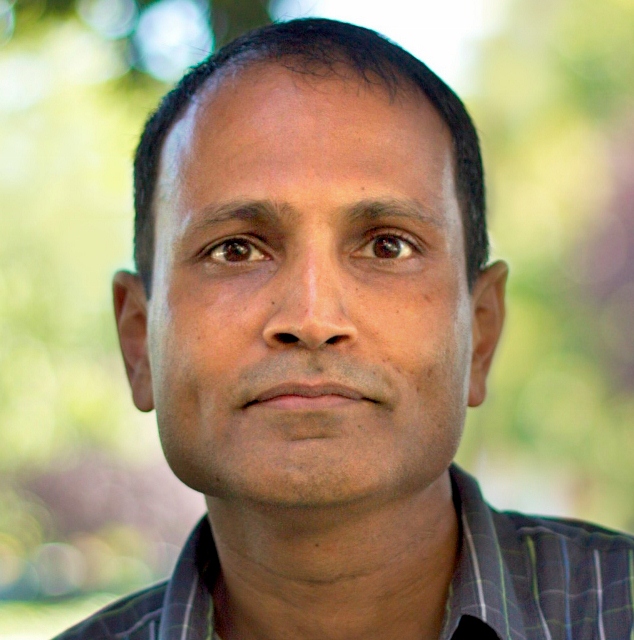 Jain has an interesting and successful background as a tech entrepreneur having started a supply chain software company called Valdero in 2000.
Importantly for Jain's future start-up Egnyte, Valdero was funded to the tune of more than $24 million by Valley icon Kleiner, Perkins, Caulfield & Byers (KPCB) and Mohr Davidow Ventures.
Though the business was sold, it didn't turn out well enough for Jain. "I still carry the Valdero exit as a personal failure. I had more than 70 people I was involved in hiring and wanted it to turn out better for them," he said sorrowfully. He seemed genuine and that seemed very different from the preponderance of tech entrepreneurs.
Started in 2007, Egnyte is making a clear decision in the independent, Cloud Storage sector: getting Enterprise as their customers. Box, the first entrant, started with consumers, small businesses and individuals really and built from there; now, sort of straddling the fence while moving intentionally toward a mostly enterprise customer base. Dropbox always has been and apparently will continue to be a consumer Cloud storage solution.
According to Terri McClure of ESG (Enterprise Strategy Group), "This is a fascinating sector to watch," she reported excitedly, "last summer I was tracking seven companies in this segment. Now, I'm watching more than 20." (There's a video and comprehensive ESG report of this sector here which can be downloaded free by end-users.)
McClure refers to the upper-echelon with billions to throw around as "the behemoths;" an apt title for Microsoft. Apple and Google if is there ever was one. I'll refer to the second tier of Box. Dropbox and Egnyte as "the upstarts."
Egnyte has been funded thus far with $17 million by Kleiner Perkins and Mike Maples (#17 on Forbes' "Midas List") of Floodgate.
Matt Murphy, KPCB partner said "Vineet is a repeat KPCB entrepreneur and while he didn't succeed in his previous business (Valdero) with that scar tissue, both he and KPCB learned a lot and plan on a different result with Egnyte. The SaaS (software as a service) strategy of Egnyte is not new but having their infrastructure in the Cloud is. The Egnyte opportunity is for IT departments to say, 'my staff and clients are already using Dropbox where I can't secure, control or manage the data anymore,'" Murphy warned. "What I liked about Egnyte was how they came at a business situation from the view of helping Enterprise get a handle on the data."
McClure of ESG agrees, "When a corporate employee using Dropbox leaves and goes elsewhere they can take sensitive corporate data with them," she also warned. "Egnyte is one of the ones solving the business side of the issue where I see an upcoming bifurcation of the market. What's nice about Egnyte is that they're not and all or nothing play; their customers can go Cloud or not," McClure said.
In a bold move against a better-financed "upstart" competitor, Egnyte recently made an offer it calls the "Box Buster Buyout" and offers Box customers nine months of free Egnyte service for jumping off Box and onto Egnyte. I love the pure aggressiveness of this kind of offer.

This idea came about in an interesting way. "A couple of months back," Jain told me, "my head of Internet Marketing was saying how much Box was spending and how that was difficult to overcome. I thought 'I can't pick a fight with Box; it's like a guy with a wooden knife picking a fight with a guy with an AK-47.' Then, we set-up competitive search words on Google where if someone searched for 'Box," Egnyte would come up. Finally, we started thinking about being more brazen about it and making an offer which will make Box customers jump to us." In the first 24 hours after the offer, the first Box customer jumped to Egnyte, a 25-seat deal.
"The 'Box Buster Buyout' was a bold move," said ESG's McClure, "Box has such big name recognition that it was great to see Egnyte try to attach to that." This offer is also a clear indicator of the feisty Jain's influence in a litigious sector.
KPCB's Murphy is strong on Jain and his company, "Egnyte has taken the purposeful approach to serving Enterprise. The pure Cloud model like Box and Dropbox is just storing your files in the Cloud which doesn't provide security. I characterize it this way: Dropbox is trying to replace your hard-drive (HD sector: $20 billion market); Box is trying to replace SharePoint ($5 billion market); while Egnyte is trying to compliment or replace your file server ($15 billion market). Egnyte's 'hybrid model' goes off your file server or works remotely then synchronizes to the Cloud--this is their differentiator."
Who will be the big winner of these three, mid-tier gladiators? McClure says, "It's not evident yet, but I believe all three will all survive and thrive. We don't think Dropbox and Box have to lose in order for Egnyte to win. There's no real business leader ... no 'breakout star' in this market. We don't think it will be Apple, Microsoft or Google; we believe Egnyte could be that breakout star," she concluded.
Given my penchant for siding with the underdog, I'd like to think the "upstarts" will prevail.
But I don't like the better-funded, higher 'installed-base' position of the behemoths. The "upstart" tier may well end up a bone-yard after being picked apart by behemoth acquisitions and competitive kill-bites
REAL LIFE. REAL NEWS. REAL VOICES.
Help us tell more of the stories that matter from voices that too often remain unheard.