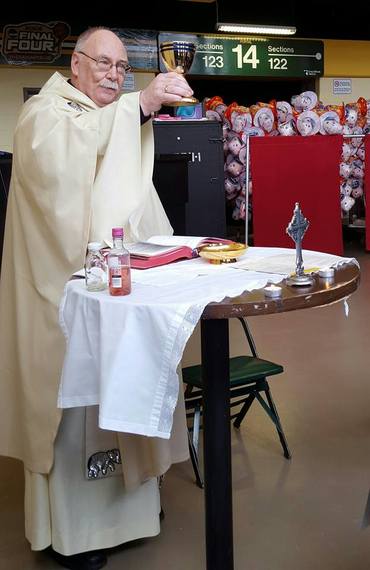 It was 2009 when Sister Dorothy Fabritze entered the office of Father Frank Cancro's parish in Charlotte, NC. She was there to petition funds on behalf of the Circus and Traveling Show Ministries of the U.S. Conference of Catholic Bishops.
It is a ministry that has served the great American circus for decades -- be it through weekly mass, the overseeing of sacraments, religious instruction for show children, the blessing of our animals or merely being present to offer a listening ear and counsel to us weary travelers. As Sister Dorothy and Father Cancro spoke, she immediately noticed a picture of a clown. Much to her surprise, that clown was none other than Father Cancro. "I remember telling her my story somewhat reluctantly," says Cancro. "Three months later, I was invited to join the circus ministry."
The Philadelphia native is decades removed from the bumbling, rebellious youth who was kicked out of college during his junior year. "My friends were worried about me, so we went to see the campus priest," says Cancro. The priest offered his counsel and asked Cancro and his friends what they wanted to do with their lives. "I didn't care to even be there, so, I flippantly told him, 'I want to be a clown!' I thought that would throw him off guard and allow me to be on my way," he says. But alas, "the Lord works in mysterious ways." Unbeknownst to Cancro, that priest he'd hoped to brush off had, in fact, been a clown, and he would be very instrumental in getting the young Cancro enrolled into the Ringling Bros. Clown College®.
Ironically, Frank Cancro's venture into clowning wasn't exactly a "flippant" whim. The few times he and his family were able to attend the circus, it was the clowns that captivated his imagination, and as a result, the desire to become one was genuine. However, following his tenure at Ringling Bros. Clown College, Cancro would enjoy brief stints with a couple of mud shows until, as he bemoaned, "burnt bridges" effectively ended his career under the big top. "Put an immature 18, 19, 20-year-old in the world of the 1960's, and you got me. It wasn't a pretty picture," he says.
Yet, somehow Frank stumbled into what he called his "save the world phase." Weary of obstructing any more opportunities and burning any more bridges, he would become a live-in volunteer for a Catholic mission in Eastern Kentucky. There he assisted the pastor with the various programs spawned by the mission -- everything from home improvement programs to alternative schools for dropouts. There was also a home visitation program that was put together by two of the social workers at the hospital. Frank would attend their meetings every evening. "Every night on my way home from those meetings I'd encounter this old nun, and she'd ask me the same question night after night -- 'How come you're not a priest?'" he recalls. "I hated it when she'd ask me that." Soon he'd had enough of the old nun's meddling and decided he'd take a weekend retreat for the sole purpose of finding an answer that would "shut her up." As he contemplated the question and feverishly sought an answer, he began asking himself what that old nun had been asking him for many a night -- "How come I'm not a priest?" He had no answer; instead, he discovered a surprising desire or at least strong intrigue. Having failed in his quest to quiet the nun, Frank immediately contacted the Bishop of Charlotte, NC, who he'd worked with previously to inquire about his interest in what he referred to as this "priesthood thing." "The Bishop invited me to visit with him to discuss the matter," says Cancro. "But, when I arrived he already had me scheduled to enter seminary in the Fall."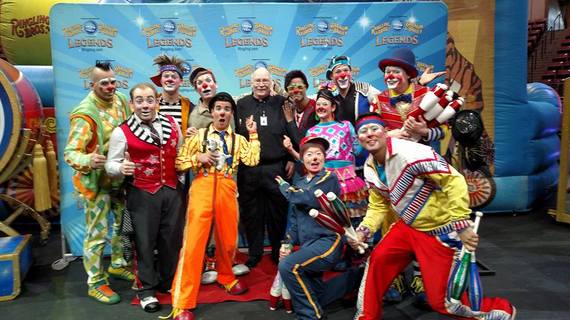 The Holy Bible famously documents the stories of individuals whose origins in no way point toward the legacy they are celebrated for. Such was the contemplation of the Psalmist-Shepard boy who would become Israel's most renowned king - "What is man that You are mindful of him...?" (Psalm 8:4 NKJV). For the stumbling, immature Cancro who rarely crossed a bridge he didn't burn or an opportunity he didn't squander, it was evident that "the Lord works in mysterious ways."
"When I told my father that I was going to be a priest, there was no look like the one he gave me. I don't think he believed I'd make it, and I couldn't blame him," he laughs. One of the greatest deterrents to our abuse of time and opportunity is finding our place in the world. "When I got in the program, I loved it! It just felt right, and it has felt right for over 34 years."
As a member of the Circus and Traveling Show Ministries of the U.S. Conference of Catholic Bishops, Father Frank and his colleagues are a frequent and much welcomed presence at our show. His rapport with our myriad of cultures, personalities and life styles is fluid, as it is inspiring. "I like this ministry because it's a ministry of presence. Saying mass on Saturday is the least thing I do. The most important thing I do is walk around and say 'hello' to people. As I get to know their stories, I check in. Just to respect a person enough to be present for them I think is a big part of ministry for me," he says.
His is a gentle yet impactful presence. Ours is a community in motion. There is no normal in our world and no day or even moment is the same, yet Father Frank, much like his colleagues, is a constant in the world of the unexpected. Father Frank and his colleagues are everything from trusted confidants, who lend an ear and wisdom to the most intimate and vulnerable areas of our lives, to articulate and gleeful fans of the artistry and sweat that create The Greatest Show On Earth®. "I like to encourage performers. I believe part of our job is to keep the house alive. I watch the floor crew because it's just as exciting as everything else," says Cancro.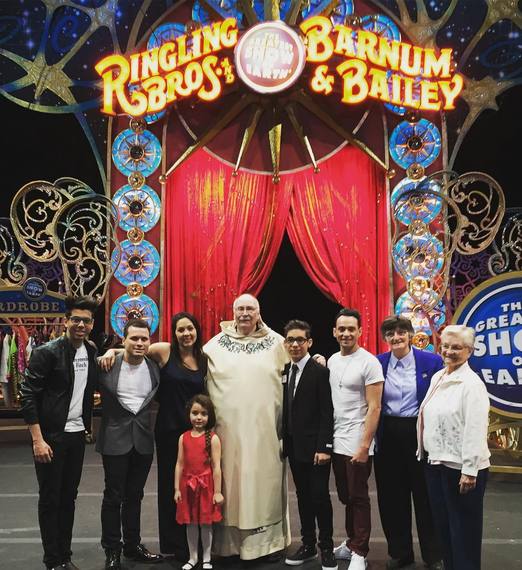 What endears Father Frank and his colleagues to the world of the circus, a society and culture all its own, is their authentic humanity. For it is easy to forget that those who are in the service of people are indeed just as human as those for whom they serve, as they often seem so beyond all that we are. However, behind every priestly collar there's a story, and in the case of Father Frank Cancro, once so wayward and rebellious, his story comes down to a very simple truth. The very bedrock of the gospel for which he is commissioned to share -- grace.
"I can accept people where they are. We in the faith business tend to get more concerned about who should be on the boat, as opposed to letting everyone on the boat and sorting it out later. I think because of my own story, I am comfortable with letting everyone on the boat," he says.
Popular in the Community