Chicago has become an almost automatic citation by police brutality apologists: when a cop kills an unarmed citizen anywhere in America and faces the backlash one rightly receives when executing a human being, the defense (if one can call it a defense) is "What about gang violence and crime in places like Chicago? People should fix their own communities before criticizing police!" And aside from the fact that this is a derailing tactic that in no way answers for out of control cops, the answer is simple: Chicagoans already are trying to address the issues of its communities, and has been for a long time. There's Chance the Rapper and his efforts to address homelessness. Black Youth Project, Kids Off the Block, and many organizations designed to end violence and achieve harmony. And then there's Jamyle Cannon.
Cannon is a teacher on the West Side of Chicago at DRW College Prep, a school where four shootings happened nearby last Monday alone, and he knows firsthand what his students are up against. Gang violence. Poverty. Food deserts. Traveling through hostile territory just to get to school. But there are other battles they face, he says, that aren't often mentioned when the media discusses the world of his kids, and he's seen that firsthand too: education inequality, its impact on the outcomes of black and brown kids, and a nation that seemingly refuses to grant them the luxury of being kids.
"We've had kids from 12-17 years old, and no matter how tough the exterior, it doesn't take long to find that they're all just kids," Cannon says. "They have huge dreams for themselves and no clue how to catch them. They can finish a fight without a problem, but can be brought to tears if I express disappointment in them."
Cannon knew there were things his students weren't getting, and this is what led him to start a boxing program, he says: he wanted to create a safe space and a place for nurturing and growth. But he never expected the results to be as mind-blowing as they are.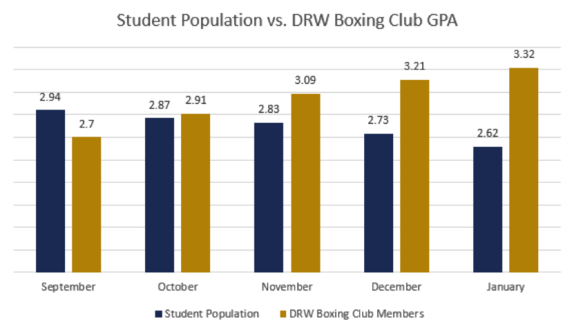 "Students in the boxing club, despite starting the school year with below average GPAs, ended the first semester with an average GPA of 3.32, compared to the school-wide 2.7. Students in the boxing program through Semester 1 grew 14 percent more on standardized tests than the student population. Last year, male students entering the boxing club in Semester 2 received 52 percent fewer discipline reports than they received in the semester before entering the club. The longer students are in boxing, the stronger their results. One of the longest lasting students just had his ACT score grow seven points."
As incredible as the scholastic outcomes are, Cannon notices even bigger gains in ways that can't be measured by GPA. Kids come to his club thinking they're going to learn to fight, and instead learn how to control those impulses. They develop life skills that prepare them for college -- with Cannon providing special shirts to kids who have been accepted into colleges, who are then recognized by their peers. They learn sportsmanship and grace.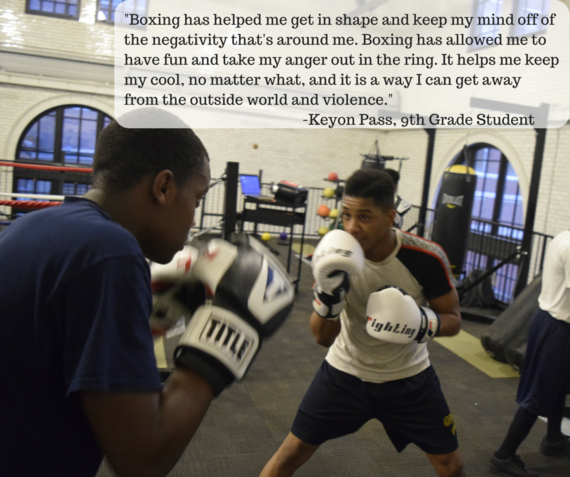 "I have a million stories like this," Cannon says. "Our longest standing member, Tyler, now a junior, competed in the Golden Gloves recently. He lost. There was only one decision booed by the crowd, and it happened after the judges gave a win to the opponent Tyler had clearly beaten for three rounds. But while the crowd booed? Tyler congratulated his opponent and helped him out of the ring. You can't tell me this program doesn't work. That same kid -- Tyler -- has been selected into the Peace Exchange program, a highly selective program that sends proven student leaders across the world to learn strategies that advocate peace in order to implement them in their communities."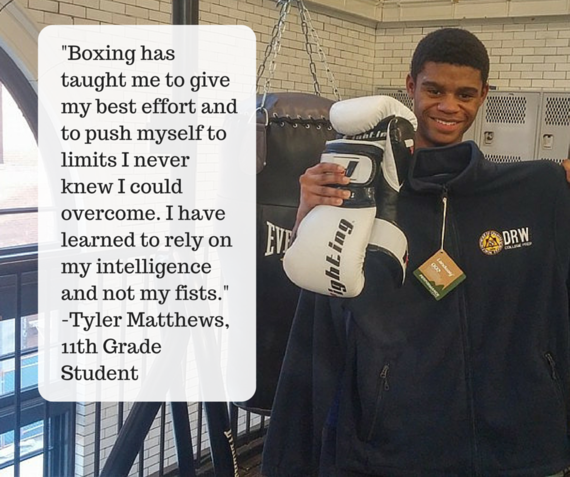 Like most athletic programs, getting the funding for the club is difficult, but the parents and community see the difference Cannon is making, and the club has raised $19,000 to date.
"The majority of the money went toward equipment," Cannon says. "The sheer amount of stuff needed to run a gym is unbelievable, and the implications of working in a school that's a historic landmark only adds to the list. Our school was at one point the coal powerhouse for the original Sears Tower. It's not meant to be a gym."
And added to that: the students keep coming. As word spreads about the DRW Boxing Club -- a place to learn skills, a place to learn strength, a place to be cared for -- new students approach Cannon every day. On the bus stop. In the hall. He tells them the only thing they have to do to join is show up. And they do.
"This program has made me take a critical look at the level of disservice we are willing to tolerate for our children in America. All of our kids are poor and black or brown, and we seem to have a pretty high tolerance for the suffering of people who fall into those categories. We'll let poor kids go without lights and proper nutrition. We'll let black and brown kids feel ostracized, feared, and undervalued. For a kid on the West Side, the stakes are high. For all of the people working to better the community, it still stands that being somewhere at the wrong time could literally change or end a life. In a way, this club is a space where I get to say, 'Come, be a kid. Have fun. Make mistakes. Learn from them. Be your best self.' I want people to know what all kids are capable of if we invest in them -- if we stop letting them go without their basic needs of safety, belonging, and love. Things don't have to be like they are."
Click here to learn more about the DRW Boxing Club and read the full interview with Jamyle Cannon here.