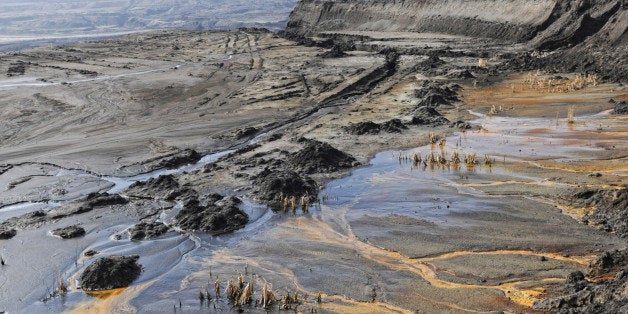 North Carolinians know this story well: On February 2, 2014, a security guard noticed low water levels in a coal ash pond at Duke Energy's Dan River site. A storm water pipe underneath the pond had burst and was draining coal ash directly into the Dan River. The public was not notified until the following day, after thousands of tons of toxic coal ash and millions of gallons of polluted water had made its way downstream.
Coal ash is a dangerous slurry of chemicals - including arsenic, lead, chromium, and mercury - that can poison drinking water sources. There are 1,425 coal ash sites in 37 states, generating nearly 140 million tons of coal ash each year - enough to fill train cars stretching from the North Pole to the South Pole. Waste like this doesn't end up in affluent suburbs across America. As we've seen with Flint and dozens of other cases of environmental injustice, 70 percent of coal ash dumps are located in low-income communities.
As we've learned in the wake of the Flint disaster, too much exposure to lead can lead to health problems for anyone, but it is especially harmful for fetuses and infants. The World Health Organization warns that it "can cause consequences which may be irreversible including learning disabilities, behavioral problems, and mental retardation." Other chemicals in coal ash, such as hexavalent chromium (recently the subject of drinking water advisories to neighbors of some coal ash ponds), are known to cause cancer, birth defects, or other conditions.
North Carolina environmental regulators received harsh criticism in the wake of the spill for being far too lenient on Duke Energy, the country's largest electric utility. Months before the spill, the state Department of Environment and Natural Resources (DENR) took over a federal lawsuit against Duke Energy over its coal ash pollution, and it quickly negotiated a settlement that fined the company a mere $99,111 and did nothing to actually address the pollution. There were no federal regulations regarding coal ash waste at the time.
Fortunately, the General Assembly enacted legislation and the U.S. Environmental Protection Agency proposed standards in 2014, but these standards were not soon enough to save the Dan River, nor many other sites around the state that have been subject to the carelessness of Duke Energy.
Normally, citizens could seek a remedy in the courts when state governments do not adequately regulate coal ash. Yet in North Carolina, that's become increasingly difficult given the pay-to-play system that has replaced the innovative public financing program for judicial candidates - a program that Governor Pat McCrory eliminated in his first few months in office. Without public financing, judicial candidates must turn to deep-pocketed donors for the money needed to mount a successful campaign. Those private donors in turn may see favorable decisions in court.
We shouldn't be surprised to find that Governor McCrory--a Duke executive for 28 years--has conveniently failed to enforce environmental regulations and faced federal investigation for doing so. Corporate polluters have spent big to elect legislators in North Carolina. We can expect that, when it comes to coal ash, Gov. McCrory will yield to his corporate ties and neglect to defend the health of North Carolinians, especially the poorest among us.
The Charlotte Observer recently editorialized on the state's distorted regulatory focus, writing that the disaster in Flint is "a cautionary tale for public officials and the citizens they serve" and that it should "resonate in states like North Carolina, where the regulatory focus has too often shifted away from protecting residents to accommodating business and industry." The state agencies that are supposed to protect our water have too often focused on satisfying industry.
It's clear that when corporate dollars pervade the government systems built to protect the public, we can no longer count on government to do its job and look after its most vulnerable communities. As North Carolinians head to the polls tomorrow, it's critical to our health - that of our children and our democracy - that we reject those legislators who would protect polluters over people.
Popular in the Community