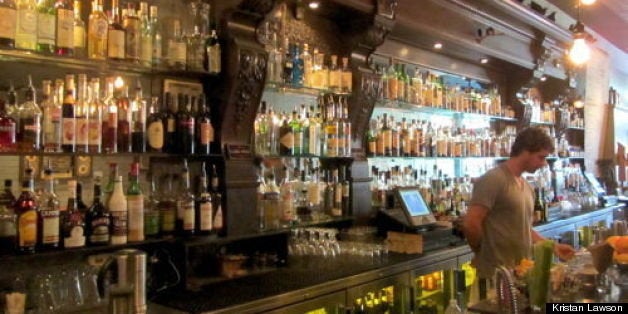 Mom used to ask Dad sometimes whether he wanted a highball.
When I was small, this made me squirm. I knew "ball" was a nasty word among grownups, but not what it meant. Dad always declined. He wanted no highballs. It was decades before I learned that highballs are cocktails -- extremely basic, lamebrain cocktails, spirit plus mixer, bam.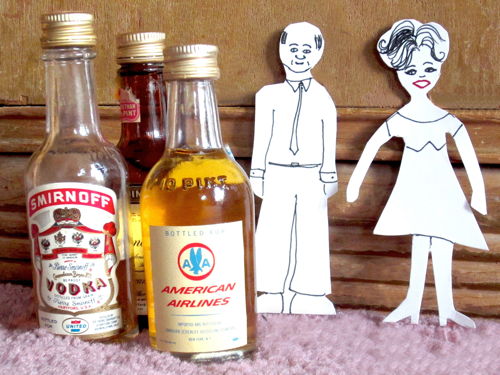 Experts argue over when and where cocktails were invented, but it was well over a century ago. The difference between then and now is cocktails' complexity. Mom felt sophisticated just saying "highball." Had Dad ever said yes, she would have walked over to their mid-century bar cart and tipped one of those mini-bottles of hard liquor that used to be given away free on airplanes over a glass half-full of Diet Sprite.
Reading a typical bar menu today, our ancestors would feel as if they were reading rocketship instruction manuals. Our era will be be remembered for human tragedy and bacon fudge, but should also be known as the Cocktail Apotheosis -- in which cocktails are extremely complicated culinary works of art.
In just the last week I have downed a Sumo Wrestler comprising Evan Williams bourbon, Nigori sake, imported yuzu marmalade and yuzu juice (at San Francisco's Blackbird Bar, depicted above); a Chaparrito comprising cherry-infused tequila, tequila-soaked cherries, whiskey, house-made hibiscus tea and ginger syrup (at Copita Tequilera y Comida in Sausalito, depicted below); and (at the San Francisco branch of Peruvian celebrity chef Gastón Acurio's La Mar Cebichería) a Pisco Cholito comprising Pisco Mosto Verde, Creme de Cassis, ginger beer, lime juice, jalapeño pepper and ginger syrup.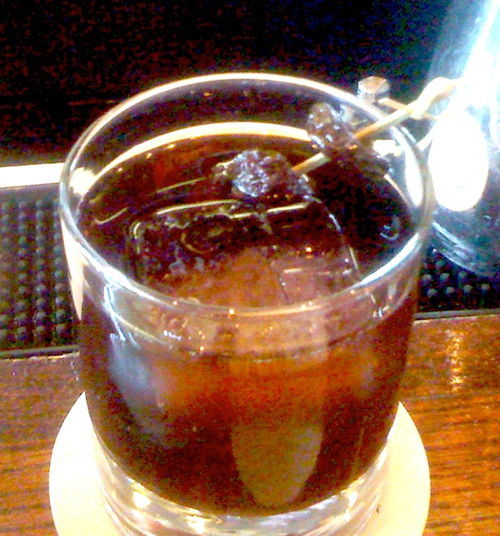 How do they come up with this stuff?
The Chaparrito began with a mistake, when dried Bing cherries were delivered to Copita instead of the fresh cherries that had actually been ordered.
"I thought: We've got to put these to use somehow," general manager Brian Basmajian told me. "So we poured the cherries into tequila blanco and kept them there for four days. All this beautiful color and flavor was pulled out of that dessicated fruit" -- and into the cocktail's main ingredient.
"Without being pretentious, we always want to introduce people to new and different ingredients," Blackbird's proprietor Shawn Vergara told me. "Our produce supplier is hyper-seasonal, which helps."
Vergara and his staff find inspiration in magazines, shop windows -- "just everywhere. Sometimes I lie in bed thinking: I have to create a vodka drink -- and I come up with one."
Dude! What?! Lying in bed, I can compose poetry. (Where do the dead go when, by choice or chance, they leave this plane?/Among them, whom is cleansed of pain? I composed that just now in bed.) Or lists of people I never want to see again. But devising complicated 21st-century cocktails demands consummate 21st-century skill. Gin plus tonic is easy. But predicting -- "visualizing" with mind and mouth -- how tequila might taste with mezcal, white tea, King's Ginger and grapefruit bitters (to make Blackbird's Lola) or how it might taste with caraway-flavored Kummel, sangrita and lime (to make Copita's Bloody Maria) -- requires a highly refined dexterity, like the kind that lets people play chess blindfolded.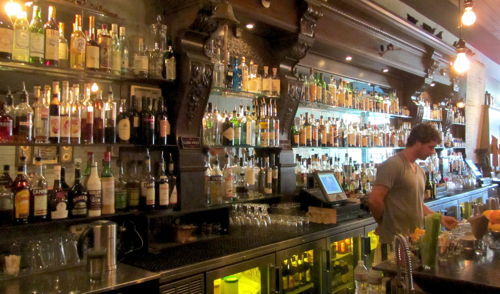 In this apotheosis, a single spirit expands exponentially into infinite variations. Copita serves not one but ten different tequila cocktails. Poggio Trattoria, also in Sausalito, serves not one type of Negroni but six. Mass-produced mixers have been eclipsed by the house-made: for instance, the sage syrup that joins fresh lime juice, black peppercorns and Square One vodka in a gimlet known as the Pale Fire at Berkeley's Revival Kitchen + Bar.
In this apotheosis, bar bites have transcended Chex Mix and become (yes) artisanal: The Blackbird's Bar Jars, for example -- scoopable smoked trout, deviled ham, pimiento cheese and fava hummus served in (of course) mini-Mason jars. Or the giant soft pretzels served at San Francisco's The Grove, each of which starts with a five-foot rope of dough: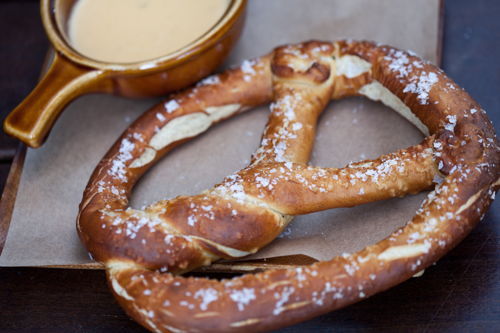 "To create the 'wow' presentation of our soft pretzels we roll out 5-foot-long ropes of dough," explained The Grove's executive chef Jeffrey Saad, "and then perform the culinary equivalent of Cirque du Soleil to twist them into pretzels. They rise until light and airy and then we bake them so they are crispy yet chewy with the traditional burst of sea salt with every bite. You almost forget that you have a hot cup of homemade Hefeweizen cheese dipping sauce to plunge it into."
And in this apotheosis, cocktails are local and seasonal: The Blackbird introduces new drinks every few months. Its thirteen spring offerings include the Sumo Wrestler, the power-packed Rosemary's Baby, comprising brandy, aquavit, Cherry Heering, rosemary tincture and lemon; and the hilarious yet fruitily, flowerily heavenly Hanami, depicted below and comprising Encanto pisco, orgeat, lemon, rosewater and Calpico -- yes, the milky acidic Japanese soft drink: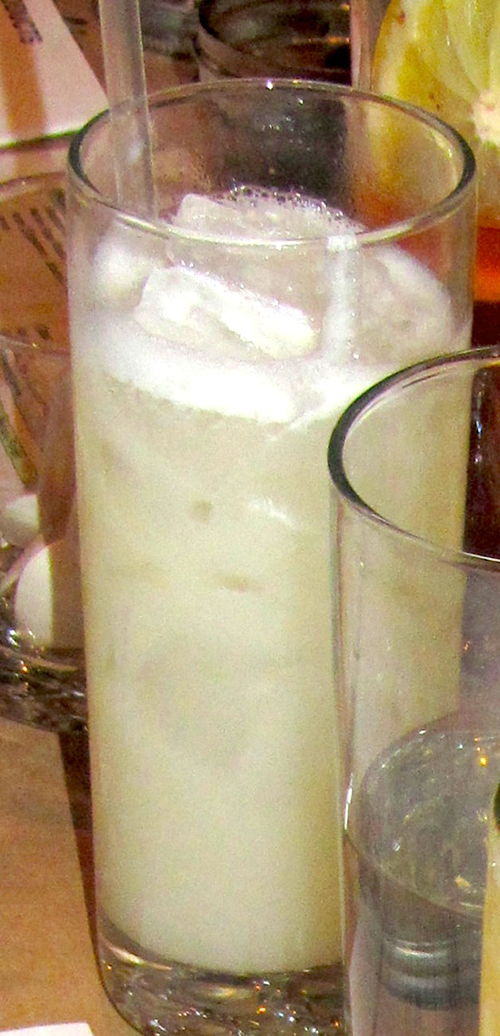 At various times and places throughout history, certain skills suddenly become lucrative. Swordsmanship in 17th-century Japan, say. Wagon repair in 19th-century America. As more people clamor for that lucrative skill-of-the-day, it becomes more commonplace. Compare the number of kids who could play guitar before the 1960s with the number who could play guitar after the 1960s.
In the Cocktail Apotheosis, cocktail artistry is one of those skills. Is it literally changing our brains? Is growing demand for the ability to create complicated cocktails driving a whole new type of human neurocircuitry, such as the new neurocircuitries that facilitate texting and playing Angry Birds?
Granted, not everyone can create complicated cocktails, just as not everyone can fly planes.
Cocktail-challenged? Order them in bars. Or buy them 100 percent organic, 100 percent artisanal and 100 percent ready-made at your local supermarket: Created by celebrated mixologist Natalie Bovis, OM Cocktails are pre-mixed vodka-based USDA-certified organic cocktails in gorgeous glass-reduced eco-bottles with the cool vintage silhouette of pirate treasure, whose labels are printed at a carbon-neutral wind-powered factory. Fruity, spicy flavor profiles include coconut water and lychee, Meyer lemon and ginger and more.
But see -- I am uniquely cocktail-challenged in that I already own tons of ingredients, but lack the neurocircuitry to compose clever recipes. I inherited my parents' bar cart. I have a Meyer lemon tree, a blood-orange tree, mint, roses and rosemary. I habitually buy weird spirits at estate sales. All these components, plus the odd Necco Wafer and Froot Loop, should combine themselves into thousands of ingenious cocktails. But I stare into my liquor cabinet and just end up pouring Creme de Cacao and airplane whiskey into half-and-half. Or Fernet Branca into coffee. Someone needs to invent a machine -- or an app -- into which you can input the names of every spirit, mixer, spice, fruit and flower in your house and it calculates every possible combination, with a star rating for how delicious each one would be.
Please invent it soon. Otherwise all this Strega and YooHoo will go to waste. But trends being trends, maybe cocktails are headed back toward highballish simplicity. Has house-made sage syrup had its day?
Pretzel image courtesy of The Grove. Chaparrito image by Anneli Rufus. All other photographs are by Kristan Lawson, used with permission.