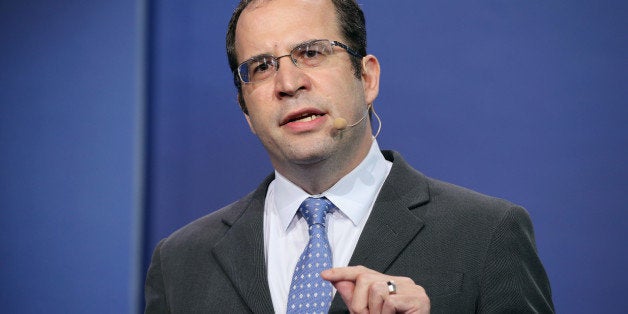 In 2009, the College Board was one of three nonprofits that were listed by name on the memorandum of understanding (MOU) to develop the Common Core State Standards (CCSS). (The other two were Achieve, Inc., and ACT.)
Though not specified by name in the CCSS MOU, David Coleman was also there with his standards-writing company that later became a nonprofit, Student Achievement Partners (SAP).
In May 2012, Coleman was selected president of the College Board (effective October 2012)- where he intended to deliver curriculum through College Board tests- but that's okay because there is a "crisis in education," and he is here to save the day:
Mr. Coleman's new position will involve a continued focus on college readiness. "We have a crisis in education, and over the next few years, the main thing on the College Board's agenda is to deliver its social mission," he said in an interview on Tuesday. "The College Board is not just about measuring and testing, but designing high-quality curriculum."
In February 2013, Coleman announced an SAT redesign, "so that it better meets the needs of students, schools, and colleges at all levels." However, it seems that Coleman is royally botching meeting the needs of students, schools, and colleges before his touted redesign is even launched.
Coleman needs to forget his world-domination aims of revamping the SAT as a means of controlling curriculum. Apparently he is failing at providing an SAT free of typos, preventing widespread cheating due to recycling test forms, and delivering early scores on time.
Consider June 2015: The SAT had a typo in the testing time for one of its sections of the June 06, 2015, admission- 25 minutes instead of the correct 20 minutes. College Board's response involved refunding testing fees and offering for students to retake in October 2015. It also assured test takers that throwing out two sections (the one with the wrong time and the section that followed) and scoring the remaining eight sections was just as good as scoring all ten- which led to questions about whether College Board was charging students for the more expensive SAT ($52.50) and scoring it like the cheaper PSAT ($14.00).
College Board refused to release the full, June 06, 2015, SAT- which allows College Board to hide behind their "just take our word for it" regarding what really went on to arrive at those June 06, 2015 SAT scores.
As of June 26, 2015, three class-action lawsuits had been filed against the College Board and its SAT administrator, Educational Testing Service (ETS).
What is interesting is that College Board refuses to release the June 2015 SAT questions because it says that is never releases its June tests. But what College Board does do is recycle test questions- which is causing major problems with test security. In January 2015, such recycling led to a problem with administration of the SAT in Asia:
Test proctors, counselors and other sources in Asia, as well as FairTest, which advocates against the misuse of standardized tests, reported that two versions of the SAT appear to have been given in Asia on Jan. 24, both with questions recycled from previous SATs. The sources say that it appears that the test used in Hong Kong and Singapore last Saturday had previously been given in Asia in June 2014 and in North America in June 2013, while students in South Korea appear to have been given a test last Saturday that had been used at international sites in October 2012 and in November 2010 in North America.

The College Board, which owns the SAT, and the Educational Testing Service, which administers the SAT, are known to use tests overseas that have already been given in North America. This practice has opened a window for a sophisticated system of cheating that has plagued the SAT internationally for years.
Recycling tests is surely cost effective and allows the College Board to rake in higher profits. But the practice compromises test score integrity- which the College Board notes "drives everything we do."
The issue of recycled SAT tests predates Coleman's time as president of the College Board; however, he is apparently fine with continuing the SAT-security-compromising practice.
Recycling the SAT enables sophisticated cheating, which should come as no surprise given the high-stakes nature of the SAT. Still, the recycling continues, just as it has for years.
So, Coleman has test security issues related to form recycling as well as class-action lawsuits for a test he doesn't want the public to be able to scrutinize.
Students who took the October 14, 2015, administration of the SAT received notification that their scores would be delayed. Many students paid the College Board to rush their scores for purposes of early application. The College Board refunded the extra fees and added that it was "encouraging" institutions "to be flexible" about scores that were not only delayed, but delayed for more than three weeks beyond the common November 1st college and university early application deadline.
At this time, scores from the October and previous SAT administrations have been delivered to colleges, with the exception of a very small number of outstanding scores that we are working directly with students and institutions to resolve. We apologize for the inconvenience this has caused families and colleges.

Additionally, students are now able to view their November SAT scores online, and these scores are currently being delivered to colleges.

Students with questions about the status of their score report should call Customer Service at 866-756-7346. Colleges should reach out directly to their College Board regional representative if they have questions or concerns.

Beginning with the October 2015 SAT administration, the College Board is delivering score reports to colleges through a new electronic score reporting system. Institutions are now receiving scores in the format that will be used for the administration of the redesigned SAT beginning in March 2016, which will make it easier for colleges to access and use SAT scores for admission decisions.
About that "sorry for the inconvenience": There should have been no inconvenience, period. These tests are high stakes. Colleges and universities cannot be expected to put their early admissions processes on hold for an incompetent College Board that managed to deliver most October 14, 2015, administration scores almost six weeks after students took the test.
The detrimental effects of Coleman's College Board ineptness surely is fodder for yet more lawsuits against the College Board.
But let's turn attention to the apparent reason for the delay: The College Board has decided to alter both SAT report format and report delivery for its redesigned SAT.
In other words, the College Board failed to deliver the old SAT in a timely and competent manner because of its rush to prepare for a new SAT.
So, how much confidence does this instill in Coleman's new SAT?
Not much. In fact, the College Board is telling students to not use rush delivery "at this time."
Incompetent, incompetent. Rather than keep the old delivery system in effect (or even as an available backup) until the new system clearly works, Coleman's College Board delivered SAT scores much the same way that Coleman delivered the Common Core: Throw it out there to be used without any trial run.
According to the College Board, the new delivery system was supposed to be in place by October 2015, and colleges and universities were supposed to be set to receive the College Board's revamped SAT score reports. The College Board told colleges and universities to get ready. However, according to the College Board's own explanation, the incompetent early admissions score delivery was the fault of the College Board.
As of this writing, there is no guarantee that the College Board will be able to competently and consistently deliver SAT scores to colleges and universities in a timely manner using their new score delivery system and format. And forget about expedited scores.
On March 04, 2015, the Business Insider carried an article based on the advice of Anthony Green, SAT tutor to the wealthiest students in America. Green is advising them to not take the SAT at all in 2016 for a number of reasons, the first being that the test is unproven:
"I'm recommending that none of my students take the first three rounds of the new SAT (March, May, and June of 2016)," Green said. "Why let students be guinea pigs for the College Board's marketing machine?"
In place of the 2016 SAT, Green suggests the ACT. He also notes that SAT is losing its market to the ACT and that the "redesigned" SAT more closely resembles the ACT.
And he adds the following:
Who knows what sort of mishaps and grading nightmares might occur as the new test is rolled out? Let the College Board work out its kinks, and don't voluntarily be part of this new experiment.
Good advice. Unfortunately, becoming part of the College Board's new SAT roll out caught numerous students unawares as Coleman's College Board decided to use students taking the October 2015 SAT as the first guinea pigs for the new scoring delivery system.
As part of the 2011 Institute for Learning (IFL) Senior Leadership Meeting keynote address, David Coleman admits that he was "unqualified" to develop the Common Core in this 22-second video clip:
As president of the College Board, Coleman apparently continues to live out his lack of qualification.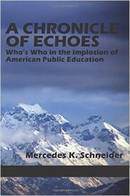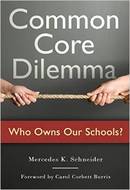 Related
Popular in the Community