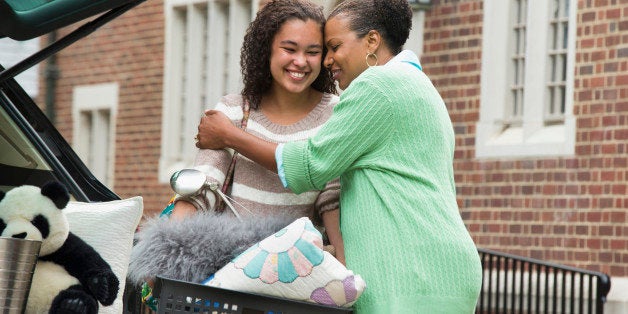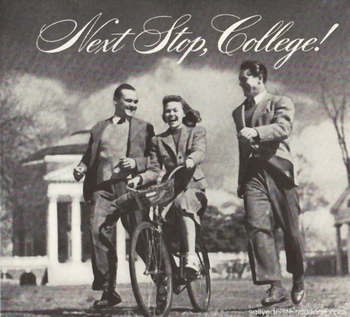 You've finished arranging the toss pillows in your freshman's dorm room, so you tell her one last time to eat her vegetables and not to wear white after Labor Day before you issue a lipstick-y kiss goodbye. Then you curl up in the backseat while your spouse drives in silence and you ache. What to do after that day, after you've arrived back home?

What's to follow wandering empty rooms, sobbing and wailing like a toddler: "I want (insert your child's name here)!"?
Dumping (because that's what it feels like) your kid for their first year at college is, I'm here to report, as heartbreaking as you imagined. One normally stoic mom I know cried for 24 hours straight; another lost it in the grocery store when she realized she didn't need to buy her daughter's favorite foods.
We've just endured a double whammy--dropping our twins at separate schools. (That's two empty bedrooms--and two tuition bills.)
Here's why the whole business sucks, and sucks hard:
That's your baby. You'd have to be a masochist to pull out old photos right now, but you do. You need a minute, thank you. This feels a lot like grief. An era has officially ended. The days when your beloved peed the bed and sassed you and stuffed a Barbie down the toilet seemed to drag endlessly, but those exasperating older moms who warned you time would fly--they kind of nailed it. Damn them.
Are the best days behind you? You wonder, what's next? Shopping for a mother-of-the-bride dress--something with sleeves to hide arm flab? Grandparenthood? You didn't sign up for that. If you're like me, you trick yourself into thinking it was you unpacking your dorm room Just The Other Day. But you notice a bald spot on your husband's head. You look in the mirror: another day, another Oil of Olay fail.

What's my purpose? No one's asking for a ride to dance class or for you to proofread a term paper. There are no lunches to pack, no school forms to sign. What, exactly, did you do before you spent all your energy making sure the earth spun on its axis? And now--who needs you? Would anyone notice if you stayed home and ate ice cream out of the carton all day? Would anyone (besides your boss, if you work) care? Are you even a real parent anymore? You know what people say dismissively when you're not around: Oh, their kids are grown--like they're dead or something. Truth is, sometimes it feels like they are...
Depressed yet? Hang in: There are--there have to be--ways to get through, to soothe that punched-in-the-gut sensation that feels freakishly like your first high school sweetheart left you for a cheerleader.
1. Your kid made it to college! What a smarty pants. Congratulate yourself for making such a bright, capable person. It's a distinct possibility she's about to have the best four years of her life. She's going to find herself, come into her own. The world's her oyster.
2. More closet space. At first I couldn't walk past my girls' rooms, but now I'm finding it particularly healing to wash the bed linens, touch up the paint on the walls where the posters hung, bag up the last of the last for Goodwill. I put a big desk in one of the bedrooms for a make-shift office. A room of my own--at least until someone comes home with four sacks of dirty laundry.
3. Dinner for two. It feels a little awkward at first, but, ready or not, a new chapter has begun for your marriage. You find you sort of have to be nice to each other--there's no one else around to talk to. So you make an effort. Around here, night one sans children included cocktails and candles, fresh flowers and sautéed seafood. Admittedly, night two degenerated to a delivery pizza in our pajamas, but that too had its bright spot: leftovers. And--this is huge--the living room is ours again: we can Netflix out in the open, at any hour, no matter how many f-bombs they drop on Bloodline.
4. Beware: good times ahead. The shift from a parent-child to friend-friend relationship is weird, but sweet. I remember eating up with a spoon any visit home, however imperfect, as a student and then as a young adult. I still like going to see my parents. What's not to like? (Besides those occasionally heated political debates or the way your dad keeps the thermostat at 80 degrees in August.) There are familiar smells, home-cooked meals, silly traditions, folks who know you best and love you anyway. And--though you'll have to pick your moments--you still have plenty of worldly wisdom to offer your college-aged offspring. I'm 45, and I still need my mommy. Sometimes.
And there's this: Even when you're not together, your family is forever bonded. In spirit. In personality. For better or worse, you're in each other's bones.

5. Schemes and plans. The best balm yet: I've made a list of goals, from professional to practical, spiritual to financial. The world's your oyster, too. You could, I don't know, decide to ask people in for supper on Saturday evenings. Maybe make a new friend or two. Finish that novel. Volunteer, or spend more time with aging relatives. There's no time like now to write a great story with your life. I printed at the top of my goals my overall purpose: love God, love people. Them's no small potatoes, if you think about it.
Brainstorming my goals--thus shifting the focus forward--was the thing that kept me from the edge. You know, the one where you flop down on your child's deserted bed and hug her pillow and moan with pain...