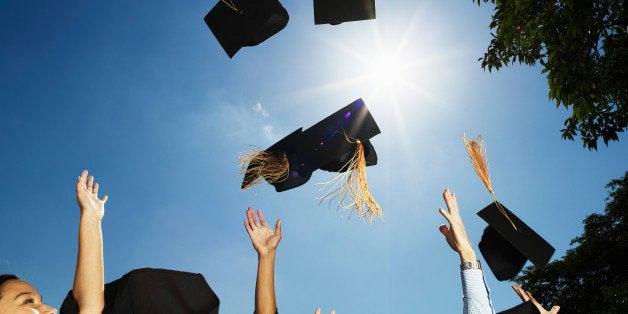 In this graduation season, parents and employers should take note of a recent poll that concludes students who have had superb faculty mentoring and experiential education will be most engaged in life and at work.
"Great Jobs, Great Lives," the 2014 Gallup-Purdue Index Report, is a study of more than 30,000 college graduates, conducted for the purpose that "because students spend a significant amount of resources preparing for life outside of college, it is crucial to gauge whether the experiences they had in college have promoted a well-lived life."
In particular, the survey described six experiences of undergraduate students that correlated with reports of personal well-being: 1) The students had at least one college professor who made them excited about learning; 2) their professors cared about them as individual persons; 3) a mentor encouraged them to pursue goals and dreams; 4) they worked on a project that took a semester or more to complete; 5) an internship or job allowed them to apply classroom learning; and 6) they were extremely active in extracurricular activities and organizations while attending college.
Students who claimed these six experiences were twice as likely to have a strong sense of well-being and engagement at work. Unfortunately, only three percent of the respondents strongly agreed they had benefited from all six of the experiences surveyed.
These findings confirm what Ursinus and other liberal arts colleges have long known, that the influence of a faculty member on students can resonate long after graduation, notably one who "cared about them as a person," and "made them excited about learning," as the report describes.
This theme was evident at last year's commencement exercises when author and Ursinus alumnus Sam Keen, speaking on the 60th anniversary of his college graduation, said that it was not the facts he recalled, but the teachers. In turn, the student selected by the seniors to speak on behalf of the graduating class, lauded memories of "meeting your professors for coffee and talking more like colleagues than anything else, having a side of lasagna at their houses to go along with a main course of paper revisions, being valued as a student..."
This theme is pervasive in nominations for faculty awards. A senior nominating her professor for a teaching award wrote that this professor's advice was based on truly knowing her passions, pointing her to courses that would meet her interests, not merely fulfilling requirements. She wrote, "I am forever thankful that a faculty member invested so much in me, and I will always remember what a positive effect this mentorship had on my success, both in the classroom and as a member of the campus community here."
Similar accolades celebrated another faculty award winner:
She does not end a single class without connecting the topic to the daily lives of her students, which has taught me that every moment of my life, in and outside of class, offers an opportunity for growth... By praising my accomplishments and forcing me to critically analyze them, she empowered me to think about my own education and pushed me to discover strength in myself.
Many alumni tell stories about a professor who encouraged them, who had spent time with them and opened their minds to books or writers, one who advocated for them and encouraged them to discover new interests. This past year a donor from the Class of 1955 made an extremely generous gift in honor of his former professor, who had retired in 1961. The donor said simply, "I never thanked him."
The authors of the report suggest that a national dialogue on improving the college experience should focus on ways to provide students with more opportunities for deep learning experiences and real-life applications of classroom learning.
At heart, however, student-faculty relationships are the cornerstone of an undergraduate education. Some will be a point of gratitude as students graduate, and some best appreciated by alumni with the passage of time. Rich is the college that can claim to have equipped its students with such experiences before sending them as graduates into the world.
Calling all HuffPost superfans!
Sign up for membership to become a founding member and help shape HuffPost's next chapter