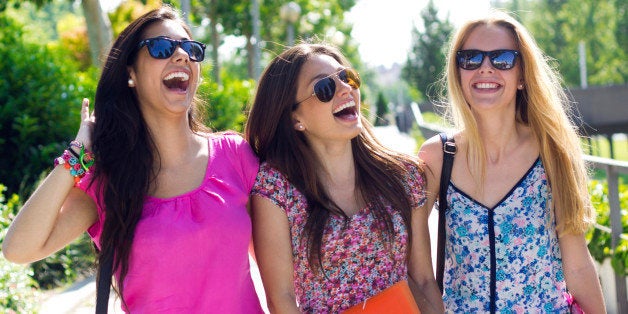 It's a typical Friday night after a particularly rough week, and you're just about to dive headfirst into bed when a friend tells you there's a party tonight!
Faith in the universe restored, the first thing you do is head to your closet, open the doors and grab... what? Tons of questions suddenly rush to mind: how dressy should I be? Is this a casual thing? What kind of shoes should I wear? What should I do to my hair?
On the other hand, for some girls, dressing for bars and parties may come as second nature, but when it comes to mastering casual cute, they have no idea which way to go.
Think of freshmen year. Being invited to your first sunny tailgate and feeling confused of whether you should approach this event with a trendy aesthetic or keep things chill in shorts and sneakers -- it's a lot to take in for a collegiate novice!
Different college social outings call for specific attire that will allow you to blend in and dress appropriately for the occasion at hand. Although it is important to fit in, make sure that you always add a personal twist and maintain your own unique sense of style.
Regardless of the occasion, just make sure that you feel comfortable and confident in whatever it is that you're wearing.
When it comes to a house party or simply hanging out at a get together, you want to appear effortless in the chicest and most comfortable way. This is why you can't go wrong with a pair of skinny jeans and a flow-y blouse.
Every girl has at least one pair of jeans in their closet, so make getting ready a little less hectic by pairing those flattering bottoms with a bold and lightweight top (it can get hot in those crowded living rooms!) Dark jeans are slimming and sophisticated, but you can change things up with colored denim or crisp white skinnies.
Dress up your look with a pair of chunky wedges and some stacked on necklaces or bangles for the perfect marriage of stylish yet casual. Add some eyeliner and lip gloss and you'll be ready for a night of fun with all of your new friends!
Appropriate bar attire falls somewhere in between house party chill and nightclub chic. That's not to say that you are not allowed to lean towards one of the two extremes, but it is best to remain in the middle ground of these two very different sartorial approaches.
Considering that bar attendance can span anywhere from post-class, 4 p.m. happy hour to last call midnight fun, you want to dress flexibly for what could be a very spontaneous and unpredictably exciting evening.
When it comes to bars, you can rock anything from shorts to a dress as long as you style your outfit appropriately for a semi-casual evening outing. Try something funky, yet comfortable, like a printed romper or high waisted shorts with a sheer blouse. Gold accent jewelry, smoky eye makeup and a high ponytail are a great way to step up your happy hour look.
It seems as if all your flirting has paid off and that cute guy in your afternoon class that you've been crushing on feels the same way because he's finally asked you on a date! Although you may think that the hard part is over, your outfit is an important component of any first date and has to be thoughtfully put together.
Regardless of the date scenario, it is important to style yourself like a dateable woman instead of some chick who can be taken home after an overload of drinks.
So if you're going on a coffee date, you may not have to deal with that issue (keep things flattering and casual) but if your suitor is inviting you to a more formal occasion such as a concert or dinner and drinks, make sure to keep your appearance polished and classy.
A surefire way to go in this instance is the little black dress. A tasteful LBD is appealing for any body type and allows you to appear alluring, sophisticated and grown up without going too over the top.
Instead of a tight body con dress, opt for a more classic shape with a fitted waist and low-level cleavage. Tone down your make up and trade your five-inch Litas for a more approachable pair of pumps or wedges.
The struggle is real to look cute at sporting events, without looking like a hot mess express student wearing a t-shirt turned strapless dress. Not that a t-shirt turned strapless dress is a bad look, but if you're trying to look a bit more mature and classy while watching your favorite team, you're probably looking for some other ideas.
If you like to explicitly represent your alma mater, try reppin' a team t-shirt or jersey with some cutoff shorts and high top sneakers.
On the other hand if you prefer a more discrete and feminine approach, show your pride by wearing your school colors throughout your outfit, such as with a solid colored sundress complimented with secondary colored accessories, or go for a school colored tube top with some comfy jeans and boots.
Definitely take into consideration the amount of walking that you will be doing on a game day as well as the fact that you will probably be sitting on bleachers and walking up many flights of steps (a.k.a. deter from mini skirts.)
REAL LIFE. REAL NEWS. REAL VOICES.
Help us tell more of the stories that matter from voices that too often remain unheard.