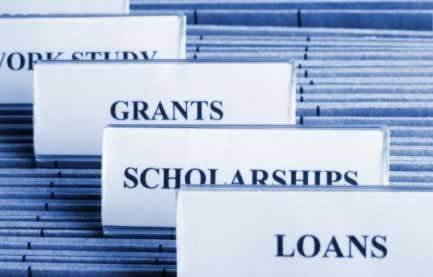 Hi. Now that I know you want to spend more time with me, would you tell me exactly how much you make, how much you owe, how much you're worth, how big the re-fi is, and oh, do you own any cows?
Welcome to the world of financial aid applications, in which nameless, faceless employees of both the federal government and the schools on your child's list get to review information you probably have never told even your closest friends. Nothing a senior has to endure is as daunting as asking for a little help with a four-year bill that's higher than the listing price for houses in certain parts of the country.
So here's a secret right up front, from a long-time financial aid officer: The letter of special circumstance. When you're done with bubble grids, write a letter that says whatever you think a college needs to know: That the money you have is earmarked for seven dependent relatives, that the money you don't have is due to altruism and not misguided greed, that you're willing to sell your second car but you're too young to cash in the IRA without a penalty.
It is your one opportunity to be a human being and not a set of numbers. If you need money, don't be shy. Write the letter.
Beyond that, the good news is that the FAFSA, the Free Application for Federal Student Aid, has been simplified this year, so perhaps some of you will not have to pay an accountant to guide you through it - though the CSS Profile, required by most private schools, is still a maze worthy of Alice in Wonderland.
That's it for good news. Unless you're a college.
Costs keep rising, despite the recession. There's less private aid, thanks to banks' tight-fisted lending policies. There's more federal aid to pick up the slack, but debt is debt even if the interest is slightly lower. And there's more competition: Back when money was good, about 70 percent of undergraduates at private universities got some combination of grants, loans, and work-study. Now that money's tight, more of us need help.
College endowments are the one part of their economic profile that's in sync with the rest of the country, though, so they have to watch how they spend their resources. It's much more cost-effective to send an administrator to China or the Middle East to flirt with full-fare international students than to take stateside kids who need aid - and yes, that's a true story. Some schools have stepped up spending on merit scholarships, to lure top students away from the competition - but in a nice twist on need-blind admissions (you get accepted without regard for what you need), this money may go to someone who doesn't need a dime.
•Get your finances in order as though the IRS deadline were January 15 instead of April, because you can download the FAFSA forms at 12:01 a.m. on January first - and in this economy, there's something to be said for the sooner the better.
•Find out if any organization you have ever belonged to offers scholarships.
•Check out one of the web sites or guide books that helps you find scholarships - the New York Times' college blog likes MeritAid.com http://www.meritaid.com/, but don't expect salvation; most of them offer small amounts and can require a considerable amount of work.
•If you own a home and have built up some equity, consider turning it into a piggy bank.
Wouldn't it be nice to have transparency on both sides of the negotiation? Imagine what we might learn if schools were required to file the institutional equivalent of a FAFSA form - or if a big-name school announced a commitment to lowering fees. Maybe McKinsey, the firm that cut a money-saving swath through Conde Nast, could do a little pro bono work for, say, the Ivy League, or the University of California system, and show them how to make the hard decisions that might help more working Americans send their kids to school.

Next: The Application Essay: Nothing Exceeds Like Excess.
Related