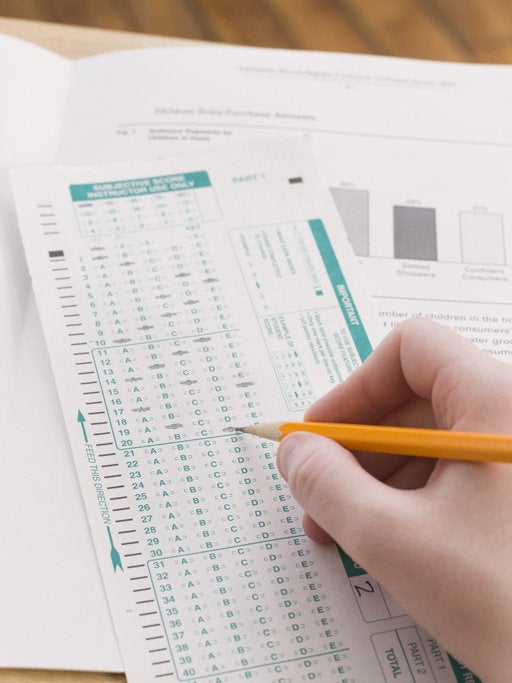 I don't recall the product (sorry, ad agency), but I do remember the pitch: A mom was thrilled to realize that the cell phone her son wanted would enable her to track his movements on her computer, at which point the son wasn't quite so sure he wanted it anymore.

Jody Steinglass, the Yale graduate who runs an educational services firm called Empire Edge, may have the app to bring the generations together, though any parent or child who's survived the test-prep process will see a potentially darker obsession scenario here: Adapster is an iPhone or iPod app that enables a student to work on SAT test-prep anywhere, any time. For $17.99 - and the price of the iPhone or iPod, natch (with the Nexus and competing phones to follow) - families can retire the notion of prep down-time.

The fact that parents can barely get their kids to put the phone down long enough to take a shower suddenly becomes a good thing: There is no moment, day or night, when that second-semester junior or first-semester senior can't be doing test-prep. It's no longer even a choice between taking a family summer vacation and getting ready for the SATs. Who needs to tour the entire Uffizi when you can sit in the main hallway, surrounded by enough portraits to satisfy anyone short of an art-history fiend, and work on sequential equations?

If I mention European travel it's only because at first it looks as though Adapster was intended as yet another perk for privileged students - but Steinglass turns out to be as much a prep-for-the-people kind of guy as it is possible to be when technology is involved. Students can already purchase the Adapster Flex app, which offers 99-cent individual packets of questions. And some time in the next month - in time for the inaugural SATs of the 2010-2011 season - Adapster will launch a web-based version for between $10 and $15.

I know; a student still has to have access to a computer that works, and, as anyone who has crossed paths with a large urban public school system can attest, that's not as simple as it sounds. But it's a technology-based product. It just doesn't work with a pencil and a hard-copy sample test.

Here's why: It adapts to the needs of the individual user. "If a question asks a student to solve for the intersection of two lines, then the student must know how to solve a simple equation, simultaneous equations, and the Cartesian coordinate plane," says Steinglass, by way of example. "If the student gets that question wrong, Adapster automatically sends those three lessons/strategies to a set of virtual note cards." The student answers questions about each of the three elements, and the app figures out where the problem is, and sends the student more work on those lessons.

If you're an SAT tutor, you're thinking, resentfully, that you, too, adapt to the needs of the individual student - but only when you're in the room, right? And only during the hour for which you've been hired, only when a traffic jam doesn't get in your way, only as long as you don't have the flu. You're so, so human, with all the attendant imperfections.

If you're a parent, you may have already counted up the number of active verbs connected to the app, two grafs ago; Adapster does this and does that, just like an old-fashioned humanoid prepper. Hey. Steinglass speaks of what the app "remembers," and he's convinced me that the darned thing distinguishes quite nicely between a math whiz and a hard case.
He is an unlikely revolutionary, polite, plain-spoken, careful to say that Adapster "supplements one-on-one tutoring," even as he points out that "for students who are unable to afford tutoring, it can provide a novel alternative that is far better than a review book."

Because publishing needs one more arrow to the heart, you know? But that's another story.

The challenge, seems to me, is the same challenge we face with cell phones and the web, overall: How to turn away when you're the type who had to buy Adapster in the first place. Steinglass admits what we all, instinctively, know - there's a score ceiling, and all the prep in the world is not going to turn a 500-math-score brain into an 800-math-score brain, no matter how hard or how often that brain works problems.

He also admits, "I don't have a way of monitoring the app's efficacy," but then, neither does anyone else, not really. What he does have is adaptability, "the first app that allows students to create mixed review packets, track their progress, and study an automatically-generated lesson plan."

He hopes to get Adapster on-line into the hands of students like the public-school population of New York City, for free - he's talking to the Board of Education about a new budgetary allotment to provide online SAT tutoring for all juniors. If he can do that, and if he's right about the up close and personal service a computer can provide - this could be a big step toward leveling the testing playing field.
Next up: Admissions Freak-Out Countdown #11: If The Fiske is as Big as a Phone Book, How Come Everyone Picks the Same Ten Schools?