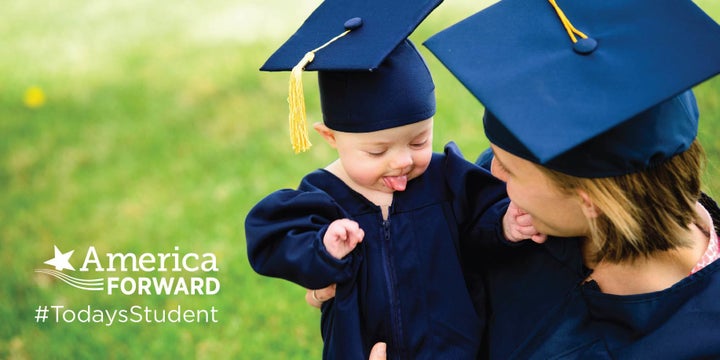 As the presumptive nominees travel across the country pitching their priorities to voters gathered in church basements, community centers, and football stadiums, a pattern has emerged:
Let's call it, "The College Question."
It usually goes like this:  A young college student approaches the mic, lays out a thoughtful narrative about their experience and offers insights or solutions they would like the presidential candidates to consider.
In response, the candidates toss back well prepared responses about a narrow slice of the challenges college students face, usually about debt or skyrocketing tuition.
Without a doubt, the barriers related to student debt are real but this summer we urge the candidates to expand the dialogue to include the barriers today's students are facing in addition to costs. Of course cost creates real barriers to college access and impacts the trajectory of graduates, but we must have a conversation about both the myriad of challenges today's students are up against and the incredible potential they possess. These challenges include food insecurity, child care, transportation, or housing instability.

Today's college students are more diverse than ever. They come from varied backgrounds, and they are not just 18 – 24 year-olds enrolling in four-year colleges fresh out of high school. In fact, 38 percent of today's college students are older than 35, 26 percent of today's college students are raising children, 47 percent of today's students are financially independent and struggling to support themselves. 30 percent of today's students have learning and attention issues like dyslexia and ADHD, which they are less likely to disclose or seek support for once they leave the K-12 system.  And, 50 percent of today's students come from low income communities.
We see a tremendous opportunity and a huge challenge: Today's college students could become the most diverse and adaptable workforce this nation has ever seen. The fact that college is no longer for the select few should be celebrated. But it is not enough to convince students from all walks of life that they should walk through the gates of colleges and universities across the nation. We must work together to address the very real barriers that keep students from walking across the graduation stage and into meaningful work.
While we absolutely want the Presidential candidates to address. the impact of student debt and tuition price tags, we also want them to talk about how we can update higher education institutions and policies that were built for the few and now serve the many to address the barriers facing today's students. There is innovative work going on in this space but government, non-profits, higher education institutions and communities must work together to address the biggest barriers today's college students face.
The America Forward Coalition is comprised of innovative, impact-oriented community-based organizations from across the country that are tackling these barriers. Take a look at Single Stop, an organization you can find in many community college student centers that connects students with the resources they need,  like childcare vouchers, nutrition assistance, transportation subsidies or housing assistance, so that they can continue enrollment, successfully complete their degree program, and achieve financial self-sufficiency.
Or City Year's efforts to leverage tutoring and meaningful mentoring relationships between middle school students and aspiring college students or recent grads that put college within reach for students in some of the nation's lowest resourced communities and school districts.
Or organizations like YouthBuild that are creating pathways for students who have left high school without a diploma to earn GED credentials, develop marketable job skills, and engage in post-secondary education opportunities.
This summer, as the major political parties gather for their nominating conventions, community partners from the America Forward Coalition will be in town lifting critical stories and discussing solutions to the challenges facing today's students. On June 28th in Columbus, OH, and July 19th in Philadelphia, PA, we will host a series of Today's Student Town Halls. We will hear from today's students about what they are up against and what the next President, as well as other elected officials and community partners, can do to remove barriers and create inroads to opportunity through college.
Without a doubt, students' firsthand stories can drive a powerful conversation. Each students' story is unique, but in Ohio and Pennsylvania, students will join together to collectively call on the next President to look across sectors and into local communities to understand the great work underway and the work left to do to ensure a post-secondary education is a pathway to opportunity for many and not a select few.
Calling all HuffPost superfans!
Sign up for membership to become a founding member and help shape HuffPost's next chapter