The problem with little white girls and boys in the international volunteering community has nothing to do with the color of their skin; it's their attitude. There is absolutely a place for young adult volunteers within international development work, it's just not a place most voluntourists actually go.
Pippa Biddle, the author of last month's post entitled "The Problem of Little White Girls, Boys and Voluntourism," is right when she mocks the idea of untrained high schoolers being considered "godsends" or replacements for trained doctors, engineers, or teachers, and she is right to say that "only through an understanding of the problems communities are facing, and the continued development of skills within that community, that long-term solutions will be created." But she is absolutely wrong to conclude that this means international volunteering should be discouraged or that her skills were useless. They weren't -- they were just being massively misapplied.
It's easy for 'voluntourism' to seem like a dirty word, and there is a very fine line between a genuinely helpful and mutually beneficial experience and one that, at best, has little to no impact. Here's a quick primer on how to be an effective volunteer, regardless of your skin color:
Partner -- Find an organization that partners directly with the local community, and a job where you are truly supporting and building the capacity of the local staff to do their work, rather than replacing them. Our organization, The Small Things, partners with an orphanage where the vast majority of the care is done by local caretakers, called Mamas. With volunteers providing support, extra hands, and doing many of the daily chores, Mamas are able to spend more time with the kids. In contrast, we had one two-year-old girl transferred to us from another local orphanage after aging out of their care -- she screamed for a week before she would allow herself to be held by anyone other than a white volunteer, since she had never had an African as a primary caregiver. Volunteers and staff have separate but mutually beneficial roles. Consider carefully whether the job you will be doing is geared towards your wants or the community's needs. The best placements will focus on volunteers improving the ability of local staff to do their job.
Bottom Line: Work with local staff, don't try to do their jobs.
Profit -- Who is truly benefiting from your trip? Is it a for-profit volunteer placement organization, a tour company, your Facebook photo album? Or, is it the community you are meant to be helping? What percentage of the benefits of your trip, in volunteer work or financially, is legitimately helpful, and not just fun? Go direct, find organizations where you can concretely understand where every dollar of your contribution is going, and where your work is needed most. Too many media frenzies have been about what happens when money from volunteers goes straight into individuals' pockets. When vetting volunteer opportunities, look for transparency and proportionality.
Bottom Line: Follow the money.
Power -- Where can you add value? What skills do you have, and do they match up with what the community needs? The type of start-up support that actually makes a difference for small nonprofits is often a lot less sexy than constructing a building or playing with children. At the same time, if your professional and administrative skills or your network of contacts are outstanding, then often you can help just as much from your own home, as you could on-ground. If that's the case, come visit, get inspired, then go home and get to work! There is nothing wrong with being good at volunteer training and fundraising -- in fact, the expertise and training that volunteers can provide is hugely important, especially when working in countries where local educational opportunities are essentially nonexistent. The nonprofit world needs fundraisers, volunteer trainers. There is a big problem, though, with thinking that having those skills qualifies you to save the world. Stick with what you know you can do, and do it well.
Bottom Line: Don't try to be a superhero, just be you.
Local Tanzanian fundis (craftspeople) have a huge comparative advantage when it comes to building walls, over little white girls and boys with no training. However, little Western girls and boys might be great at setting up social media for a small local nonprofit, doing computer training with impoverished teens, or doing an art project that they can turn into a fundraiser for their home community -- all of which require skills and access that are much rarer in rural Tanzania than in central Connecticut. (I should know, I attended the same all-girls boarding school in Connecticut as Pippa Biddle.) It's all a matter of fit- what can you offer to this community that they don't already have? The first step is to shut up, and listen hard to the community you work with. You can't possibly help with community needs if you don't even know what those needs are. It sounds like Pippa learned the first part of this lesson -- that we don't know everything about how to "fix" other societies, and rushing in where one doesn't belong is a recipe for disaster. But she seems to have missed the second half -- that if you listen, you can find places where you actually are needed, and wanted, and can help. You just have to be quiet for a while to hear it.
In our work, we generally don't take new volunteers for less than 4 weeks. It usually takes about 2-3 weeks to settle into a new culture and community, and for stays any shorter than that, the physical and staff costs of training the volunteers usually outweighs the benefits of their assistance. It also takes time for volunteers to truly understand how and where they can be of most use to the local staff, but once they settle into the rhythm, they become a huge asset. Volunteering is not a vacation, and orphanages aren't zoos. Good volunteers are the lifeblood of many small nonprofits and it is frankly irresponsible to equate all international volunteering with a 2-week high school package tour. In our case, volunteers grow The Small Things family: They raise awareness and expand our network to new communities. They add value to our work every single day. (And incidentally, they are hardly all white Americans -- our current team is made up of Tanzanians, Danes, Brits, Cameroonians, Austrians... )
But of course, I am far from an unbiased observer. I was a volunteer first myself -- a 4-month stint between undergrad and graduate school turned into an 8-month trip, and then the founding of a nonprofit, which snowballed to where I am today. I live in Tanzania with my husband and our two beautiful children, adopted from the orphanage which is our primary local partner. We recently received a major grant to begin the first phase of construction on a Children's Village, which will provide loving, family-style homes for children aging out of the orphanage who cannot be reunited with family. It will also allow us to scale up our outreach program to keep families together whenever possible.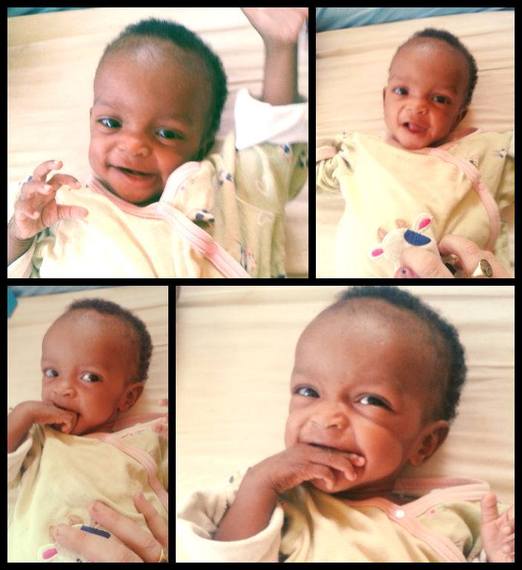 I have absolutely no doubt that if our organization's programs hadn't been in place, such as one-to-one care for premature infants like Ebenezer, or our fund for hospital bills for sick babies like Hope, we have at least two to three babies in our care who would have passed away. I can see the positive impact that volunteers have every time I look into their healthy, happy faces. I can see the results in the faces our local partners, women who now have relief from their years of worrying over the future of the children they love. I see the benefits when the kids chant and squeal upon seeing a familiar face come up on a DVD compilation of messages from former volunteers, to remind them that even when we are far away, they are always in their thoughts. And I saw it when one-year-old Neema went home to her family, a few months ago, accompanied by a promise of school sponsorship and a photo album full of pictures celebrating her early life, made by a volunteer. Finally, I see it when my own children exhibit absolutely no doubt when I ask them who loves them, and they rattle off without a second's hesitation -- "Mommy and Baba and Mama Pendo and Teacher Emerte and Mama Linda and Mama Andrew and..." I know they wouldn't have developed such strong, healthy bonds without the physical and financial help of volunteers.
So, I am about as far from objective as they come -- this work is my life and my family, literally and metaphorically. But Pippa, I promise that if you have a chance to see the type of impact volunteers can have when the fit is right on a small scale, but with so much love -- you would change your mind.
The Small Things was founded in 2011 by Bekka Ross Russell, her family and a group of dedicated volunteers who had spent time at the Nkoaranga Orphanage, which houses up to 30 children, newborn to five years. The children have all lost mothers, and many lack fathers or other relatives who could step in, or their extended family is incapacitated by poverty. TST has partnered for several years with the local staff and management of Nkoaranga Orphanage, as well as other organizations, to improve child care. The mission of The Small Things is to provide comprehensive assistance for orphaned or vulnerable children and their families in Nkoaranga Orphanage and Hospital/Usa River, Tanzania, not only in moments of crisis, but with thoughtful and long term plans. Working with the local community, TST aims to educate and assist our clients, primarily women and children, in becoming contributing, healthy, active citizens impacting their country and our world.For further information, see http://www.thesmallthings.org/

Related
Popular in the Community