Hello, hello, hello! Nine years after "The Comeback" began and ended its single-season stint on HBO, Valerie Cherish disciples are gathering at the alter of their favorite hapless has-been to welcome her back to television. Returning for eight episodes beginning Nov. 9, with a growing cult audience that's discovered the show via DVD and streaming services, "The Comeback" and lead star Lisa Kudrow are once again in the TV spotlight. Whether you're a newcomer or a longtime advocate, use our primer to prep for Sunday's premiere.
If "The Comeback" is so good, why was it canceled, anyway?
Longtime pals Michael Patrick King and Lisa Kudrow created "The Comeback" after "Sex and the City" and "Friends" came to a close in 2004. Its 13-episode debut season premiered on June 5, 2005, to disappointing ratings and lukewarm reception. (For example, onetime Entertainment Weekly critic Gillian Flynn -- maybe you've heard of her? -- gave the show a C.) In the same way that many of this year's films have dissected fame's cruel treatment toward aging movie stars, "The Comeback" was one of several premium-cable series to chronicle the inner workings of television -- "Curb Your Enthusiasm," "Entourage" and "Extras," among others.
"We've looked at our schedule, and given our future commitments, we felt we would not be able to give the show the support it needed," an HBO spokeswoman said in September 2005's cancellation announcement, which came about two weeks after the season finale. In retrospect, the show arrived too soon for us to admire its rich commentary: Multi-camera sitcoms like the one Valerie joins were only just becoming a punching bag, and celebrities headlining reality shows still seemed like a fleeting novelty. "The Comeback" began to find a second life when Kudrow earned an Emmy nomination in 2006. Many critics hoped she'd win (instead, Julia Louis-Dreyfus prevailed for "The New Adventures of Old Christine"), and the show's fan base has escalated in the years since. Entertainment Weekly called it one of the 10 best shows of the 2000s. (We assume Gillian Flynn didn't cast a vote for that list.)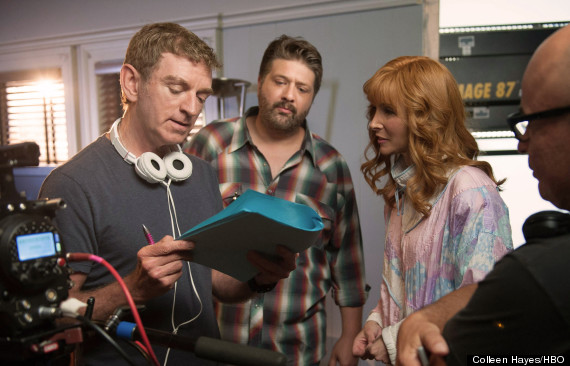 Michael Patrick King, Lance Barber and Lisa Kudrow work on a scene while filming Season 2 of "The Comeback."
Can I watch the new season without having seen the first?
It won't be hard to follow along with the basic plot, but we recommend visiting Season 1 before moving forward. Otherwise you'll miss the many in-jokes about Valerie's previous antics and the people who surrounded her. The new season is essentially Valerie being the exact same Valerie we saw nine years ago, and callbacks abound.
I don't have time to catch up. Just tell me happened in Season 1.
Okay. Shallow sitcom actress Valerie Cherish returns to the spotlight following a decade-long hiatus with what should be a starring role in the youthful comedy "Room and Bored." She's also agreed to be the center of a reality series called "The Comeback," which means a camera crew is embedded with her along the way. By the time "Room and Bored" production begins, Valerie's part has been reduced to a supporting role as frumpy Aunt Sassy, which puts her at odds with callous showrunner Paulie G. (Lance Barber), who disagreed with Valerie's casting from the get-go. Along the way, we meet Valerie's flamboyant hairdresser Mickey (Robert Michael Morris), her patient businessman husband Mark (Damian Young), her standoffish teen stepdaughter Francesca (Vanessa Marano), her skeptical housekeeper Esperanza (Lillian Hurst), her abrasive publicist Billy (Dan Bucatinsky), her younger co-stars (pre-fame Malin Åkerman, Kellan Lutz and others) and Jane (Laura Silverman), the collected producer of "The Comeback" to whom Valerie frequently barks orders by breaking the fourth wall.
I want to watch the season premiere on Sunday, but I only have time to squeeze in a few episodes between now and then. Which ones should I watch?
Let's break it down to five vital "Comeback" episodes for your mini-binge: Episodes 3 ("Valerie Bonds with the Cast"), 6 ("Valerie Saves the Show"), 10 ("Valerie Gets a Magazine Cover"), 12 ("Valerie Shines Under Stress") and 13 ("Valerie Does Another Classic Leno"). You can find them on HBO Go, Amazon Prime, iTunes or DVD.
I keep seeing some places say the new season is only six episodes. Is it six or eight?
When the return of "The Comeback" was announced in May, most reports indicated it would span six episodes. HBO confirmed to HuffPost Entertainment that the new season is in fact eight episodes.
Are all of the characters back?
Yes! We've seen the first five episodes, and can confirm that Mickey, Jane, Paulie G., Mark, Esperanza and Juna make triumphant returns. Unfortunately, we don't see any of Tom, Francesca, James Burrows and the rest of the "Room and Bored" cast.
What's Valerie up to this time?
While producing a reality pilot she hopes Bravo will pick up (get ready for an Andy Cohen cameo), Valerie learns a newly rehabbed Paulie G. is writing an HBO sitcom about a washed-up actress named Mallory Church who bears more than a few resemblances to Valerie herself. After storming into the HBO offices to protest, Paulie G. and the other executives offer her a role on the show. Of course she accepts.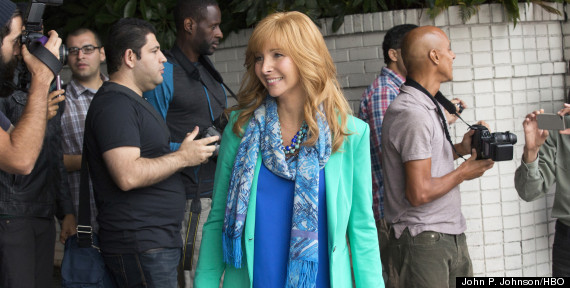 Valerie is igonored by the paparazzi in a scene from Season 2 of "The Comeback."
Who else is behind this show if it's so good?
All of the "Comeback" writers and directors are splashed across today's comedy landscape. Michael Patrick King went on to create "2 Broke Girls"; Amy B. Harris was an executive producer on "The Carrie Diaries"; Michael Schur wrote acclaimed episodes of "The Office" and "Parks and Recreation" before creating "Brooklyn Nine-Nine"; John Riggi was a star "30 Rock" scribe; Greg Mottola directed "Superbad" and "Clear History"; David Steinberg has directed "Curb Your Enthusiasm" and hosted "Inside Comedy"; Linda Wallem co-created "Nurse Jackie"; and Michael Lehmann has helmed episodes of "American Horror Story," "True Blood" and "Californication."
All of a sudden we're resurrecting short-lived shows. Is this one any good?
It's understandable if you're dubious after the disappointing fourth season of "Arrested Development," the limited buzz surrounding "24: Live Another Day" and the on-again, off-again status of AMC's "The Killing." But Season 2 arrives in full "Comeback" form: biting, a bit cringeworthy and almost jarringly funny. Watching Valerie try to convince us (read: convince herself) she's playing an actual "character" instead of a version of herself on Paulie G.'s new show is classic clueless Valerie. The show is still delightfully painful to watch at times because of how cataclysmic Valerie is to herself, and the satire is amped up another notch with the passing of time. Popular culture's changing tides are just as much of a punchline here as they were nine years ago, as we see in an outtake from a never-seen "Real Housewives of Beverly Hills" gig that Valerie bombed before the franchise first aired. Val couldn't handle the "Real Housewives" because she was embittered by her first reality-TV experience, yet here she is repeating her own mistakes. That's been a thesis of "The Comeback," and even with a slightly more benevolent take in Season 2, it's still one of Valerie's most recognizable characteristics. Season 2's continue prescience is a reminder that Season 1's jokes were on the nose back in 2005, way before audiences took to them en masse.
Will there be more after Season 2?
King and Kudrow have demurred on whether the show has another life down the road. Michael Lombardo, HBO's president of programming, said he'd welcome more of "The Comeback" in a "heartbeat." As of now, nothing official is planned.
REAL LIFE. REAL NEWS. REAL VOICES.
Help us tell more of the stories that matter from voices that too often remain unheard.
BEFORE YOU GO