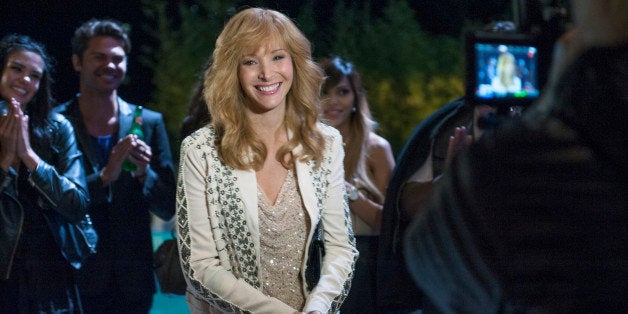 Rarely is television able to capture anything as graceful or thought-provoking as the second season of "The Comeback." For something that lays out its premise in such a bare way, the eight-episode journey of Valerie Cherish, set nine years after we first met her, spoke to everything the show has worked to accomplish. For the first time in the series' history, Val is free from a prying camera lens, and we are able to see some of the comedy's most unbridled emotions.
Despite whispering to Andy Cohen that she "get[s] it now" -- "it" being reality television, following her calamitous attempt to join the "Real Housewives of Beverly Hills" cast -- Val obviously does not "get it." Very little about the way Val comports herself in front of reality cameras is real, which is part of why Season 2 has remained so pleasantly punishing. We expect most characters to grow in some way, but with Val we get the opposite. After seeing her accept the role on "Seeing Red," simulate a blow job onscreen and bomb at The Groundlings, Valerie's marriage -- the one consistent source of support in her life -- begins to crumble. It was one thing to see Mark move out; no way could he survive the intrusive presence of the "Seeing Red" crew in their house. But when Val kept her wire on during their important reunion dinner, we moved past marital decay and into a degree of miscalculation that leapt beyond any of her past transgressions. If Valerie's marriage molders but she wins an Emmy as Jane's cameras roll, it's enough to say that there is no such thing as a real Valerie. The scenes in which Val and Mark forgot there was a camera embedded in their bedroom, when glimmers of honesty and comfort shone through, would have been for naught.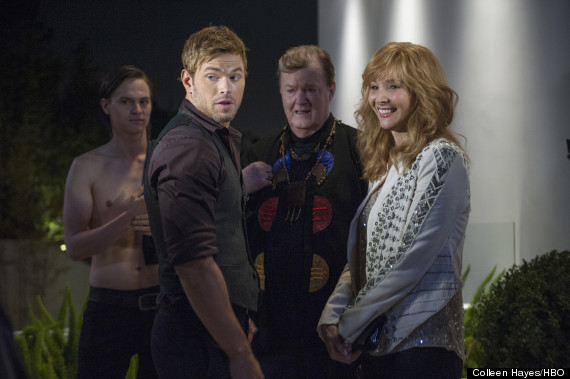 Instead, Val leaves the Emmys to go see Mickey in the hospital when his cancer flares up, and the show loses its ugly quality and morphs into the very thing Valerie wanted all along: the beauty of a well-produced television show, one in which she'd strut around with a literal glow hugging her frame. In Valerie's ideal world, she'd get the laugh, the cry and the cheer, all according to the script that was handed to her. She's got to give the people what they want, you know?
Valerie thought she got what she wanted with an Emmy nomination, people cheering when she arrives at a pre-party and advances from her hunky former co-star (Kellan Lutz). We know she didn't. It isn't until there's no script and no producer instructing her that Val finds security. She leaves the ugliness of reality TV, and we get a third-party look as she panics about the odds of losing one of the people most loyal to making each of her performances look their best. By the time she arrives at the hospital, Mickey is okay and Mark is awed at her decision to abandon the award show before her category is announced. (By the way, how fun was it to discover Val was up against Julie Bowen, Anna Chlumsky, Laverne Cox and Sofia Vergara?)
At last, Valerie got, as the finale's title indicates, everything she wanted -- and realized she didn't need to perform to do so. Isn't that part of what the show has implied all along? We treasure Val's ridiculousness, but we also know there's a real person in there who might emerge if Val would remove the mask she insists on donning most of the time. She may have to step into a Dorothy-leaving-Kansas meditation to get there, but this is still the Val we've known since "Room & Bored," the one who's desperate for admiration. The only difference is that, for a few moments, the facade that's made us cringe was stripped away. The episode's warmth created a shocking finale that confirmed everything we love about the show's acerbic calculations.
Did we need a "lesson" to feel good about "The Comeback"? Of course not. But after years away from it, do we really need a revived show to retread the same material? Time and wisdom have a direct correlation, which is part of why the return of "Arrested Development" fell flat. In keeping, the finale seems to say "The Comeback" isn't just a show about an industry -- it's about a person.
Michael Patrick King and Lisa Kudrow have demurred about whether there's more life in "The Comeback." (Sean Hayes, who guest-starred on the finale and is pals with Kudrow, said it's already a done deal.) One of the finale's major accomplishments is tying a satisfying bow around this wonderful, turbulent season. We could leave Valerie forever and feel like we finally got a full picture. But it also proves that revisiting the show in another several years is HBO's best course. Let Val and Mark go to the Emmy after-parties -- "Uh, have we met?" is the perfect response when Mark asks if she still wants to go; see, she hasn't changed! -- but let's check back in on them after another set of hurdles and another attempt at self-realization has set in. It turns out "The Comeback" isn't so much about lack of growth; it's about learning how (and when) to grow. For Valerie Cherish, it was a very specific journey. It's not done yet. There will be a next phase, another comeback -- we have no reason to believe otherwise. Valerie can gain some enlightenment and still flirt with the dark side. Laura Dern built an entire character off that concept. But now that we've stepped off the red carpet and into Valerie's Kansas, the show has proven it was about achieving happiness all along. The teary-eyed sentimentality it took to get there shouldn't distract from the continued mission to remain true to Valerie Cherish -- good, bad, ugly and impossibly beautiful.
In the meantime, give Lisa Kudrow all the awards in the world. There wasn't a better television performance this year.
Calling all HuffPost superfans!
Sign up for membership to become a founding member and help shape HuffPost's next chapter
BEFORE YOU GO