I had a simple question for a few of my favorite comic creators. What kind of music inspires you and helps your creative process when creating comics?
We all have our own unique tastes and favorite genres of music but I thought it would be really neat to connect the dots and hear what they hear when they are working and see how it corresponds to their style of work. A lot of it makes total sense and in a way it's sort of a tiny gateway into their creative vision. Listen to what inspires them, and hopefully it will inspire you! I present to you, The Great Comic Creator Mixtape!
Becky Cloonan is currently the artist on Conan The Barbarian for Dark Horse Comics and just released the self-published The Mire after the widely successful Wolves. All available at her website! Buy them! They rule!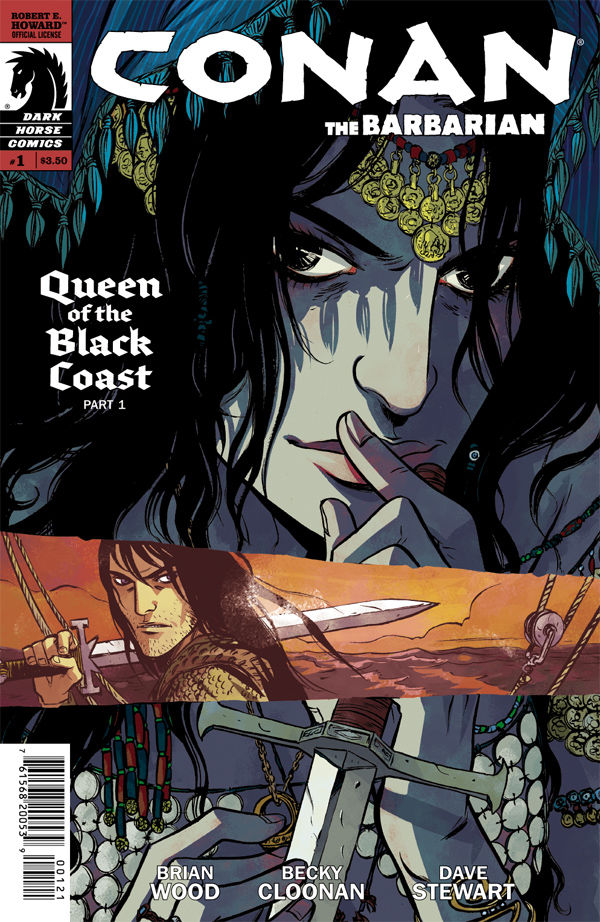 Enough Metal to Build a Bomb Shelter
I love metal. And since everybody is (or rather, should be) acquainted with Iron Maiden and Sabbath (RIP Dio) I'll list some essential albums for people who are looking to get into ambient pagan semi-acoustic neo-folk music with eternally grim and frostbitten black metal roots! This is atmospheric, melodic black metal at its finest, and these are all albums I go to again and again.

My job (drawing comic books!) requires me to read scripts, layout pages, and occasionally write, so a lot of the time I'm listening to music that is more atmospheric. That and I'm not an angry mohawked teenager anymore, so it's nice to find bands that embody qualities that I love about black metal, but aren't afraid to whip out their acoustic guitars and bring it down from 11 to maybe five or six when the song calls for it.

I hope everybody starts listening to black metal so we can get these bands to tour the U.S. a little more. Come on guys! Don't make me move to Europe. (I'll do it, I swear!)"

Winterfylleth - The Mercian Sphere
Nest - Trail of the Unwary
Empyrium - Weiland
Ulver - Kveldssanger
Vàli - Forlatt
Wardruna - Runaljod (Gap Var Ginnunga)
Wodensthrone - Loss
Tenhi - Maaäet
Agalloch - Marrow of the Spirit
Tony Akins is currently the fill-in artist of DC's Wonder Woman along with writer Brian Azzarello and Cliff Chang. His next issue is #9. He was also the artist of the hilarious New York Times bestseller Jack of Fables. Available in Trade Paperback.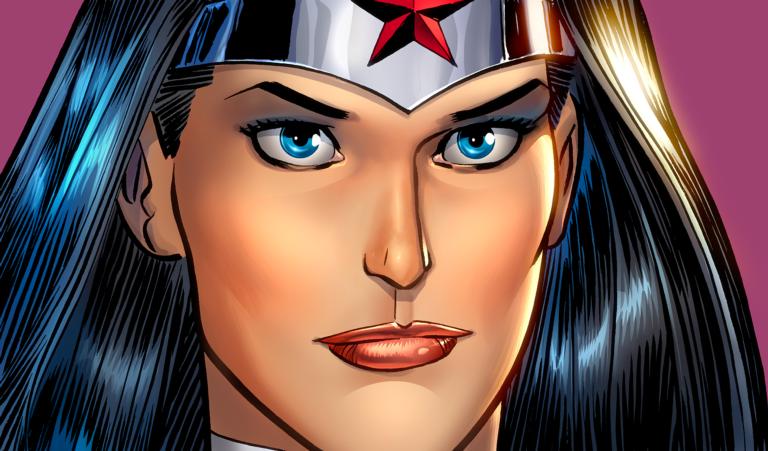 My musical tastes tend to be very broad and sometimes whimsical. I like sitting at a "big table" as Alice Walker put it. Rarely do I assign a type of music to put me in a type of mood unless I'm working on one of my own stories. But I do avoid certain music if I don't feel like it's matching my creative state. So basically I like musical roulette! I've been using Rhapsody a lot lately as I can stock a playlist with my standards and then branch out easily. So I'll launch my studio playlist and here's what loads.

The Lake - William Sterndale Bennett:
Wishing - A Flock of Seagulls:
Rip Rig and Panic - Rashaan Roland Kirk:
Faster Than a Dead Horse - Viva Voce:
San Jacinto - Peter Gabiel:
Snake - P.J. Harvey:
A Call To Arms - Beirut:
The Veil Comes Down - Thunderbirds Are NOW!
My Life In The Sunshine - Roy Ayers:
Life On The Nickel - Foster The People:
The Suns Whose Rays Are All Ablaze - The Mikado by Gilbert and Sullivan
Put Your Hand Inside The Puppet Head - They Might Be Giants:
I Got Mine - The Black Keys:
Wake Up - Arcade Fire:
Ripeness - Echo and The Bunnymen:
Fotzpolitic - Matt Haimovitz:
The Sharpest Claws - The Dirtbombs:
Am I Born To Die? - Tim Erikson
And Your Bird Can Sing - The Beatles
As A Bird Or Branch - Colin Stetson
Carve It Out - Matt Bauer
November 25;Morning - Philip Glass
Steve Niles is currently writing the 30 Days of Night ongoing series for IDW along with artist Chris Mitten. He is also writing Criminal Macabre also with Mitten. He is also writing Crime and Terror along with artist Scott Morse for Image Comics. You can purchase all types of great comics by him at his site here, and also be sure to check out his blog!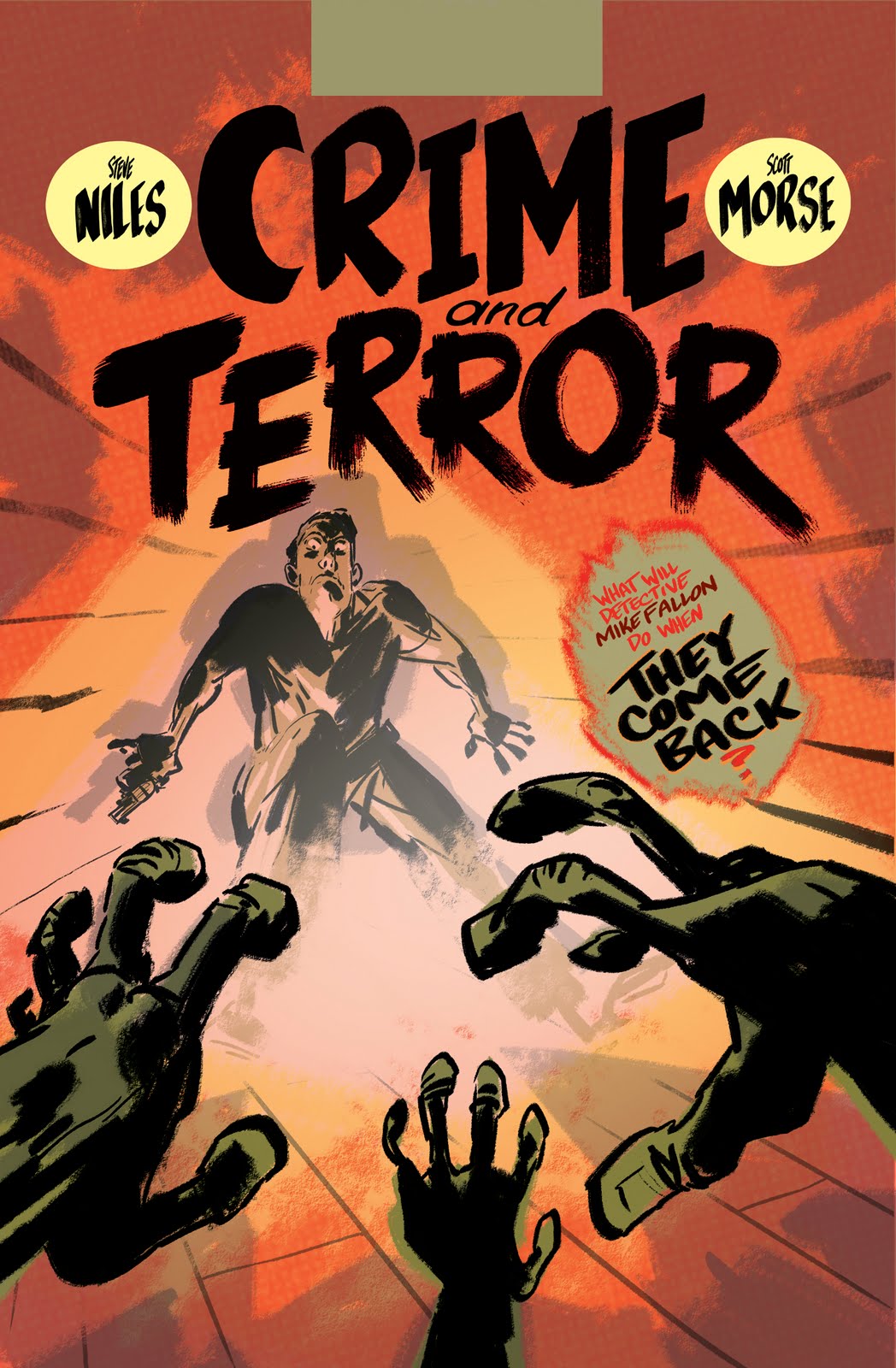 Gary Gilmore's Eyes - The Adverts

Pipeline - Agent Orange Living In Darkness
Tired of Being Alone - Al Green
I - Bad Brains
Fearless Vampire Killers - Bad Brains
Glass Onion - The Beatles
Release The Bats - The Birthday Party
Depression - Black Flag
Green Onions - Booker T. & The MG's
Scapula - Buckethead Monsters & Robots
Harmony In My Head - The Buzzcocks
The Last Man - Clint Mansell The Fountain (Music from the Motion Picture)
Clean My Wounds - Corrosion Of Conformity
Senor Limpio - Corrosion Of Conformity
Neat Neat Neat - The Damned
Machine Gun Etiquette - The Damned
Insight - Dead Kennedys Give Me Convenience or Give Me Death
Come Back Jonee - Devo
Poledo - Dinosaur Jr You're Living All Over Me
Blue Pepper - Duke Ellington
Fa Cé-La - The Feelies
Wattershed - Foo Fighters
Strato-Streak - Fu Manchu
Drive - Fu Manchu
Treason Daddy Brother In Crime Real Patriotic Type Stuff
Tenebrae: First Movement 6:10 - Kronos Quartet
Looking At You - MC5
Blue-Green God - Meat Puppets
Walking Boss - Meat Puppets
A History of Bad Men - Melvins
I Don't Wanna Hear It - Minor Threat
Betray - Minor Threat
Shine -Motörhead
Overkill - Motörhead LIVE No Sleep 'Til Hammersmith
Yègellé Tezeta (My Own Memory) - Mulatu Astatke
Rollin' My Way To Freedom - Nebula Dos Eps
About a Girl - Nirvana
I Don't Care - Ramones
A Hail Of Bombs - Red Sparowes
Ventilator Blues - The Rolling Stones
Youngblood - Russian Circles
Pretty Vacant - Sex Pistols
The Stooges -Rip Off
T.Rex - Electric Warrior
In Search of - Truckfighters
Who Are You? - Void
Wizard Fight - Weedeater
Champs - Wire
No Pity - 999
I Got a Right - Iggy & the Stooges
Michael Kupperman is currently writing and illustrating the hilarious Tales Designed To Thrizzle for Fantagraphics. Last year he also published the 100% truthful The Autobiography of Mark Twain 1910-2010. You can buy all of those here.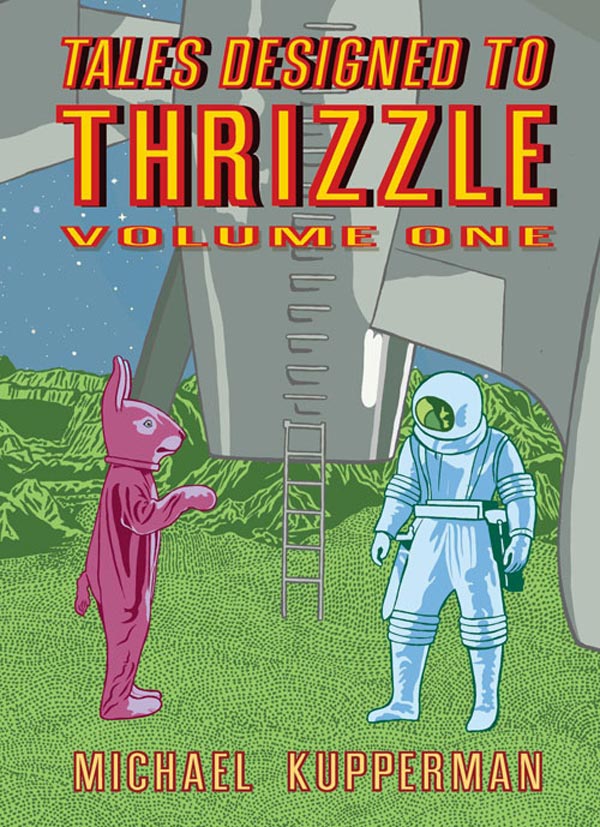 "Chirpy Chirpy Cheep Cheep," Middle of the Road
This is just the oddest song. It's upbeat, and bubblegum, and catchy, and sad, and kind of incomprehensible. It was written by a French composer and recorded by a Scottish group, and was one of the highest-selling singles worldwide of all time.


"In The City," Joe Walsh
When I hear this song I'm always reminded of the movie it closes, The Warriors. That movie really sums it all up for me, the experience of being a New Yorker. Pretty much.

"I Did What I Did For Maria," Tony Christie
This is the catchiest song from the point of view of a man who's about to be hung for killing the murderer of his lady friend you will ever hear. Tony Christie is an amazing singer, I don't know why he isn't more famous.

"Devil May Care," Dick Todd
This is a song I downloaded from a site where a guy had digitized and uploaded all his 78s. When my wife was pregnant with our son, her water broke six weeks early. I hit this song on my iPod and in my mind it became my unborn son's voice. "You know me, pal... I'll take a dare." Apparently Dick Todd was the "Canadian Bing Crosby."

"The Glamorous Life," Cool C
This is a catchy rap number from back in the day, although the production could've been a lot better. I was shocked to find out recently that Cool C is on death row for killing a bank guard in a botched robbery he pulled with Steady B, who's another rapper I listen to a lot.

"Finding the Plane/Underwater Ballet/Bond with SPECTRE Frogmen/ Leiter to the Rescue/Bond Joins Underwater Battle," John Barry
For adding color and suspense to your everyday life, nothing beats James Bond soundtrack music. Thunderball has one of the best soundtracks, despite not being one of the best movies.

"Impressed," Sporto Kantes
This is hip, shiny French music, and they've used samples from several sources, including Stan Freberg Presents The United States of America: Volume One The Early Years, which was one of the few comedy albums my father owned and would put on for us occasionally.
Rick Remender is currently the writer of Fear Agent by Dark Horse Comics, Uncannny X-Force, Venom and Secret Avengers with Marvel comics. Volume 6, the final volume of Fear Agent is out soon via Dark Horse Comics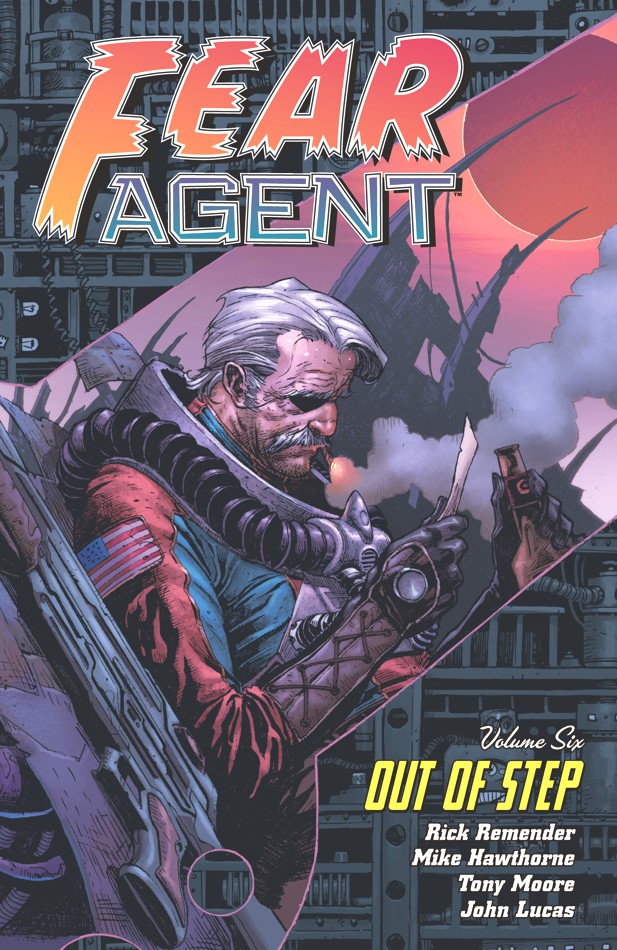 I listen to mostly instrumental show gaze/soundtracks. Some metal. I can't listen to music with lyric when I write, my brain has only one track.

Inception - Music Composed For The Motion Picture - Hans Zimmer
Com Truise - Galactic Melt
Earth Divison EP - Mogwai
Various - Drive Original Motion Picture Soundtrack
All The Little Thing s- The Candlepark Stars
Age of The Fifth Sun - God Is An Astronaut
III - Gui Boratto
Halycon Digest - Deerhunter
Law - Cougar
Masterworks 1946-1947 - Charlie Parker
Here Come The Warm Jets - Brian Eno
Missing Deadlines: Selected Remixes - Ulrich Schnauss
The Third Hand Instrumentals - RJD2
Beat Romantic - Talk Demonic
The Avenger - Amon Amarth
Wavering Radiant - Isis
Advance and Vanquish - 3 Inches of Blood
La Voyage Dans La Lune - Air
City of Echoes - Pelican
Fiona Staples is the artist of the upcoming and hugely anticipated Saga along with writer Brian K. Vaughan by Image Comics.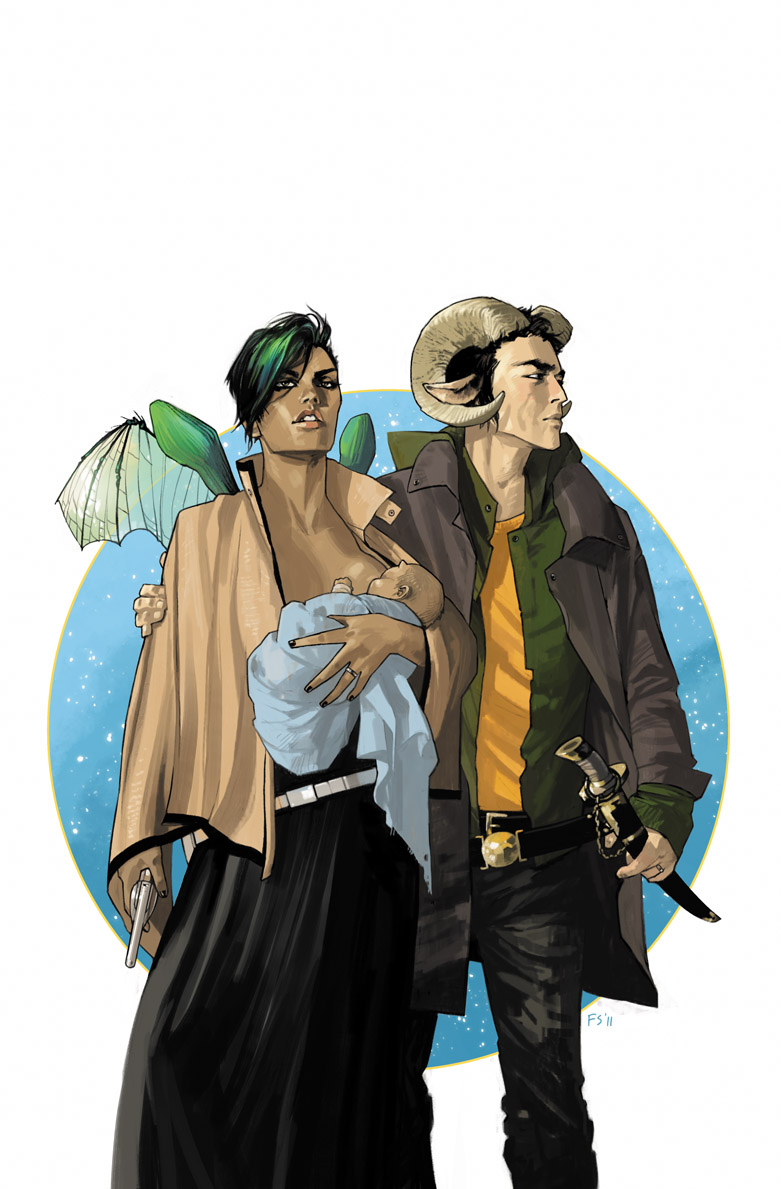 The Jesus & Mary Chain: I just play all their albums from Psychocandy to Munki. I don't know why this is my favourite band to work to -- I guess they hit just the right level of intensity, where I'm energized but not distracted.

The Cramps: All the songs about voodoo and monsters keep my mind in that special comic-drawing space.

The Diddy Kong Racing Extended Soundtrack: This is reserved for when it's like four in the morning and I'm racing against a deadline, and already going insane anyway so why not embrace it.
This turned out really cool and I really dig being able to read all these. Hopefully you enjoyed this one as much as I did putting it together! What do you listen to when you work? How does that help you creatively?
As always, read more comics!
Calling all HuffPost superfans!
Sign up for membership to become a founding member and help shape HuffPost's next chapter