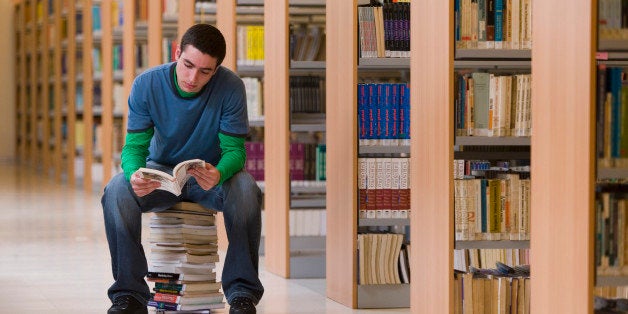 This speech was given by Steven L. Isenberg to the graduates of the English Department of the University of California, Berkeley, on Saturday, May 17, 2014.
Madam Chair, Distinguished Faculty, Honored Graduates, your families and friends,
Because I was raised in Los Angeles and came here this week from my home in New York, I can't resist beginning with this fable.
You may recall the 16th century idealistic quest of Saint Theresa of Avila. It formed the Prelude to George Eliot's Victorian landmark novel, Middlemarch. The following up-to-date version of St. Theresea's journey comes from the playwright David Mamet and appeared in Rolling Stone:
One day, God summoned Saint Theresa and sent her to earth to walk among mortals. On the first day she called God in despair and said, "I am in New York. There is no beauty, no love, no religion, no kindred spirit. I want to come home." "No," she was told, "continue on." The next day ,she called God and said, " I'm in Chicago and it's worse. There is no humanity and so much suffering of the human soul. I must come back to heaven immediately." But God told her she must continue on. On the third day, Saint Theresa called again and said, "God, darling, it's Terry. I'm in L.A."
Let us hope in breathing in the spirit of Berkeley again and afresh, I find the right words for this glorious occasion. To tie my days to this day and you and your days ahead, may I look back to the year I graduated?
In March of 1962, I heard President John F. Kennedy speak at Charter Day. It was moved to the old Memorial Stadium to accommodate the then-largest crowd of his Presidency. Kennedy cited the 100 years from amidst the Civil War when President Abraham Lincoln signed the Morrill Act that created land grant universities. Kennedy called it the "most extraordinary piece of legislation." Six years after the Act was signed, our university, the University of California at Berkeley, was given its founding charter in 1868.
Kennedy went on to speak of the "public interest" and public service, a call I would answer five years later. He won the crowd by introducing leading members of his cabinet who held Berkeley degrees, saying, It was a disheartening fact to some that the New Frontier owes as much to Berkeley as it does to Harvard University," his alma mater. He spoke of the Cold War. The Cuban Missile Crisis lay months ahead.

In June, I picked up my cap and gown at the old Student Union and standing beside me at the rack for robes was the Chief Justice of the Supreme Court, Earl Warren, a three-time Governor of California. He was there for the 50th anniversary of his graduation. We walked up to the ceremony together.

Something was born in me, perhaps from seeing those public figures, that said, "Go East, young man." So a few weeks later, my younger brother emptied his bank account of $75 for me. I took a plane to New York and found a job in a publishing house reading unsolicited manuscripts for $60 a week.
Eight years later, I was back here in the Greek Theater, proudly bringing together my alma mater and my boss, Mayor John V. Lindsay of New York, for whom I was a 29-year-old mayoral assistant and later, his chief of staff. I had helped bring about an invitation for Lindsay to speak at Charter Day. I did so with the then-Vice Chancellor and my cherished philosophy professor and still a superstar on this faculty, John Searle. He had put it in my mind as an undergraduate to go on to Oxford, and thus changed my life, just as he had by spurring my thinking in his classes.
1970 was a center point in a combustible era, scarred and shaken by assassinations and riots. Our country was riven by the Vietnam War, so much so that Alastair Cooke of the BBC reported, "they are spitting across the dinner tables of America." Lindsay, a Navy combat veteran of WWII and a former Congressman, had been one of the first politicians to come out against the Vietnam War. He had served as the Vice Chairman of the National Commission on Civil Disorders, and was a champion of the cities, minorities and civil rights. Berkeley's Chancellor, Roger Heyns, decided he was the right speaker for the moment and the campus.
It was the convention then to grant an honorary degree to the Charter Day speaker. But for the first time, some Regents bidden by then-Governor Ronald Reagan to a petty political act, voted 13-12 to refuse the degree. The campus and alumni were furious. They wrote and called to say they hoped this wouldn't deter Lindsay from coming. It did not. He wore his Yale robes and his opening line was "I'm happy to be here, to a degree."
He spoke with unyielding firmness against the repressive rhetoric and atmosphere of the Nixon-Agnew administration. Lindsay's candor and content were grounded in his strongly held belief in the right of dissent and free speech, a belief Berkeley has always held dear.
The refusal of the degree completely backfired and this campus embraced Lindsay. The Faculty gave him a citation. I felt myself present in a drama of courage and resolve, led by my boss and my old campus, joined together in conviction.
Today I stand at this podium for the first time, having always sat in the audience. And yet I am with you in spirit and identity. I have the honor of speaking because I am well up the road in my journey as what J. D. Salinger called "a lifetime English major." I am a grateful defender of the faith in the study of the humanities and their place in our public and private lives. You and I are at one in having chosen to make the strong columns of our academic foundation from the study of English, its language and literature. And, as with your parents, I am the father of an English major. And in a lucky turn, after other careers, I have taught at several universities, being fortunate later in life to take a road not taken earlier. My years of teaching, together with memories of the great tradition of this English department and the professors who so inspired me, makes me especially mindful of your faculty and their exemplary role as scholars and teachers.
Commencement is the Thanksgiving Day of academic life. And it is especially right as English majors that we are grateful for the literary treasure which we read and the vitality of the language we inherit, and for all who have taught and encouraged us -- family, friends, professors and our fellow students. I know your teachers recognize how much they have learned from your fresh, curious and alert minds. It has been aptly said, "Gratitude is among the human accomplishments that literature lives to realize."
Today may not be the end point in your formal education. Graduate and professional schools will be part of many futures. So too, will be careers in academia, teaching, publishing, journalism, editing, writing and other callings long associated with a literary bent. While you will help to sustain their traditional values, you will also be a part of those worlds as they assume new forms, new enterprises and new idioms. Change will reflect the reshaping dynamics of expansive technology, international connections and a diversity of perspectives. Those circumstances, and for all of you the wholly new fields of thought and activity which will certainly come about in the future, demand that you continue adding to your knowledge and skill.
Some of you will become professionals in other walks of expertise and responsibility, for example, becoming entrepreneurs in the marketplace of ideas, goods and services, an ever-growing phenomenon testifying to the individualistic spirit. Others will heed their creative impulses and shape them toward novels, poetry, movies, song, comedy, television and other ways of informing and entertaining, all of which come to life from articulate and vivid imaginations. Others will find their place in governmental or corporate or non-profit settings where an incisive intelligence and vibrant energy can make a real mark and significant contributions.
And yet for all these and more prospects, some of you and your parents may have in mind a question as to the world of work and English majors: "Do they need us?" I was reading, again, recently, the autobiography of one of my favorite novelists, Graham Greene, and was struck by this sentence: "Perhaps, until one starts at the age of seventy to live on borrowed time, no year will seem again quite so ominous as the one when formal education ends and the moment arrives to find employment and bear personal responsibility for the whole future." I remembered when I graduated feeling a certain sense of loss at having to leave the coherence and happiness I had built up in undergraduate life. I was unsettled by not knowing what I would do next. The first in my family to go to college, I had small knowledge of the world's possibilities and only impulses of interests, rather than a settled direction.
But I did know how to read and loved to do so, and I liked to write, however much work I knew my writing needed, so I banked on those two elements for confidence, feeling they must be a foundation for whatever was to be ahead.
I want to say why I think you should have confidence, especially having it at hand when called on to convince those who will take a chance on you in the early years beyond college of your readiness.
Recently, someone sent me the words of William Johnson Cory, once described as the "wisest master" at Eton. While the words come from long ago, and have a classical air about them, I think they represent a summing up of a claim you have a right to make. Speaking of education, he saw at its core "mental efforts under criticism."
Cory distilled the best of education as giving us:
...arts and habits; the habit of attention; the art of expression... the art of experience; the art of assuming at a moment's notice a new intellectual position; the art of entering quickly into another person's thoughts; the habit of submitting to censure and refutation, the art of indicating assent or dissent in graduated terms, the habit of regarding minute points of accuracy... of working out what is possible at a given time, for taste, for discrimination, for mental courage and mental soberness.
"Above all," he said, "you go to a great school for self knowledge."
Although English majors don't have an exclusive corner on all of this, we exemplify the spirit of Cory's words. You have learned how to learn by venturing into the past and into subjects about which you once knew little. Learning how to learn is itself the essential warrant for taking on anything new. And that is what you will do over and over again in your long lives ahead, even as you build up your reservoir of experience and savvy.
Of course, Cory's words are as much aspirations and principles as they are accomplished fact. They need not be thought of as completely formed within you now, but as well begun. Together with what literary studies give us in the way of noticing gesture and language, in making our sensibilities register to character and situation and in developing a keen ear for what and how things are said, and understanding the ways and importance of telling a compelling story, Cory's list of attributes are why English majors and others in the humanities are needed in all walks of work and as citizens.
We can also be of use in this all too narrowly opinionated age by following the dictates of three British masters of mind, language and literature: Samuel Johnson's aspiration "to help improve opinion into knowledge;" George Orwell's injunction to steer clear of the "smelly little orthodoxies;" and William Empson's dictum that what is most to be valued in the arts is 'The realization that intelligent, sensitive and compassionate and very good people' can disagree with us.' And to keep us mindful of the fact that mistakes and misapprehensions are woven into life, we can recall Nathan Zuckerman saying in Philip Roth's American Pastoral, "That's how we know we are alive; we're wrong."
Of course, our love of reading is a touchstone for fullness in our lives. Literature in its many forms takes us beyond our own experience to other possibilities, to fathom other lives and other minds and circumstances and then brings us back to ourselves enlarged and instructed and challenged and comforted by new thoughts and feelings, as well as new understandings. The prize given today in the name of Mark Schorer, my teacher and the departmental chair for whom I worked as a reader, recalls his having written, "Learning to read novels, we slowly learn to read ourselves." And indeed we learn to read others, the essence of a sympathetic imagination, a profound force in our daily lives and the foundation for wise judgment and winning the respect and love we all seek.
My wish for you is to come across people who will meet you halfway and trust you with responsibility. Nonetheless, there will be those who require our patience and summon our resilience. And here is such a one.

In Tom Friedman's Sunday New York Times column a few weeks ago, he quoted the top hiring official from Google, who said sensible things about wanting problem-solvers. But then the hiring man went on to say the first trait he looked for was grit. And continued, "I told that student they are better off being a B student in computer science than an A plus student in English because it signals a rigor in your thinking and a more challenging course load."

Well, let me say this about that. Who is to say that an English major has no facility in computers? And who is to say that rigor, intellectual rigor, does not adhere to the study of the humanities? Intellectual rigor comes in many forms. And when Google turns to people for management roles or to create content or to write something with fluency and persuasiveness, or to think through knotty issues of privacy, national security and free expression, do you think they only turn to computer science majors? In my last job, running PEN, the oldest literary human rights group, I met with Google lawyers and others on their staff about free expression issues and they were admirably thoughtful as to the complexities. Surely, they weren't all -- or perhaps even any -- computer science majors. And I should like also to say to the hiring man, not so by the way, grit, true grit, is a matter of character, not curriculum. It comes from standing firm when being tested by circumstances, not from sitting in a certain class to take a test. Someone at Google ought to have more than a word with their head hiring guy.

The first years out of college may have their ups and downs, but you might remember the words of Benjamin Jowett, the famous Master of Balliol College, Oxford. They begin in prudent caution, but go on to an insistent encouragement: "Don't expect too much; don't attempt too little."
To end on a note of faith as to your choice in embracing the calling of the beauty and vigor of the humanities, and its sustaining grant of agility and the powers of appreciation, let me offer the words of our fellow English major at Berkeley, Joan Didion, who writes has a rare exactitude. She returned here as a lecturer 20 years after her graduation and thought back on her undergraduate years. The questions that struck her may be yours now or in years ahead. Her answer is there for the taking:
I was still unsettled by the familiar questions: What was I doing with what I learned? Why had I not learned Russian, Chinese, Physics, the Colonial History of Africa, the Kings of France? What Berkeley had to offer me was infinite. Why had my ability been so finite? Why did I have so many questions? Why did I have so few answers? Would I not be a more finished person had I been provided a chart, a map, a design for living? I believe so. I also believe that the world I know, given such a chart, would have been narrow, constricted, diminished; a more ordered and less risky world, but not the world I wanted, not free, not Berkeley, not me.
And I suspect not you.

Thank you for this privilege. Farewell. Congratulations.
Related
Popular in the Community