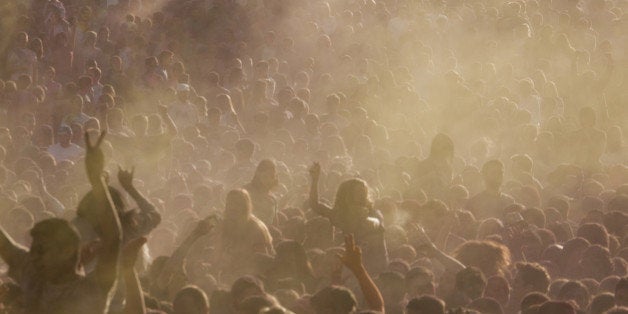 Music festivals are in a constant state of evolution. Community driven gatherings focusing on music and the arts developed into music festivals over the last century in North America and Europe, and especially in the past 20 years as music festivals have seen a resurgence and presence in the music industry. Music festivals began as small gatherings and developed into larger events, bringing with them a generated vibe that propels a festival forward through word of mouth and a must-attend quality to the event. As festivals grow in scope and audience, they become popular destinations with wide appeal, bringing in larger crowds that have new tastes to be appealed to. Music festivals are capable of catering to the needs of fans and making the event a fan-friendly experience devoid of the mass commercialization found throughout the music industry.
Yet music festivals are now evolving into Super Concerts. These are events that seem like music festivals but lack the grassroots history of the event, do not have years where the festival developed and saw audiences grow over time, and have an overall commercial presentation to fans. As commercialization increases, Super Concerts are labeled as music festivals and made to be a hot ticket of the summer. This is not the natural progression for the thriving music festivals in America and around the world, but a bastardization and redefinition of the concept of a festival, a word and event that is shared worldwide across cultures, a common thread of familiarity between everyone.
This is a calculated approach by large scale promoters and music industry corporations that results in cut backs to the community aspect and familial quality of festivals and increases marketability while ticket prices raise year after year. Mysteryland, Camp Bisco, Lollapalooza, Peach Fest, Coachella and many others have eschewed the festival roots and vibe to create a Super Concert that features dozens of bands designed to fit the promoters need to supplement a bill and draw in an audience while ignoring the festivals history, musical flow and audience desires.
Attending these festivals now includes a hefty ticket price, optional/tempting VIP packages for those who don't want to camp or deal with the gen pop of GA ticket holders, and marketing of products to concert goers, all while they attempt to see and experience new and familiar music with new and familiar friends.
Music festivals were not originally designed for the purpose of seeing one particular act and paying $6.50 for French fries or $4.50 for a bottle of water at venue stands, based on prices at Montage Mountain, home to Camp Bisco and Peach Festival. Yet this is what happens at a Super Concert. Medium and large scale music festivals (15,000-50,000) run the risk of this event-altering shift occurring when promoters desire to increase profits, utilize freestanding structures and established venues while capitalizing on marketing campaigns that build the bottom line. This detracts from the basis of a music festival, neglects fan requests and suggestions, and instead of framing the festival around what is best for the fans, it looks at what is best for Festival, Inc.
At the same time, the increasing need for more security, due in part to greater liability at venues and mass gatherings, leads to a slow death for the vibe and community of a festival that is whittled down to a shell of its former self. The freedom that is inherent in a music festival's purpose and existence is forgotten; buy the ticket and get taken for a ride while thinking a cloth wristband transforms the weekend from dull to spiritual and life-changing. If you get searched more than once going into a music venue, lose the ability to bring in open packs of cigarettes, or see police dogs checking cars upon entry, then you are at a Super Concert where little in terms of freedom is found. Ultimately, this can affect the live music experience amid these less than favorable conditions.
There is limited freedom in a Super Concert, but by calling it a music festival, the mirage of freedom is there. Super Concert promoters take the music festival and capitalize on every aspect of it - ticket, camping, parking, food, water, alcohol, merchandise, vending, late night music, VIP - while taking away the freedom inherent in a music festival. When a festival puts an RFID chip in your weekend bracelet, there's a good chance they have greater concern with money, enough that they are willing to pay to have you temporarily tagged so as to prevent unpaid attendees from entering.
With the festival explosion in late 2000s, the festival calendar is now overcome with too many festivals in close proximity to each other, leading to overkill. Some festivals need to take a year off in order to reassess and formulate a plan to co-exist in an increasingly competitive industry. In effect, the smaller festivals will get pushed out, having paved the way for larger festivals that grew at an expansive rate thanks to connections with booking agencies and large scale promoters. Small festivals birthed Super Concerts and may ultimately be devoured by their own spawn, taking the freedom these small festivals allows and turns it into a modified police state.
It becomes possible for Festival, Inc. to own the land, the talent, the infrastructure, control the vending and amenities and invest in a manner that smaller festivals cannot compete with. Vertical integration leads to a maximization of profits while trying to retain a visage of a true music festival, but this becomes untenable. What fades when all these factors are combined is the vibe and community, both of which come organically or not at all. Fans can see through the bullshit and pretense when festivals try to add a narrative that festival goers are expected to embrace. A hashtag is one thing, but trying to make a Super Concert feel like a true music festival is a Sisyphean task. The true festival vibe cannot be recreated just as a Super Concert vibe cannot be reapplied at a different event. A vibe cannot be created with the intent of reaching an audience through lifestyle marketing and social media campaigns. Vibes come from the ground up, from year one and develop over time, or not at all. They are the glue for music festival communities.
There are those music festivals that have grown over decades and still remain a festival in every sense of the word. A festival that has not only retained their identity but has it worn proudly by festival goers is Gathering of the Vibes, held annually in Bridgeport, CT. No Super Concert, Vibes has retained its 20 year identity while not selling its soul for ticket sales, as they reach an audience of Grateful Dead brethren and their extended families of friends. Grassroots Music and Arts Festival in Ithaca, NY has remained stationary and become an international draw in a small town in southern New York State. High Sierra Music Festival in Quincy, CA celebrated its 25th year and has a set date (weekend before/of the Fourth of July) while Gathering at Chafee's is in year 35, one of the oldest continuously running music festivals in the country. All these festivals have remained true to their purpose and vision while appealing to a wider audience simply through the extension of the festival's vibe and word of mouth. They refrain from attempts to add a major name to bring in ticket sales and rather find the bands that would continue to bring in repeat business, not continuous rapid expansion, while tailoring the lineup to the community vibe of each festival.
There is Lockn', a music festival that could be the first Super Concert to come with a vibe that was created in part due to a lineup stacked with jambands that bring in a crowd familiar to the music festivals of the 1990s. To resurrect the vibe of festivals from 20 years ago, now that the bands who played those small stages are now on the main stage at Lockn, is tapping into a proper scene and gives them a music festival experience that has grown as the patrons have. It stands to reason that the yearly benefit for farmers across the country, Farm Aid, may have been the original Super Concert, with an audience attending for purpose and in support of the music and cause, equally. Festivals like Mountain Jam, Electric Forest and Summer Camp straddle the line of being a music festival and a Super Concert, due in part to lineups that can be tailored to attract increased ticket sales in a competitive market and growth that needs to be sustained for the festival to have a future.
Smaller festivals such as Catskill Chill, StrangeCreek Campout, Northwest String Summit, Backwoods Pondfest, can and should avoid being pushed out or into larger growth. Each festival's vibe, history and ability for calculated growth can prevent them from being pushed out by Super Concerts.
What has been considered a music festival has changed broadly, but Super Concerts are already here. 'Music festivals' held in cities are the start, including Outside Lands (San Francisco), Moonrise (Baltimore), Art Outside (Austin), Governor's Ball and FarmBourough (NYC), Pitchfork and North Coast (Chicago) and Boston Calling. Here, multiple bands are set up within city limits with a festival moniker amid marked up amenities, food and beverages, the ever watchful eye of extra security and the added expenses of flights and hotel rooms that are tacked onto the ticket price. Super Concerts take after the draw of music festivals and appeal broadly, seeking customers from out of the area, not just locals, who are marketed to directly to attend this 'community' event.
When festivals become commercialized even for the smallest gatherings, music festivals will be a thing of the past and only found in small numbers in small venues in pockets around the country. You'll have to drive a distance to get there and have fewer amenities than Super Concerts (no showers or flush toilet) and no VIP. These smaller festivals will be closer to the original purpose of music festivals and not a charade of musical acts wearing the mask of a festival so as to continue the flow of money and sustain Festival, Inc.
Support HuffPost
The Stakes Have Never Been Higher
Popular in the Community