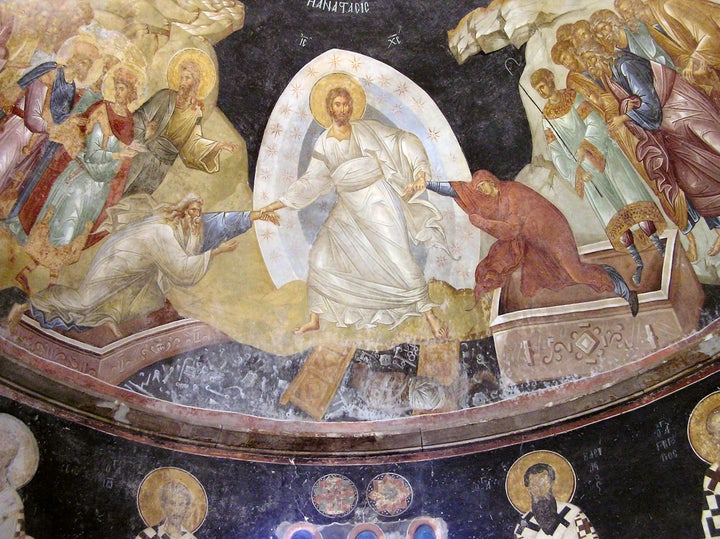 In the great Rotunda of the ancient Church of the Resurrection -- or Church of the Holy Sepulchre -- in Jerusalem is a tiny free-standing shrine known as the Aedicule or Chapel of the Tomb and Resurrection of Jesus. It is a tiny space and pilgrims are usually lined up waiting their turn to enter a few at a time.

A processional banner was hanging to our right as we entered that shrine-chapel in May, 2008. It is kept there, presumably, to be used in liturgical celebration on Easter Sunday. It is bright red with golden lettering down either side. To left is the word "Christ" and to right "Is Risen" -- both in Greek upper-case letters. No surprise there since that is Easter's celebratory greeting in Eastern Christianity. But in between those words, in the center of the banner, is a diamond-shaped image. And it surprises us.

That image does not show Jesus arising in splendid triumph from an opened tomb. This is not -- even in miniature -- a Titian or a Rubens with Jesus emerging in muscular majesty. But emerging, however majestically, in magnificent and lonely isolation. Instead, four other individuals are with him in this parabolic vision.

Jesus himself is at the left of the icon. He holds a small cross in his left hand and stands on the bi-fold gates of Sheol, Hades, or Hell which are shattered into a cross-shaped structure beneath his feet. Jesus is bending forward -- gently, tenderly, graciously -- and, stretching out his right hand, he grasps and pulls on the rather limp wrist of Adam. Beside Adam stands Eve. Behind the two of them stand a youthful Abel, with shepherd's staff, and an older John the Baptist, with beard and long hair. They are the first martyr of the Christianity's Old Testament and the first martyr of its New Testament.

At the top of that diamond-shaped image, lest there be any mistake about meaning, is the word Anastasis, Greek for "resurrection". But is not Easter about the absolutely unique resurrection of Jesus alone, so why are any others involved and, if others, why precisely these others? The answer reveals a major difference between Easter Sunday as imagined and celebrated in Eastern Christianity as opposed to Western Christianity. It also reveals for me the latter's greatest theological loss from that fatal split in the middle of the eleventh century.

When you look at Eastern Christianity's images, either for the great feasts of the liturgical year or for traditional events in Jesus' life, they are all -- save one -- quite recognizable to Western as to Eastern eyes. The great exception is how Eastern Christianity portrays the "Resurrection," that is, in Greek, the "Anastasis," of Jesus. Across vast stretches of time, place, art, and tradition, icons and illustrations, frescoes and mosaics show always a communal and not an individual resurrection for Jesus. We can watch that magnificent tradition develop across half a millennium -- from 700 to 1200 -- before its varied elements and successive stages are fully established.

First, the various elements of the tradition. Jesus is shown breaking down the closed and bolted gates of the Underworld -- as Sheol, Hades, or Hell -- the abode of the Dead, the prison of "those who have slept" -- that is the same Greek term used for them in both Matthew 27:52 and 1 Corinthians 15:20. The personified Hades, Prison-warden and Gate-keeper of the Dead, is shoved to one side or even walked on as Jesus barges in to liberate his prisoners. Jesus is usually carrying a cross, his wounds are often very evident.

Only six individuals are identified from the crowd responding to Jesus's arrival among the dead -- they appear chronologically across the tradition's development in this sequence. First, bearded Adam and youthful Eve appeared. In almost every single image, Jesus grasps the wrist of Adam to pull him alive from his tomb. Later, David, with crown and a beard, along with his son Solomon, with crown but without a beard, were added. Finally, as seen above, those twin martyrs, the Shepherd and the Baptist, joined the others. So, in summary, two ancestors, two monarchs, and two martyrs are singled out from the crowd. Still, if Adam and Eve are freed, who is not?

Next, the successive stages of the tradition. In the first stage Jesus is always approaching -- as we just saw above -- and grasping Adam's wrist. A next stage shows him leaving -- often looking backward or forward as he drags Adam by the wrist with the others looking on. A third or facing stage is similar to that last one except that now Jesus looks not backward or forward but straight out of the image -- at you, the beholder.

Finally, there is the last or doubling stage and I must admit that it is my favorite. Jesus has put down the cross -- sometimes an angel holds it for him -- and Adam and Eve are now on opposite sides of Jesus instead of, as earlier, both on the same side. Each gets a hand at this stage. We finally have an equal-opportunity resurrection of the dead.

In the western Christian tradition we call that tradition the Harrowing -- or Robbing -- of Hell and keep it carefully distinguished from the individual Resurrection of Jesus. "He descended into Hell," says the Apostles' Creed, "on the third day he arose from the dead." But in the eastern Christian tradition it is the communal Resurrection of Jesus. We, to our loss and my grief, have forgotten that corporate vision of Easter.

Eastern Christianity's tradition of the resurrection of Jesus reminds our Western Christian imagination that only poetry -- be it verbal or visual -- speaks to our profoundest hopes, deepest dreams, and greatest insights. It also reminds us that theology is -- no more and no less -- the poetry of transcendence.
Related
Popular in the Community