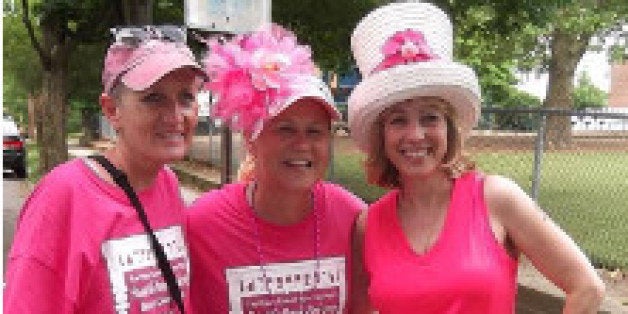 I count myself lucky to have belonged to some wonderful communities and groups over the years. From the school choir and the staff of my high school's newspaper, to work relationships and fellow Phillies fans, to simply being part of a loving family, all have helped define who I am and what's important to me. And then there are those communities we'd rather not be members of.
When my best friend of 30+ years was diagnosed with breast cancer, she became a part of a new and, unfortunately, growing club -- a sisterhood of women forced to become warriors in a fight for their lives.
Roxanne and those closest to her became fluent in a new language. We learned about staging and genes and drugs. After surgery and chemo that tested even her natural optimism, she emerged scarred, but grateful. She was ready to resume life as a mother to two very young girls and a wife to an adoring husband. But her membership in the community of survivors was short. The cancer returned. Roxanne died at 39, gaining her husband eligibility in another new group: the widowers.
But I did not find a support community for "persons that have lost a best friend." There was no one to reminisce with about old boyfriends, no more laughing over memories of high school hijinks, and no one to call for a confidence boost when the reflection in the mirror was unkind. There was just a deep, lonely ache of one.
In December of 2010, I was welcomed into a new group, The Porch Club of Riverton, New Jersey, a non-profit women's organization founded in 1890. The club is dedicated to the betterment of the community and its members, a diverse group of talented and dynamic women. I asked the club's then-president if a breast cancer fundraising event or walk had ever been held. As soon as I heard her answer "no," the idea for the Paint the Porch Pink Breast Cancer Walk was born.
A play on the phrase "paint the town red," the walk would pay homage to both the Porch Club and the beautiful Victorian porches for which Riverton is famous. The event was designed to meet three main criteria: it should be inclusive, accessible to everyone of every age and physical ability (including pets); it should involve and spotlight local business; and it had to be completely unique. The goal was that 100 percent of the money raised from walk attendees went to the charity.
What evolved was a relaxing, scenic three-mile stroll through town with stops at grand, decorated "Pink Porches" where walkers could stop to enjoy live musical acts and treats. Pink cupcakes, watermelon and pink lemonade are just some of the pink goodies available. Water and treats were also provided for four-legged participants. At the registration site, there was free face painting for all ages, chair massages and free pink carnations for survivors. Dozens of gifts donated by area businesses were raffled.
The regional community was invited to participate. Area businesses made donations to sponsor porches, route signage, t-shirt logos and more. Musical artists and other entertainers donated their time.
The first biennial walk was held June 5th, 2011. Five town residents volunteered their porches, each one decorated in pink. The inaugural walk exceeded our expectations; approximately 400 walkers attended and more than $14,000 were raised. They came from all parts of New Jersey, Pennsylvania, Delaware and New York. The second Paint the Porch Pink Breast Cancer Walk was held on June 2, 2013, and featured seven pink porches, with more than 550 walkers hitting the streets. At that walk, more than $20,000 was raised for research. We were also thrilled to have Myra Biblowit, the President of The Breast Cancer Research Foundation, as our special guest for the 2013 walk.
The Breast Cancer Research Foundation was chosen as the recipient of our donation because of its commitment to allocating 91 cents of every dollar spent to research. Some of those beneficiaries are local, Philadelphia-area research centers. The event requires hundreds of hours of work by dozens of volunteers. It is gratifying to know that those efforts, the generosity of our sponsors, and the donations from the hundreds of walkers will truly make a difference.
For years, I prayed for a new best friend. I now believe my dearest friend, Rox, guided me on this path, a journey that started with a walk. Instead of one, I am now a part of a group of caring women who I call friends.
Calling all HuffPost superfans!
Sign up for membership to become a founding member and help shape HuffPost's next chapter