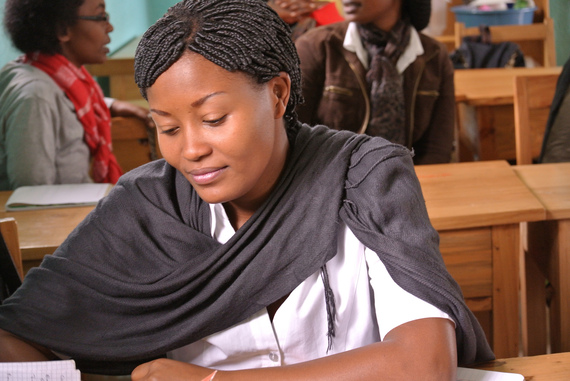 Source: Flickr
This year, political leaders shall meet in July in Kigali, Rwanda, at the annual African Union summit where a great deal of emphasis will be placed on human rights, with a specific focus on women's issues. I would like to take this opportunity to say a few words. There are numerous examples in Africa's both ancient and recent history of remarkable women who have contributed and at times even altered the destiny of entire nations.
However, while we should celebrate these singular figures, we ought not do it at the expense of millions of women across the continent who collectively shape through their daily lives the economic, social, intellectual and spiritual structures of Africa.
What matters the most is that the condition of women in Africa highlights the broader issue of the human condition on the continent. Women often bear the brunt of underdevelopment and are disproportionate victims of weak governance, inadequate health care, infrastructure bottlenecks, and education. Women make up half of the African population and produce 61.9% of economic goods, but only account for 8.5% of wage-earning employees. But these bad conditions shackle Africa's growth as a whole. Ending discrimination would help us all.
We can remedy how women are treated if we tackle some key underlying factors. For example, the way students are taken care of can greatly benefit women if applied without discrimination. I am convinced that we would see a significant uptick in school completion rates among young girls should Member States initiate a monthly stipend to support female education. Having an educated woman in the household will go a long way toward discouraging the ongoing practice of 'offering' young girls for marriage at the tender age of 13.
In some cases, countries make the mistake of withdrawing their support to young girls who become pregnant. In addition to the present double-standards, whereby male children are more likely to receive academic support such as grants and scholarships, there is an unacceptable difference between the way the two parents responsible for the pregnancy are treated. Similarly, household chores greatly affect the studying time of both young and teenage girls.
Indeed, empirical research has shown that women in Africa hold the keys to the well-being of households, particularly in rural areas that lack access to electricity and water. And invariably, a slew of onerous daily tasks such as collecting wood or water takes a toll on them. It has been estimated that African women spend a staggering five and a half years of their lives to fetch water to satisfy the needs of their household.
It is important to recognize that the location and management of key health and welfare facilities are also strongly determined and affected by gender. The location of specific centres for young mothers and for child care is too often decided without consulting women first (requiring them to make a detour from their usual places of business).
Cities expect urban women to play sports while ignoring the fact that the administration offers no space where they would feel safe. Or even more cynically, some cities favor the use of the private car and pay no heed to the troubles experienced by the poorest women traveling on foot and by public transport. All of these issues contribute to the multi-faceted and unacknowledged discrimination against women endemic in Africa.
To this I see only one solution. Energy and logistics infrastructure are essential to all, just as the rules of good governance, equality in law, the quality of educational institutions or medical facilities of good standards. The quality of these policies will be measured by its impact on an undifferentiated population. Obviously, wherever discrimination exists against women, it must be fought radically and this fight is mainly political.
What worries me the most in the current frenzy about the purported role of women in Africa is that it may distract us from the true shared, universal and pan-African goal to offer each of our citizens the opportunity to fully realize their potential.
Calling all HuffPost superfans!
Sign up for membership to become a founding member and help shape HuffPost's next chapter