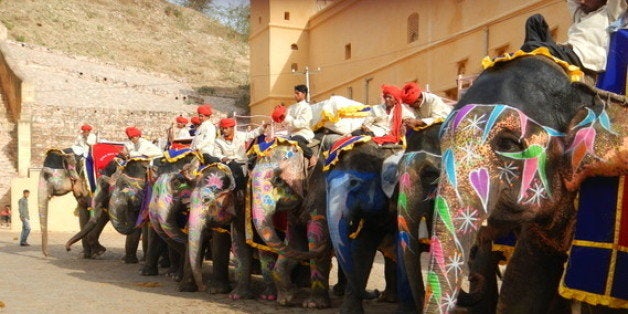 India is said to have the best wildlife protection laws in the world. And it's partly true: the country's Wildlife Protection Act of 1972 is benchmark legislation for the protection of wildlife--a global model. At least in words, anyway; actual enforcement of the law has been a different story altogether. One case in point is the horrific plight of captive elephants in India, and the devastating effect it's having on the vulnerable remaining wild populations there. This is an incredibly serious problem--and it's one that many tourists and members of the Indian public are fully enabling, likely without even knowing it.
Author Liz Jones recently published an expose on the topic entitled "Tortured for Tourists" in the Daily Mail, one of the U.K.'s largest newspapers. We're all too familiar with the conditions that Jones describes: frequent beatings and mutilation, malnutrition and dehydration, and literal years of confinement in tiny spaces are just a few of the hardships captive elephants in India endure. Still, it's heartbreaking to read another account of elephants being intentionally blinded or having bones broken for "disciplinary" purposes, of these incredible creatures being stripped of their freedom and drained of their vitality for a quick profit. Whether young or old, capable or lame, none of these elephants are shown mercy. They suffer at the hands of a keeper (or mahout) until they die, and that is their lot in life. This is the tragic norm in a country with one of the greatest wildlife protection acts in the world.
Lack of public knowledge is one factor here, and that's partially to do with inadequate publicity. Although the unprecedented killing of elephants in Africa has been well documented--and deservedly so; the population depletions and mass graves there should have everyone's attention--the equally alarming situation for Asian elephants has been woefully under-publicized. The shock evident in the reaction of Daily Mail readers underscores the desperate need for greater awareness. Most readers had no idea. They may have even ridden an elephant in India, as the author confesses, without any knowledge that this practice contributes directly to the suffering endured by elephants on a daily basis, behind the curtain of traditional secrets, in grim training camps and punitive "corrective" facilities, even at temples.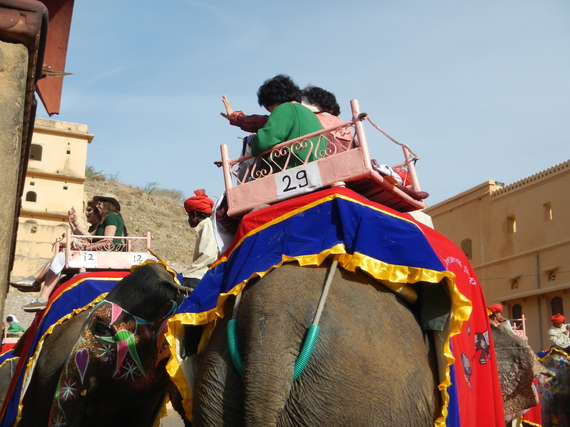 Whenever a story like Jones' comes out, we receive a chorus of questions from horrified readers. "Why does this happen?" "What can be done to stop it?"
These questions can be addressed by acknowledging the primitive notion of animals as entertainment. If the public at large would show the same disdain and horror for the Asian elephant-riding industry--and the senseless brutality behind the scenes that makes Asian elephants "rideable"--as we do for killing African elephants for ivory, the lucrative business of torturing elephants for human amusement would halt. People are simply not making a connection between a selfie on Facebook riding an elephant and a life of misery for the animal. But it's a very real connection. With education will come outrage, and with enough outrage maybe change.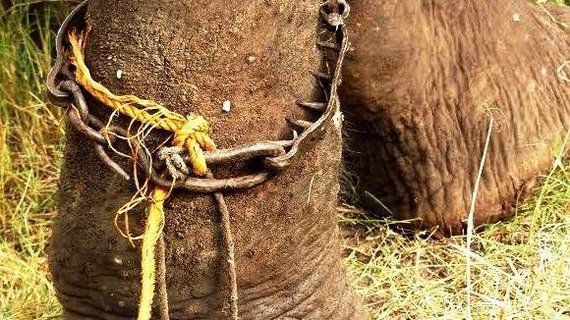 As we mentioned, the problem doesn't end with captive elephants in India, either. A significant portion of these elephants are being pulled from the wild to fulfill the demand. More than 95% of India's wild elephants have been exterminated over the last century. The plummeting population numbers can't dwindle much further before we can call it complete annihilation. To protect and conserve wild populations, we need to protect the already-captive ones, and for that we need a change in thinking, one that does away with the old notion that animals are here to entertain us.
As a start, every captive elephant should be treated humanely, have basic nutrition, and be allowed freedom of movement. The knowledge is there, the laws have been passed, but 95% of India's captive elephants are no better off for it. Finding the collective will to end the barbaric treatment of these amazing beings is critical, and that starts with understanding the issues at stake.
Articles like "Tortured by Tourists" should bring greater publicity to the cruelty these animals face every day. And we believe that once people know what's going on, they will be moved to act--at the very least cancel any plans to ride an elephant and spread the word about these secret practices. In the meantime, we can urge governmental officials to enforcing existing wildlife laws, so that elephants are protected, as they should be . Please sign the petition here.
Popular in the Community