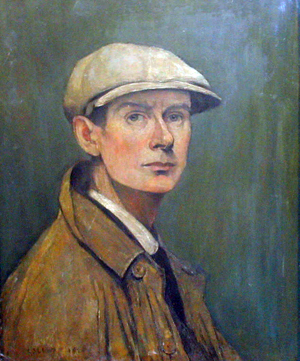 David Henty is a profitable British artist who enjoys the paintings of Jack Vettriano. One might even say that he likes the Scottish painter's works a bit too much. And if imitation is truly the sincerest form of flattery, then Vettriano should be quite pleased, as should dozens of other artists -- even amateurs like Sir Winston Churchill -- because Henty has made a career out of selling fakes of their works.
Painting and selling fakes is certainly nothing new; in fact, one could say that the idea of copying a valuable artwork and passing it off as one's own is nearly as old as the art market itself (probably only a day or so younger). It may sound cynical, but consider that for every innovator there are is at least one other person scheming to make money by copying his innovation. So why should valuable paintings be any different?
One might say, though, that Henty has taken this concept to the extreme. It all started decades ago, when he was using his skills as a copyist in a scheme to forge passports, a profitable but quite nefarious crime that landed him in jail in the 1980s. Like many criminals who get caught, he then tried to go straight, creating paintings using his own artistic sensibilities. But as is the case with many forgers, what Henty had in hand skills he lacked in vision, and his foray into legitimate artistry ended in failure. That's when he reverted to forgery. By the 1990s he was selling a modest amount of bogus paintings, but his business really took off when he found the ideal marketplace through which to offer the copies: eBay.
To maximize potential and perhaps make his efforts less noticeable to shoppers, Henty created via multiple eBay shops. And like many other forgers, he would shop for older, worn canvases to give his works an air of legitimacy. Eventually, though, he was confronted by The Telegraph, a British newspaper, about his scheme. At first, Henty told the newspaper that the works he sold were not copies, but, finding the notoriety irresistible, admitted his scam, taking a sense of pride in his work, while deriding the counterfeits produced by another contemporary British forger, Geoffrey Spilman, who also took to copying the paintings of L.S. Lowry. He told The Telegraph, "If you know Lowrys they [other forgers] use the wrong colours," he said. "He only used five colours his whole life. I have to have an interest in an artist to copy him. I would call myself a copyist not a forger."
Outed as forger, eBay took action to close Henty's online shops and ban him for life. Case closed, right? Not so fast. In June of 2015, Henty was again exposed by The Telegraph, when the newspaper found him again producing and selling faked versions of paintings by Lowry and others from his home in Brighton. The forger, a jolly looking middle-aged fellow with tousled white-gray hair and two forearms covered in colorful tattoos, happily told Robert Mendick of The Telegraph that he was able to circumvent eBay's "lifetime" ban by simply creating new shops (this time he used the name "diamond-antiques2014" and the pseudonym "David Diamond." Getting back on eBay was as simple as changing his IP address, he said.
This is not to say that eBay doesn't work hard to counter criminality. Ryan Moore, eBay's lead manager for business communication, told me recently, "For eBay, nothing is more important than the trust of our customers. We utilize a combination of sophisticated detection tools, enforcement and strong relationships with brand owners, retailers and law enforcement agencies to effectively combat fraudulent activity and present our customers with a safe, trusted shopping experience." And I've learned that the company has turned to experts in the world of art fraud to combat the problem. But as Henty proves, as long as there are buyers looking for a great deal, there will be conmen to convince them that they have found one.
Calling all HuffPost superfans!
Sign up for membership to become a founding member and help shape HuffPost's next chapter