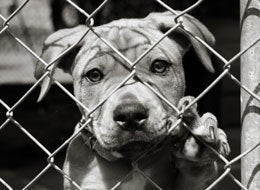 "There can be few greater thrills for a genuine dog lover than to take a homeless dog off of life's refuse pile, add love and care, and then see that dog, like the Phoenix rising from the ashes, become the great dog it was meant to be. Training such a rescued dog may require a little more time, a little more patience, and a little more skill, but the end result is a dog that has been given back its life. A dog owner can ask for no better companion."

-- Joe Stahlkuppe, Training Your Pit Bull
---
Dog lover that I am (that's my adopted-from-a-shelter pit bull Casey above), there was one blog headline that caught my eye after seeing the news that Michael Vick is no longer persona non grata in the NFL:
Sick, depraved dog killer, Michael Vick was reinstated by NFL commissioner Roger Goodell today. Goodell's braindead decision allows Vick to participate in preseason practices, workouts and meetings. He can also play in final two preseason games if he can find a team dumb enough to sign him. A number of teams — including the New York Giants and New York Jets, have already said they have absolutely no interest in signing the disgraced, former Atlanta Falcons quarterback.

Goodell suspended Vick indefinitely in August 2007 after Vick admitted bankrolling the "Bad Newz Kennels" dogfighting operation located on his sprawling Virginia estate. He plead guilty after three co-defendants testified to gruesome details of how Vick participated in the killing of dogs that didn't perform well in test fights by shooting, hanging, drowning or slamming them to the ground.
Vick spent 18 months in lock-up in a Leavenworth, KS prison after being convicted on federal charges of animal cruelty charges. He served the last five months of his 23-month sentence at his Hampton, Virginia estate. A timeline of this sorry tale is here.
So, he's paid his official debt to society for an abominable crime; should he be given a clean slate? According to this Q&A about the conditions of his release and reinstatement published in USAToday:
Q: What are some of the life-management conditions that Vick must comply with?

A: The meat of these are already covered in the terms of Vick's three-year probation. He can't commit other crimes, possess a firearm, or use drugs or alcohol. There are also limits on whom Vick can associate with. And, of course, he can't own, possess or be involved with the sale of any dog.

Q: Beyond showing remorse, what else did Vick do to help his case with Goodell?

A: He submitted a written plan that outlined proposed living arrangements, financial management (including what's contained in his bankruptcy proceedings), counseling and mentoring goals, and work with the Humane Society. Said Goodell, "I'm going to hold him accountable to his life-management plan."
His agent is also announcing some damage control measures Vick plans to atone for the QB's mutilation and killing of dogs for fun and profit:
Michael Vick's agent, Joel Segal, said today that Vick plans to address and atone for his involvement in dogfighting publicly. He said on the NFL Network that Vick intends to make an apology to animal lovers and dog lovers who were offended by his role financing a dogfighting operation.

Segal said Vick will appear publicly to speak "sooner than later, very soon." He did not give specifics on what forum Vick would use.

..."He's really remorseful," Segal told the NFLN. "He feels bad about what happened to the animals."
Well, sh*t, what else is he going to say -- "I'm sorry I got caught with the carcasses in my yard and you found out I beat, shot, hanged, electrocuted and drowned my dogs that didn't fight"? Whether this will be good enough for NFL teams sniffing around to see if adding Vick to their roster is a plus or a minus, is open to question; it depends on your POV. The Falcons and other teams have said they have no interest in associating with Vick's image as a dog killer, however, how many times have we seen sports teams forgive and forget top players convicted of rape or domestic abuse of women?
I seriously doubt Vick will go unemployed for long. If his arm is good and he's otherwise in shape, the almighty dollar will speak for itself.
Q of the day: Has Vick earned a second chance?
Sports Illustrated did a cover story (December 29, 2008) "The Healing Touch: What happened to Michael Vick's dogs?" on the ones that survived their stay at Vick's torture farm. Here's some video from Best Friends of the dogs trip to rehab. They were featured on NatGeo's Dogtown program.
More below the fold, including a fantastic new law protecting pets hitting the NC governor's desk and two unbelievable examples of animal cruelty in the news today.
In news related to how much our pets do matter, North Carolina's legislature has overwhelmingly passed a bill (that Gov. Bev Perdue will sign) that an abusive spouse will be held accountable for cruelty to a pet of the abused spouse.
A magistrate can direct how family pets will be cared for as part of a domestic violence restraining order in legislation heading to Gov. Beverly Perdue's desk. The House approved 104-7 in favor of the Senate bill that makes clear the magistrate has the authority to demand the abusive spouse who is the subject of the order doesn't treat cruelly a cat, dog or other domesticated animal held by either spouse or a child. The pet also could be placed Rep. Jean Farmer-Butterfield, D-Wilson, said the bill will help give battered women more confidence to leave abusive situations if they know their pets will be taken care of or protected outside the home. Rep. Ronnie Sutton, D-Robeson, was one of a few lawmakers who questioned whether legislators were placing too much attention on pets instead of humans in these situations.
And another story, from Connecticut, shows how seriously depraved humans can be regarding animal fighting -- what sicko would run a canary fighting ring?!
Animal experts were stunned by the Sunday arrest of 19 men in Shelton, charged with organizing a bird-fighting ring using saffron finches and canaries, small yellow songbirds commonly kept as pets. Roughly 150 birds, mostly saffron finches, and $8,000 in cash were seized during the raid on the Ripton Road ranch house. The men taken into custody face charges of cruelty to animals and illegal gambling.

Shelton Police Sgt. Robert Kozlowsky said Monday at least four of the birds have eye injuries. Most of the birds are saffron finches, and not canaries as initially announced by police, following a closer inspection Monday. The birds are in the custody of the state Department of Agriculture. Wayne Kasacek, assistant director of the department's Bureau of Regulation and Inspection, wouldn't say where the birds are being held. He also said the eventual fate of the creatures has yet to be determined, though it's likely the injured birds will be euthanized.

Kasacek said this is the first time he has dealt with a bird-fighting operation of that kind that is alleged. "This is uncharted territory," he said. "Up until now, this was not very common. It came as a complete surprise to us."
Animal control officers seized 17 rabbits from an Edison Road home last Tuesday, and now there are 20 at the shelter. "We are inundated with rabbits," said Animal Control Officer Lynn DellaBianca. "We took in 17 and then we got three babies."

...Police said a putrid smell was emanating from the basement and when they checked for its source, they found a rotting rabbit carcass in a cardboard box. Checking another room in the basement, officers began to investigate what appeared to be a pile of cloth stuffing only to see, on closer inspection, rabbit bones sticking out of the pile, police said. Police said rabbit feces covered the first floor of the home. Written next to a large hole cut in the wall was, "Kyle was here," a reference to the couple's teenage son, police said.
How can people automatically assume a dog is an evil man or dog killer based solely on its breed? The American Pit Bull Terrier, Staffordshire Terrier and Bull Terrier are often targets of breed-specific legislation and discrimination. It is people like Michael Vick who foment fear and hatred of these breeds by breeding them and training them to kill one another. The misinformation results in shelters full of pit bulls that will never be adopted. The APBT in particular is among the least human-aggressive breeds, but it can be dog-aggressive if not socialized correctly from puppyhood. Even so, the terrible reputation spawned by the behavior of Vick and his friends who used these dogs for betting and entertainment and treated them like trash, only stoke the fear. That fear I had to overcome when Kate and I chose to meet Casey at the Wake SPCA. She was, by far, the friendliest dog we spent time with. And she loves other dogs -- today she is one of the most popular playmates at dog day care, so safe that she's been out in group play with the geriatric dogs.
The lesson -- don't buy the hype, but always read up on any breed that you're interested in.
Calling all HuffPost superfans!
Sign up for membership to become a founding member and help shape HuffPost's next chapter