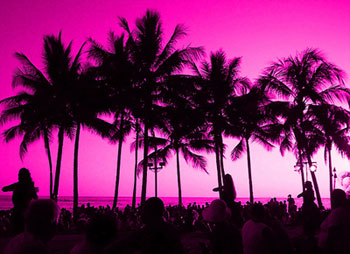 There's a new Will Smith movie in the multiplex, your television is a barren wasteland and, oh yeah, it's hot out. These portents can only mean one thing: Summer has begun in earnest.
If you're anything like the crew here at Bestcovery, each summer you tell yourself "I am not going to waste one single moment of it this year." Then you end up laying in bed cruising Facebook and Netflix Instant for a month straight. Let's try to keep this mid-year resolution this time around. What better way to make sure we squeeze every refreshing drop out of summer 2k12 than with some cool summertime gadgets? Here is a list of some of our favorites:
NOOK Simple Touch with GlowLight Unless your brain is fried from decades of Internet zombification, the summer is all about reading. The rise of the eBook reader has been a boon to voracious beach readers. Now all you have to do is pack one small device instead of five heavy books. It's pretty darned convenient. The only downside, until now, is the book learnin' stops once the sun sinks. The NOOK has put an end to all of that noise. The NOOK Simple Touch with GlowLight has a built-in nightlight. Now you have no excuse to not finally start those Game of Thrones books your friends never, ever, ever stop talking about.
Sony NEX-7 Digital Camera A lot of cool stuff happens during the summer. There are beach-side bonfires, trips to the zoo, endless ice cream gorge-fests and more. You want a camera to keep track of all the action. This can't be any old camera, though. It needs to be known to take great action, sports and even wildlife shots. You know, the stuff summer is made of. Sony's NEX-7 digital camera is the one you want, even though the price tag is steep. This puppy packs in some massive features into its small frame. 100 percent frame coverage? Check. OLED viewfinder? Check. 24.3 megapixels? Check. Just imagine how cool you'll look as you save the local orphanage by spiking the winning volleyball shot!
Kurio Tablet While the adults are off doing that whole sangria and chain-smoking while gossiping with their friends thing, the kids gotta be entertained. They certainly can't just be hanging around while you are getting your buzz on. So what to do with those precocious little rugrats? How about letting them occupy themselves with their very own kid-friendly tablet device? The Kurio lets parents fully customize how the device accesses the Internet. There will be no innocence quashed on your watch. Otherwise, the Kurio is super durable because we all know kids like to break things. It runs on Android.
Eco Terra Rugged and Waterproof Boombox How can you keep the poolside party going if you are constantly worrying about dropping your valuable tech doodads in the water?! You can't. Anxiety and worry don't make for a carefree summertime hang sesh. The Eco Terra Rugged and Waterproof Boombox is, well, a boombox that is both rugged and waterproof. You can grill hot dogs and dance around the pool with carefree abandon knowing that the music can absolutely never be stopped. It also syncs up to your smartphone, tablet or PC thus protecting them from the elements as well.
Metal Detecting Sandals Admit it. When you are out exploring on a nice summer day, a part of you hopes you happen upon some gold nuggets or a collection of rare pennies from the 1800s. To lust for untold riches is only human. But it's not as if you are going to carry a metal detector around like some kind of doofus. Thanks to the marvels of modern technology, you don't have to. Wear it on your feet! These sandals detect goodies up to two feet under the earth and they are fashionable to boot. Now you can finally become the Chester Copperpot you always knew you could be. Stay away from ancient traps enroute to snagging One Eyed Willie's treasure.
iGrill Are you one of those people who uses their iPad for everything? What about making sure your meat is grilled to the optimum temperature for human consumption? Bet you still use an old-fashioned thermometer for that, square. Get with the program. Put your grill marks all over the new iGrill device. This Bluetooth-enabled meat thermometer comes with an associated app that syncs up wirelessly to your iOS device to make sure, well, that your meat is cooked right. It also comes with a timer, a bevy of alerts, a smoker option and a colorful chart chronicling the history of BBQ. Finally, bring your Tim Allen tendencies to the 21st century.
The Pack Tap So you want to forget your worries for awhile and attend some summer concerts at that local park that is inexplicably named after a bank? Great! Meet you there. The only problem? Most of these venues allow you to bring booze but prohibit glass. This puts a crimp in your plans if you were gonna bring wine or, well, just about anything else. Enter The Pack Tap. Simply pour your favorite spirit into this handy device and, voila, you got yourself an instant tap. Boozing can and will commence. This is also the perfect item to have on hand if you are spiraling into depression.
Weber Genesis E-330 Grill Do you want to be the ultimate grilling champion of all time? Then don't screw around with some of those rinky dinky grills. You'll only end up with tears instead of grill marks. When you want the best results, get the most ridiculously overpowered and awesome grill that exists. That grill has three burners that pump out 38,000 BTU each. That grill has a damned thermometer built right into the lid. That grill that is named the Weber Genesis E-330. Genesis as in all of that biblical hellfire and brimstone stuff. That's how good it's gonna be. So tasty that God's chosen people are gonna move on up to heaven while us peons are stuck down here. Oh well. At least the food will taste good.
Hi-Fun Beach Towel Let's spell it out straight here. This beach towel comes with actual speakers built-in! This means when you are laying around sunbathing you can be blanketed by full stereophonic sound. End the tyranny of the boombox with that whole favoring one ear over the other based on its geographic location thing. The speakers hook up to any MP3 player you have on hand and the electronic components can be removed for easy washing. Pretty cool right?
Lighted Party Fountain Your backyard has it all. You got the perfect grill. You got the pool. Heck, you even have those tiki torches that drive away bugs. Do you have a Gatbsy-esque party fountain that lights up? No, didn't think so. This lighted party fountain allows your guests to live a life of luxury usually reserved for visiting dignitaries or child stars. This amazing little contraption constantly swirls together gallons of alcoholic amusement and wraps it all up in a neat lighted bow. Let the good times flow!  
Pizza BBQ Grilling Stone Summer is all about celebrating the good things in life. What's better than pizza?! Now any homestyle pitmaster can grill up some primo slices right in the backyard. No one hundred year old coal oven, or summer internship with a famous pizzaiolo, required. This pizza stone is especially made for use on the grill. Just pop it on a rack and top with dough and all of your favorite toppings. It's even dishwasher safe if you are one of those people who likes to clean up after after raucous BBQs. Whatta square!
Calling all HuffPost superfans!
Sign up for membership to become a founding member and help shape HuffPost's next chapter