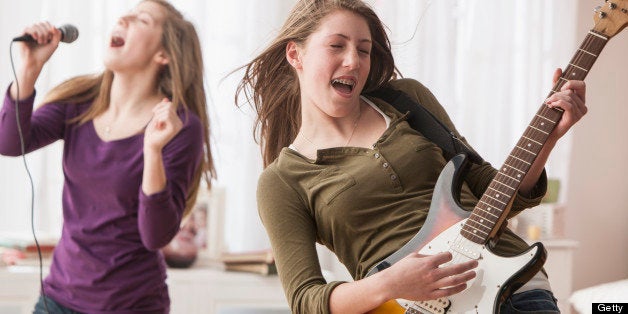 If you have never heard of the organization Little Kids Rock, then you're about to receive a 'lil music education.
Little Kids Rock is a national non-profit that trains public school teachers in under served neighborhoods throughout the United States, providing students in grades K-12 with free instruments. Their mission is simple: Ensure a children's right to rock! More than just providing a curriculum or simple music lessons, LKR offers the foundation to play immediately and build lasting music programs across rock, pop, blues, hip-hop, country, reggae and R&B.
The Wall Street Journal recently published an in-depth piece on how research shows that music training boosts IQ, focus and persistence. They argue the easiest and most productive way to fix our education problems in schools is to turn to music -- not cut it from the budget. Here's the article.
Little Kids Rock recognized the vital importance of music on a child's development a dozen years ago. On Thursday evening, they'll hold their annual rock and roll benefit gala at the Hammerstein Ballroom in NYC. The star studded event honors Joan Jett as their "Rocker of the Year," along with E Street Band saxophonist Jake Clemons, as their "Big Man of the Year" -- an award created several years ago to honor Jake's late Uncle, the original Big Man, Clarence Clemons. Alice Cooper, Billy Joe Armstrong, Cheap Trick, Darlene Love, Jesse Malin, Gary US Bonds and more will perform. The evening is being produced by the King and Queen of Rock and Roll cool -- Steven and Maureen Van Zandt.
No one knows music matters more than the Van Zandt's. Little Steven's devoted his entire life to rock and roll, from performing to fundraising. A Jersey shore guitar playing fixture from the early 70's, Van Zandt made his name with Bruce Springsteen and the E Street Band as 'Miami Steve.' The Boss dubbed him "Miami" because of the cool Florida beach style shirts he always wore. He'd later become known as 'Little Steven' after forming The Disciples of Soul in the mid-80's. Long an advocate for how music and rock and roll can change the world, Steven did just that when he actively engaged fellow musicians in the fight against apartheid. His 1985 protest song "Sun City" helped open the world's eyes to what was actually going on in South Africa.
For the nearly 32 years Steven and Maureen have been married they've championed a plethora of musical endeavors together, including producing the recent Rascals reunion multimedia concert tour. By the way, the Reverend who married the two rockers? The incomparable Little Richard - on New Year's Eve no less! How whop bop-a-lu a whop bam boom cool is that?!
Van Zandt's cool factor kicked up another notch as Tony Soprano's consigliere, Silvio Dante, in the long running HBO series, The Sopranos. Suddenly, Bruce Springsteen's long-time right hand man on stage became known to a whole new generation of fans for something besides music. And once again, his charming wife Maureen was by his side, playing his fictional wife on screen -- a role she'd later reprise in Van Zandt's second epic gangster foray, the Netflix's original series, Lilyhammer. Now, in his 3rd season as star, writer and executive producer, Van Zandt continues to play it cool, in front of and behind the cameras.
A man of many hats -- Van Zandt used to wear stylish Fedoras before turning to his signature babushka. His funky shirts and accessories are pure rock and roll flash. Maureen matches him with bold purples and classic rock and roll chic. Steven's record label is Wicked Cool -- that's the actual name. He programs the 'Underground Garage' channel on SiriusXM -- a channel that boasts the coolest songs in rock and roll. His syndicated weekly radio show, Little Steven's Underground Garage can be heard across more than 200 stations.
So, just how did The First Couple of Cool get involved with Little Kids Rock? For years, the Van Zandts been trying to improve music education in high schools. Just this past year, through Little Steven's Rock and Roll Forever Foundation, he created a complete, free, on-line curriculum available to teachers and students that focuses on the history of music through specific lessons, videos and discussion. It's an impressive program to behold. The fact he was able to make it available for free through various sponsors and donations, makes it even a more remarkable achievement.
Somehow, rock stars just know how to be cool. And the Van Zandt's, Steven and Maureen, are surely the coolest kids on their Greenwich Village block. Sorry Gene Simmons, as long as those two are around, Rock & Roll will never die. Besides, the folks from Little Kids Rock won't allow it.

For more information on Little Kids Rock and Thursday's benefit, please visit www.littlekidsrock.org
Steve Matoren is volunteering at Thursday's LKR event. He's hoping a little bit of rock and roll cool rubs off on him.
Related
Popular in the Community