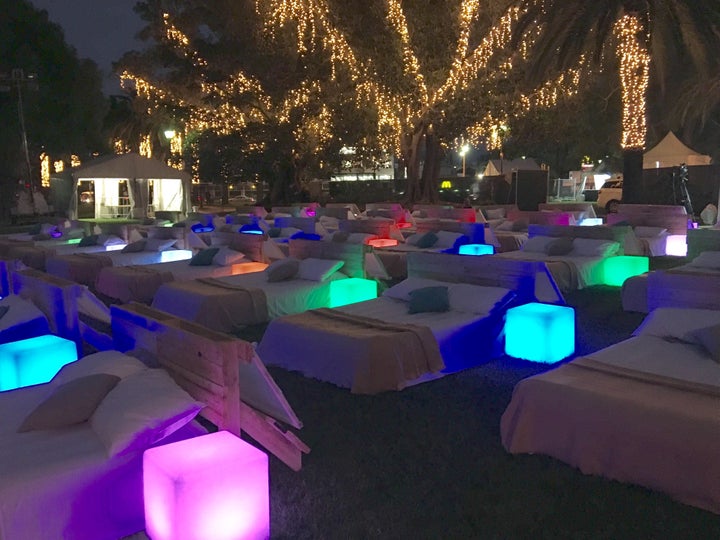 A night at the movies just got an upgrade.
While high-end movie theaters are now offering everything from gourmet cuisine and cocktails to plushy seats and old-school charm, a new Aussie movie-going experience might give these other gimmicks a run for their money. Australians can now get the big-screen experience under the stars, all from the comfort of a double bed.
Mov'In Bed (short for "movie in bed"), an outdoor film festival offering the movie-in-bed experience, is currently running for two weeks in Sydney through April 23. Organizers have plans to take it on the road throughout Australia next, the festival's creator and producer, Vincent Hernandez, told The Huffington Post.
"It's all about the experience," Hernandez said in an email. "We created the idea of the beds because it's fun, romantic and unusual -- and because when you watch a movie in a park you break your neck using your backpack as a pillow and start to get cold sitting on the grass."
General admission gets ticketholders a spot on an inflatable bed (a single ticket for a single bed, or two tickets for a double) and clean sheets and a blanket for when the temperature starts to drop. Moviegoers can order wine, beer or Champagne from their beds during the movie. And an adjacent food festival offers an eclectic spread of global cuisine from paellas to crepes to gourmet fish and chips from a variety of local vendors.
"It's a crazy idea -- the logistics and risk of rain makes it almost impossible," Hernandez said. "But we found a way to make the beds waterproof so people can still enjoy movies even in a light rain. Pure romance!"
The festival, in Prince Alfred Park, features a different film each night. Among those on the international lineup: "Muriel's Wedding" (Australia), "Where Do We Go Now?" (Lebanon), "Saving Grace" (England), "Ponyo" (Japan), and "Into The Wild" (U.S.).
All 100 tickets for each screening sold out within two weeks of becoming available, Hernandez said.
Sarah DiGiulio is The Huffington Post's sleep reporter. You can contact her at sarah.digiulio@huffingtonpost.com.