My name is Chris Cognac and I am a police officer in Hawthorne, California. I have "almost always" believed in the power of positive thinking, paying it forward and making a positive impact on the world around me.
I have been a police officer for 23 years. I have seen so much violence, so much sorrow on the streets and as a detective working sexual assaults and child abuse that I had built up walls to protect my soul. It became hard to "feel," hard to be happy when your world is a very dark place. So I created an alternate world for myself through food and writing. To make a long story short, I began the journey of the "Hungry Detective" so I could leave my demons in another place and through food and writing, be happy again.
I contacted the local newspaper, told them the food critic didn't know what he was talking about and never went to places where real people ate. Well next thing I knew, I was the new food columnist. It gave me joy to help small mom and pop places and give them exposure through writing. I worked hard, believed in being positive and the next thing I knew, I was judging Iron Chef America. Soon after the Food Network gave me my own show called the Hungry Detective. It was great; I travelled the country on my days off from the police dept. and filmed my show. It was what everyone dreamed of, right?
My world came crashing down about two years later when a little girl in pink pajamas died in my arms at work one day because I could not breathe life into her. By coincidence, two hours later the Food Network cancelled my TV show, the TV show that was my only outlet for happiness. It was then that I began a spiral into darkness. I was assigned to work undercover, grew a large beard and grew my hair out. I only dealt with drug dealers and dopers for two years. My world became a personal hell and I no longer believed in anything.
Focusing my energy into work, I tried to shut down the worst motel in the city; it was full of criminals, gangsters, drug dealers and prostitutes.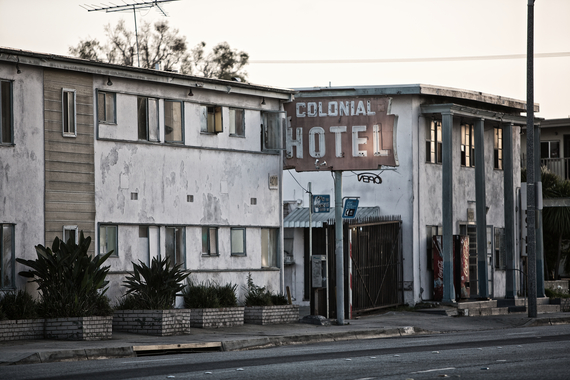 I finished my journey in undercover work and was assigned to community affairs. It was Christmas time and I wanted to do something "good" in order to try and feel again. So we went to that motel with some presents to give to any kids living there. I knocked on door "K" and little did I know that the girl who answered the door, the skinny girl in pajamas, would be the person who gave me my soul back.
The girl who answered the door is named Yanet Alvarez and she was 15 years old. She helped us to locate other kids and she helped translate English for the other Spanish speaking motel families. She was very articulate and well mannered, unlike the other occupants of the motel. I asked her to tell me her story. Yanet said that she had lived in that motel room with her four other family members for 13 years and that her mother cleaned the dirty, nasty drug paraphernalia covered rooms for three dollars a room. She told me that she was an honor student with a 4.3 GPA and walked two miles just to go to a better school. I had been to that motel hundreds of times; I was so jaded and skeptical that I found it impossible to believe that this young girl was for real. I asked her what she wanted for Christmas as I was going to go buy her a gift and then be "finished" with her and never see her again in order to preserve what little emotion I had left. She said something that just floored me: "I don't need anything, I am ok". Yanet had a complete and total absence of greed. It was something that I had never seen before, especially from a kid in her situation.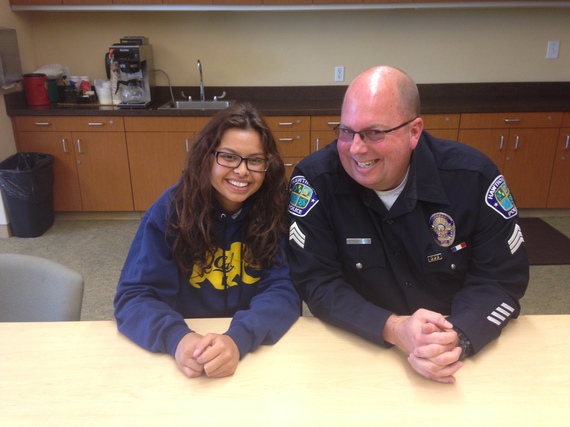 This girl, this "motel kid" intrigued me, so I told her to prove to me that she was indeed an honor student. Yanet showed up at the police station two hours later, with her school transcripts in hand, which indeed showed her having a 4.3 GPA. It was then that I decided to do something that cops are not supposed to do, something that always comes back to haunt them. I took down my protective wall, opened up my heart and told her that I would make sure she got the chances in life that she deserved. I was determined to make sure that this girl got to realize her dream of going to college. I dedicated my heart and soul to make sure this little girl, was the one child that the streets didn't eat alive. Yanet had worked so hard, in the worst situation and made the best in spite of insurmountable odds against her. I was determined she was going to "make it" in life and get the opportunities that all kids should have, not just the privileged or entitled.
Yanet would become my intern in the Community Affairs Unit at the Hawthorne Police Department for the next three years. She worked hard even though we could not pay her. I could always rely on Yanet to help me teach classes and engage the community at dozens of events over the years. The final time Yanet helped me teach a class at the police station, I sat on the side of the room, trying to hide my tears from the crowd of people she was speaking to because I was so proud of her. That the little girl from the motel had grown into an amazing and confident young woman.
I taught Yanet about the world outside of the motel and she taught me to how feel again, to be human and to believe that there is good in the world and people like her with amazing potential, even in places like that motel. Yanet gave me a gift; she gave me another soul, a second soul to replace the one that I had lost to the streets. I can never fully repay her for that.
That's our story, the story of how fate brought two people from totally opposite worlds together. It's a story of how a burnt out old cop was re-inspired to believe again and how a young girl's dreams of going to college are now being realized.
Note: Yanet is now a student at UC Berkeley with plans to go to medical school (which she will do). I am working hard to find a way to help fund her dream of becoming a doctor.
Related
Popular in the Community