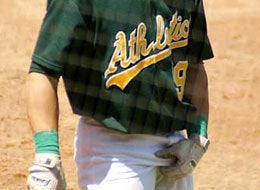 The answer is unsettling. The title, the diploma, the Raymond Weil. The Danish lingerie model. What are these compared with the ultimate eugenic advantage? Penis size is the final word--the argument ender, the longest straw.
Figures vary, but the generally accepted average length for an erect penis is somewhere between 5 and 5.9 inches. A 2002 study conducted by the International Journal of Impotence Research found that most men seeking penile-lengthening procedures actually have normal-size penises. And, according to the British Journal of Urology International report, while 85 percent of women polled said they were just fine with their partner's size, only 55 percent of the men were satisfied with their own measurements.
Read the entire story here.
Related