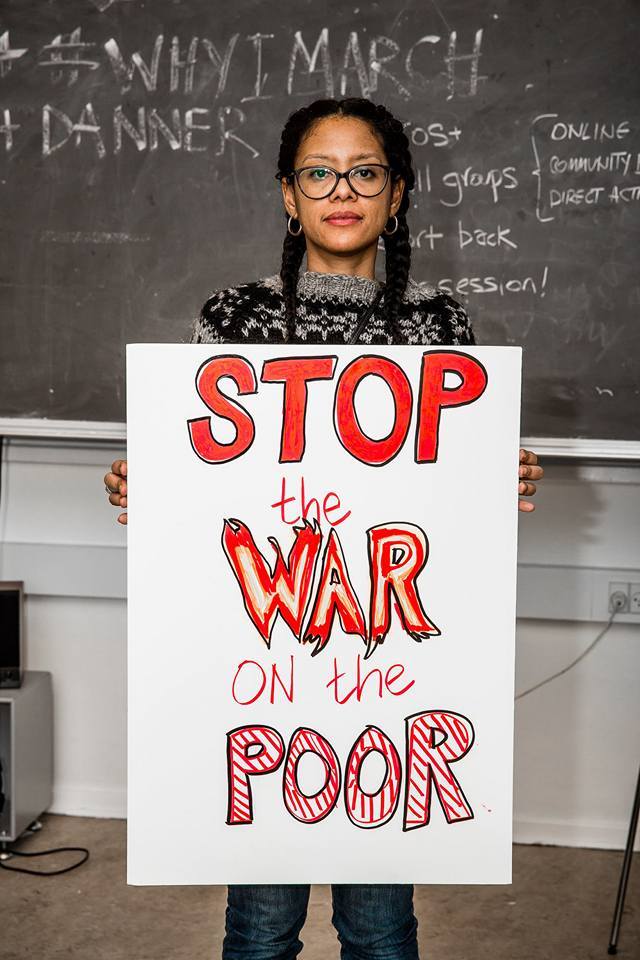 "I am every breath of great grandmothers laboring for new generations, carrying the dna of every herstorical murmer and dance that I would become. I am the lessons of personal evolutions and revolutions and I am praying that I have more spinning inside of me because we ain't done yet... we came here to BE a life worthy of all the sacrifices, scars, drowned bones, and the very loss of our authentic names." Jaki Shelton Green, Poet Laureate of the People, Messenger of the Land
Lesley-Ann Brown is West Indian Trinidadian - that's already a very telling well... tell sign.
You know who else is from Trinidad, that small boot shaped island in the Caribbean off the coast of Venezuela, right? The little island renowned for it's Calypso and Socas and it's international Carnival season - you know who else is from there, right? That's right - the revolutionaries. Dr. Eric Williams, the first Prime Minister of the island, widely considered the "Father of the Nation". CLR James, a tireless Afro-Trinidadian activist, historian and journalist- he wrote books like the Black Jacobins, the widely respected book that talks about Toussaint L'Ouverture and the San Domingo Revolution. CLR also wrote State Capitalism and World Revolution as well as Nkrumah and the Ghana Revolution. Stokely Carmichael a.k.a. Kwame Ture is also a great Trinidadian- American - he's the one who is recognized as the honorary Prime Minister of the Black Panther Party, initially as a leader of the Student Nonviolent Coordinating Committee (SNCC) and in later years instrumental in the global Pan-African movement.
You know who else comes by way of the West Indies right? Malcolm X, Louis Farrakhan, Shirley Chisholm, Marcus Garvey, Harry Belefonte, Sidney Poitier, Kamala Harris - it's this type of erudite breed of human being that comes out of these small Caribbean islands. As someone who derives one half of his blood line from Trinidad, I've come to find this - we are the ones who will torch your house, then sit down over let's say Starbuck's Coffee and explain to you afterwards in a very folksy, sanguine, intimate and charismatic manner exactly how we did it and why it had to be done.
"Fires can't be made with dead embers, nor can enthusiasm be stirred by spiritless men. Enthusiasm in our daily work lightens effort and turns even labor into pleasant tasks." James Baldwin
Now, if you see Lesley-Ann Brown, you'll see someone who is folksy and booksy like a librarian. Like an English teacher or speech coach, right? But, Jesus H., be careful for in those eyes, there is something a little different - something harnessed over several decades on the planet now. It is fire. And I'm not talking about the orange and yellow flames that are on the tip of the flame, I'm talking about that blue core. It looks so cool but it is the hottest part of the flame. That inner core of the candle flame that is light blue and has a temperature of around 1500 °C. That's what we're talking about here - we're talking about this kind of of blue human. This kind of ethos. This kind of revolutionary has a blue sort of knowing.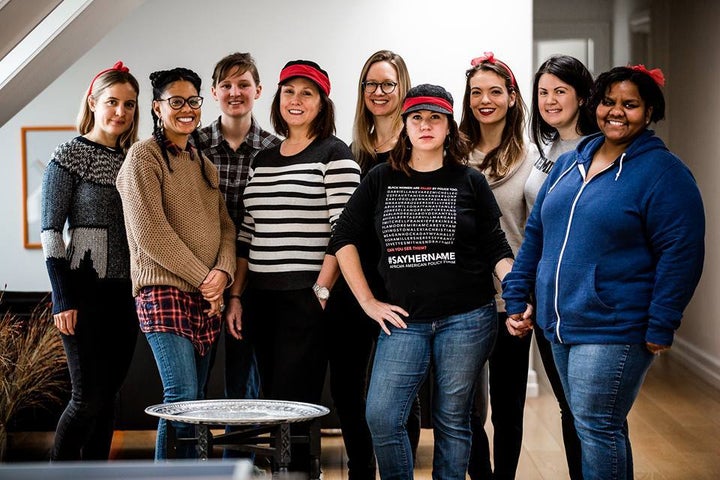 "So this is how liberty dies. With thunderous applause."- George Lucas, Film maker and Visionary
January 21st, the day after President Donald J. Trump's inauguration, there were historic protests around the globe, possibly one of the largest demonstrations in American history. Nearly 3.3 million took to the streets to decry the nascent presidency that inversely loss the general election vote by nearly 3 million. 5,000 of those global protesters were organized by Lesley-Ann Brown and her friends in Copenhagen. At 2:00 p.m. in the afternoon, Copenhageners came together outside the US Embassy in Østerbro in solidarity outraged masses across the globe. The Woman's March Copenhagen was 1 of 616 sister marches that took place globally alongside the historic Woman's March in Washington D.C.
Rebel alliances, lords with an authoritarian penchant and startling command upon unlimited power, global struggles, good versus evil, machinations at once sinister, chaotic and Machiavellian. We've all seen this before, right? This is Episode IV in the Civil Rights struggle for humanity, right? Right - The 1960's Civil Rights Movement encompasses social movements in the United States whose goals were to end discriminatory practices.
"I've always had questions about what it meant to be a protester, to be in the minority. Are the people who are trying to find peace, who are trying to have the Constitution apply to everybody, are they really the radicals? We're not protesting from the outside. We're inside." Gil Scott Heron
Well, what if George Lucas is not just some great all time great film-maker? What if he is a clairvoyant and visionary with gifts appropriated for late 20th/early 21st century living? With a government that boasts the talents of senior cabinet members as Steve Bannon, Jeff Sessions and Ben Carson, you no longer have to wonder if the Galactic Empires and First Order of the Star Wars Universe are pure fiction. I mean, can you see Darth Vader on your television these days, right? Just tune into the nightly news... CNN, MSNBC or FOX will do. Does the Sith Lord really need the black armor, and cape and machine enhanced voice to announce his presence - or does this all feel really "real" in a way that is well, somehow real? Think reality TV.
Now think about this - hasn't there been citings of Grand Moff Tarkin or Governor Tarkin - the old general with chiseled features, a cold allegiance and singular destructive bent? And what about Jabba Desilijic Tiure, commonly known as Jabba the Hutt - what, you don't think there is an individual with an uncanny resemblance roaming the halls of the White House, formerly with Wall Street's Goldman Sachs? Or, what about Darth Sidious who restored the Sith order and destroyed the Jedi Order?
Who needs a fantastical space opera when we have reality television world produced for us?
But know this - the Resistance is real. And it always has been. In the 17th Century, the 1215 Magna Carta was signed in England, providing concepts of government accountability and protection of individual rights and acknowledging that even a "sovereign" is not above the law. In the 18th and 19th Centuries, there was the 1789 French Revolution and the Declaration of the Rights of Man and of the Citizen. In 1902 International Alliance for Suffrage and equal Citizenship. This moment... hereto called The Resistance is part of that continuum.
The space opera has it's Princess Leah, right? Well, The Resistance has it's own Lesley-Ann Brown who has been in Copenhagen since 1999. From her self-publishing and entrepreneurial endeavors with Bandit Queen Press to memoir and blogging work with Black Girl on Mars to her work as a contributor with NBC, there is the 18 year framework of an artist-activist in her own right, on her own terms. You will also see the smattering of praise from world travelers, artists, intellectuals and thought leaders- a leader amongst leaders. Those who know - know Lesley-Ann Brown.
So, Lesley-Ann Brown leads The Resistance in Copenhagen, Denmark. Below is her account of our current struggle:
"The spirit of resistance to government is so valuable on certain occasions, that I wish it to be always kept alive." Thomas Jefferson
"I first heard of the Women's March in Washington through a parent of a former student of mine. I was employed by the Copenhagen Municipality to teach a class, every Saturday, of kids who had English as their mother-tongue. There was once at time when there were Mother-tongue programmes throughout Denmark, but despite the many studies that show such pedagogy is key in bilingual/trilingual learning, it was one of the programs that was cut heavily at the beginning of what one could call a neoliberal agenda in Danish politics.
I was thrilled to have gotten the job. I beat a lot of other teachers for the job, my interviewing soon-to-be boss told me. For about 4 months, I would have a group of varying ages, every Saturday, to work with. I was thrilled.
Until I read the teacher's lesson plan.
I took over the class in January and the teacher, a fellow American, had decided that there was no better time to teach the class about Martin Luther King Jr. as January was the month that his birthday is celebrated. Now, as a Black person reading this, I'm sure you're thinking, "Wow! That's cool!" But to a Black woman who has been teaching in Denmark for over 10 years - I have to say that when it comes teaching lessons about race and its historical impact to a class of mostly white students, I was weary.
This comes from many years of experience. This comes from having to witness the discomfort and eventual boredom with a subject that unfortunately, many just don't want to relate to. Don't get me wrong: I've taught many a class about the role of race and its historical implications to passionately engaged students. But when it's a mostly white classroom, well, the disconnect is alarming. This disconnect is worsened by the parents' insistence that well, "Those things don't happen in Denmark."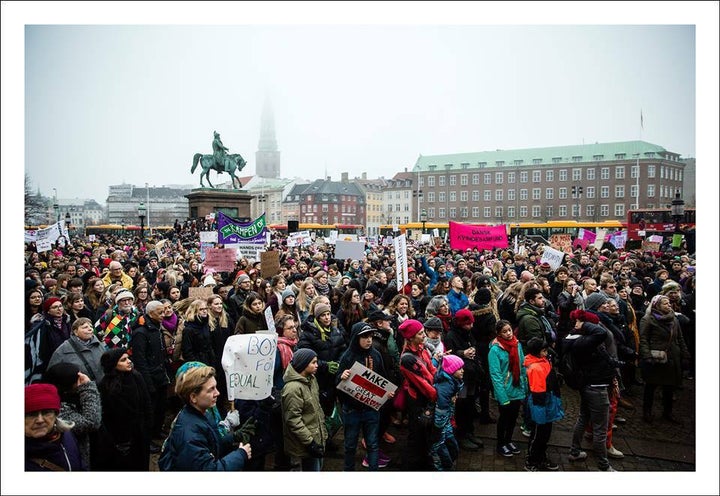 "The strength and power of despotism consists wholly in the fear of resistance." - Thomas Paine
But being the professional that I am, I forged through with the task at hand. Mostly white, varying from ages 7-12, we spent a few Saturdays talking about Martin Luther King Jr., the Civil Rights Movement and where we are today. To be fair, the class was interested and it helped matters even more that we ended up reciting Langston Hughes' A Seat at the Table, which the class had to recite in front of the entire school. Although shy, and not prepared for the crowd that showed up that day, my class recited this poem about racial acceptance, somewhere in Copenhagen on a grey day.
Axel was one of the students who was particularly interested in the subject. I'll never forget the day when he asked, "Why is it that all the good people end up getting killed?" Talk about difficult questions and moment in a classroom.
So when Axel's mother reached out to me, I was just happy to be still connected to a parent. And then she told me about the march and how she and some other American women were planning a sister march in Copenhagen.
I said yes because of Axel. I soon learned that that yes was a gift, not only to the others involved, but to myself as well. I've been reading every last criticism of the march: and most of them I can agree with. I understand the cynicism many of us in the Black community have towards the Women's March, and the charges that it was a "white women's march". This didn't help that in less than a week after the march, articles started circulating that the woman who accused Emit Till of making advances to her, admitted that her accusations were false. Meaning that the young boy who was brutally murdered, and whose murderers got away, including her, had died for no other reason than white supremacy. And now this white supremacy is out and loud and it had been making me quite uncomfortable.
At first, some of the other organizers were shooting for 1 million marchers in Copenhagen. Denmark has a population of 5.7 million. I and a few others focused on attendance: Let's make it about who shows up. Many of us were new to this: although I have organised before this was definitely taking things to another level. I have organised panels and literary events here in Denmark, and while I usually have pretty healthy turnouts, I didn't think a movement that started in America would translate wholly here, although it should.
As the march's spokesperson, I was charged with talking with media. One of the most recurring and unoriginal questions was: What does this have to do with women in Denmark? My answer? Everything. Although considered a bastion of gender-equality, Denmark in numbers show a completely different story.
In 2017 domestic violence will no longer be valid reason for a woman to lose her job and she will be quarantined by her union."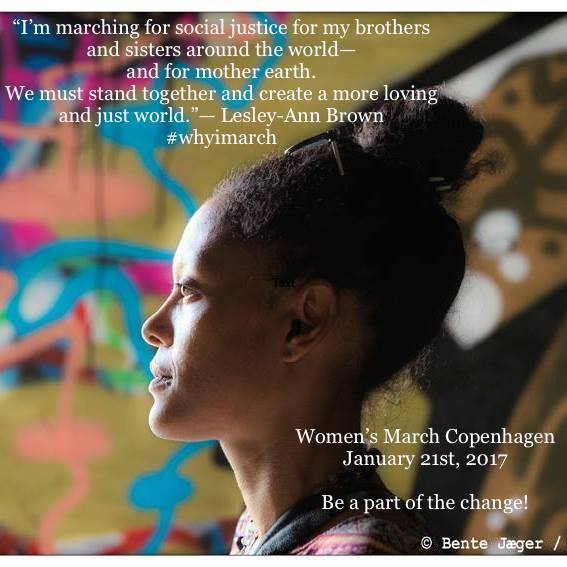 "If history teaches us anything, it is simply this: every revolution carries within it the seeds of its own destruction. And empires that rise, will one day fall." Frank Herbert,

Dune
So, flames coming from her eyes, out of her mouth, in her voice, trailing her fingertips. The crisp scent of the air having being cleared in Winter. It's all so blue. Blue. Perhaps, you're thinking cold or cool but it's the hottest part of the fire, the part that sets our bodies and minds afire on an undeniable quest for justice. A sanguine look upon her beautiful patient face and the erudite posture upon the one who takes roots from the West Indian Trinidad and Tobago. The leaders for the next continuum of the Civil Rights struggle are not only alert but hard at work. Consciousnesses awaken and the people march, right? Yes, we do. We march for women's self-determination, we march for Muslims, we march for decency, we march for the marginalized, we march for the poor, we march for our children. We have been marching and we march NOW.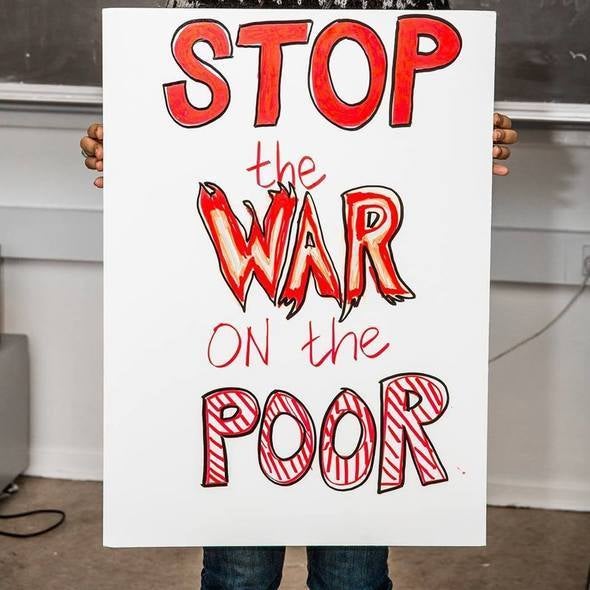 Lesley-Ann Brown has over 20 years of international publishing, writing and editing, beginning with her work with the Marie Brown Literary Agency out of the New School. Her writing has appeared in Source, Vibe Magazine and a few anthologies, including "Expat:Women's True Tales of Life Abroad" & "In Defense of Mumia". She has interviewed R&B icon D'Angelo, National Book Award nominee, author Jason Reynolds, "God Loves Hati" author Dimitry Elias Le'ger, Executive Director at National Book Foundation Lisa Lucas, Savion Glover and Paul Beatty before he won the 2016 National Book Critics Circle Award and the Man Booker Prize for his novel "The Sellout".
She is currently hard at work on her debut work with Repeater Books and booked for several speaking engagements around the EU, including London.
Related
Popular in the Community