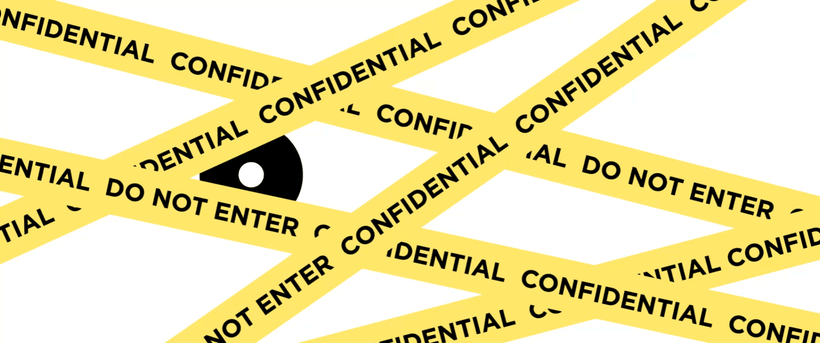 In industries where trade secrets are worth millions (or even billions) of dollars, the secrecy escalates to spy-movie levels. Voice actors, writers, designers, programmers, and other creatives will work on a single element of a project whose full scope is a mystery even to them, under NDAs and other legal forms assuring they'll never breathe a word about it to anyone.
No matter how good the money from these highly confidential gigs, they create a unique problem: work that's protected by an NDA or other legal agreement is work that you can't show in your portfolio. And if you're trying to earn assignments from new clients, that can quickly become an issue. Who would hire a professional whose 'Projects' section of their website is blank?
Exclusivity Could Mean Invisibility
For a design business, the cost of being invisible is huge. In a competitive marketplace, you are only as good as your last job.
The issue of confidentiality isn't something to address after you've done the work. Ask the client whether you could include select portions of the work in your portfolio; they may give their assent, with certain stipulations. For example, they may forbid you from making any aspect of your work public until a year or two after the project's release. Or they may allow you to show off a design or image, provided you crop it to exclude anything too sensitive or proprietary.
When budgeting such a project (which might be something like a PowerPoint pitch), keep in mind that the process must be handled carefully. The pressures of a highly confidential project could mean lots of changes; there are bound to be late nights and many revisions. In the face of urgency and indecision on the client's part, any and all previous discussions of scope may go right out the window.
Clarify What You Will be Delivering
Be clear about what you are providing, as well as the boundaries and the cost of any further alterations. By mentioning this explicitly at the start of the process, in real time, it won't be questioned later; you'll avoid any potential misunderstandings (and lawsuits) down the road. This is especially important for firms that take on a lot of confidential work, and might end up with a single client (or live off referrals from that client, at best).
Confidentiality is Expensive
Indeed, diversifying your workload is key. Make sure a portion of your projects aren't guarded by an NDA; it's much easier to leverage non-confidential work to further your reputation and career. And if you must keep your labor a secret, make sure that you're compensated accordingly. You're worth it.
Being reliable and consistent is one of the keys to building trust. You have to protect your clients' confidence as if they were members of your immediate family. At the same time, you must look for opportunities to increase your visibility—because in the end, you need something to show the world.
Janet Odgis is the President and Creative Director of Odgis + Co, an award-winning certified woman-owned design firm based in New York City. For 30 years she has worked with some of the world's most prestigious corporations reinventing ways to define and express their brand. We Make Business Beautiful.
Calling all HuffPost superfans!
Sign up for membership to become a founding member and help shape HuffPost's next chapter
This post was published on the now-closed HuffPost Contributor platform. Contributors control their own work and posted freely to our site. If you need to flag this entry as abusive,
send us an email
.