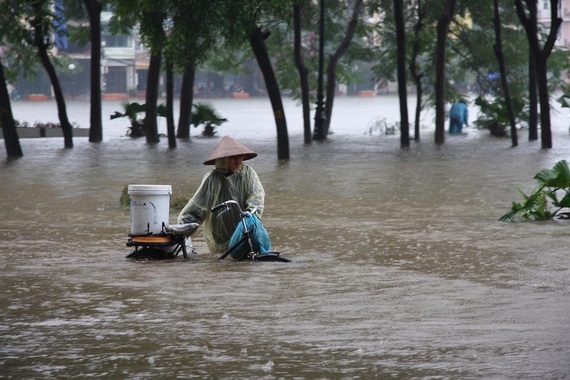 Flooding in Hanoi. Photo: OCHA
By Stephen O'Brien and Elhadj As Sy
The premise is simple: investing in national and local skills, systems and knowledge to build resilience and preparedness will save lives, cut costs and preserve hard-won development gains. Yet no matter how forcefully we make this argument, the international community is still nearly always geared towards response.
At the World Humanitarian Summit in Istanbul next month leaders across states, systems and sectors have an opportunity to rewrite this narrative by moving towards a more diverse, forward-looking humanitarian system that takes preparedness and resilience seriously and puts local response at the heart of these efforts, all the while strengthening principled humanitarian action.
UN Secretary-General Ban Ki-Moon has called on world leaders to commit to better ways to protect, assist and empower the acutely vulnerable the world over. On this front, the world needs three key things from the World Humanitarian Summit.
First, we are calling on leaders to join the "One Billion Coalition for Resilience." This initiative aims to bring together aid organizations, governments, the private sector, academia and community groups to support 1 billion people over the next 10 years to take action to strengthen their safety, health and well-being. This coalition must be underpinned by a better understanding of crisis drivers and robust tools and mechanisms to prevent crises and mitigate their impact. The idea for the coalition was first posited at the Sendai Disaster Risk Reduction conference and its premise corresponds closely with promises world leaders made there, in Hyogo and as part of the 2030 Sustainable Development Agenda. Support for it is gaining ground as we approach the World Humanitarian Summit.
Second, we need to re-think humanitarian financing. A significant proportion of both humanitarian funding and new financing for resilience must go to local actors, with more emphasis placed on strengthening local capacity to respond, complemented by national, regional and international responses, if needed. These local actors include affected community members, local authorities, local civil society groups and National Red Cross and Red Crescent Societies. They are by and large the first responders in any disaster; and they are present before, during and long after disasters strike, mobilizing to save lives, protect assets and support recovery efforts.
Third, we must work harder to promote the leadership of domestic authorities even in large international relief operations. The 2015 earthquake in Nepal was an example of the need for clear domestic rules and procedures to facilitate and regulate international relief, in order to ensure that domestic authorities are in the driver's seat, roles are clear and complementary, and that relief reaches those in need as swiftly as possible. At the request of the Ministry of Home Affairs, the Nepal Red Cross is now cooperating with UN agencies and a range of partners to support the Government to develop rules of this kind based on international best practice. Dedicated international guidelines are expected to be adopted in the next few months.
If met, these three asks can bring about the change that is sorely needed.
There is a large body of evidence to demonstrate that emergency preparedness and risk mitigation save lives. Bangladesh has had staggering success in recent decades in reducing the impact of powerful cyclones along its low lying coast. By 'success', meaning that by investing in evacuation centres and monitoring systems, the authorities and the Bangladesh Red Crescent Society were able to reduce deaths from the hundreds of thousands in the early 1990s, to the low thousands by the end of the last decade. Now the collective challenge is to scale up this experience to get to zero deaths. While infrastructure and communications technology have played a key role, little of this would have been possible without the network of 40,000 Red Crescent volunteers who have taken responsibility for relaying warnings to remote villages, and for working with communities to develop evacuation plans.
Elsewhere, research in Kenya and Ethiopia has shown that early drought preparedness activities are on average three times more cost-effective than emergency response, while an oft-cited World Bank study calculated disaster risk reduction saves US$4-7 for every $1 invested. But from 2006 to 2010, just 3 per cent of official humanitarian aid was directed to disaster prevention and preparedness.
Likewise, a failure to act early has life or death consequences. In the drought that hit the Horn of Africa in 2010, analysts estimated some 258,000 people died as a result of a famine that could have been halted - or at least mitigated - if early warnings had been heeded and early action followed.
But despite this evidence, funds allocated to disaster risk reduction and emergency preparedness are inadequate. There are a number of reasons for this, including the fact that emergency response is more immediate and visible. However, the main reason has to do with how "aid" money is organized. Effective preparedness and risk reduction requires sustained funding, something that humanitarian budgets are not set up to provide. There is also an argument that investing in resilience should not come at the expense of humanitarian response. New money needs to be found.
While we cannot always be sure where crises will strike, most of the crises we respond to are predictable. According to INFORM, the open-source risk assessment tool, 62 of the 64 countries that launched one or more UN humanitarian appeals over the past decade were ranked among the 100 most at-risk countries. Take the Sahel region as an example: we can safely predict that on average six million children will be acutely malnourished and 20-25 million people will face severe food insecurity each year, with rain or without rain. But this kind of data and risk analysis is under-used in decision-making when it comes to preparedness and mitigation. Forecast-based financing, an approach that uses science and climate knowledge to guide investment in preparedness, is increasingly used within the Red Cross and Red Crescent, in collaboration with key partners. This changes the way we work - across better anticipation and preparedness to early action.
As the World Humanitarian Summit approaches, we have a chance to set the agenda for humanitarian response that better serves people's needs for many years ahead. Let us seize this opportunity to make sure better anticipation, preparedness, risk mitigation and resilience play a central role in enabling people at risk of crises to not only survive, but to thrive.
Stephen O'Brien is the Under-Secretary-General for Humanitarian Affairs and Emergency Relief. Elhadj As Sy is the Secretary-General of the International Federation of Red Cross and Red Crescent Societies.
Calling all HuffPost superfans!
Sign up for membership to become a founding member and help shape HuffPost's next chapter