Having spent a few inspiring weeks visiting with the children and teachers of the Pratham Dallupura Urban Learning Centre (ULC) in a low-income neighborhood on the outskirts of Delhi, I wondered how much it costs to run a center in Delhi and why. I inquired with Mrs. Jaya Bisht, the supervisor of the Pratham ULCs in that area and my guide, asking her to explain to me the usual expenses associated with an ULC.
She told me that the first step in opening an ULC is finding a suitable location. This is done through analyzing where the greatest need is, and where it would have the most benefit. This strategic placement of an ULC helps to use Pratham's resources most effectively. Once the area is identified, rooms are rented as required, with a cluster of three rooms being the maximum.
Rent, which can range from $100 to $150 per month, is one of the biggest expenses in and around the metropolitan areas of India; hence the choice of the location becomes crucial to the long-term viability of Pratham's plans for that area.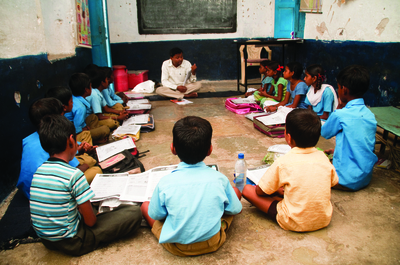 Next, it is necessary to take into account the salary of the hardworking instructors, who are the real saviors as they bear the torch that enlightens many young minds. Pratham provides them with a salary that will sufficiently support them and give them a respectable position in their neighborhood and community. Each teacher receives about $120 a month. In addition, one is appointed supervisor. This person oversees the ULC, manages the curriculum, and gives regularly reports on the progress of the center and the children, for which he or she receives an additional $10 or so per month. The combined salaries of three to four teachers works out to be about $500 per month.
One other expense is electricity, which provides basic lighting, and a fan or two, at around $15 per month. Some Pratham ULCs incorporate technology into their programming. If this is the case, the ULC receives five to six laptops for presentations, videos and enrichment programs designed to supplement the curriculum, particularly in the study of English. Children are also taught the basic functions and operation of a computer.
Note: The above numbers are based upon what the supervisor told me about the ULCs in that area, and may not be useful in analyzing Pratham ULCs in other areas.
Initially, it seemed strange that Pratham's after-school programs that are as basic as the ULCs could need $6,000 or more a year to run. However, as I looked closely at the numbers, I realized that space in Delhi is at a premium, and simple amenities cost a lot over a long period of time.
Also, staff are paid very nominally compared to the value they provide. Computers are a necessity in today's world, and Pratham is really helping these kids advance by teaching them to be functional in the digital age.
Overall, upon doing a quick analysis of the expenses, I think Pratham is doing an excellent job of balancing the available resources among its many ULCs in and around Delhi, and managing its finances in the most efficient way possible.

Of course, my own understanding of Pratham's efficacy is further validated by the evaluations of several researchers and organizations such as MIT's Jameel Poverty Action Lab, which have studied Pratham's operations closely at various locations, and the many international awards and accolades Pratham has received over the years.
By Divya Walia, a senior at The Hockaday School in Dallas, TX and National Co-Chair of the Pratham Readathon, a program that encourages children in the US to read while simultaneously fundraising to improve education for impoverished children in India.
REAL LIFE. REAL NEWS. REAL VOICES.
Help us tell more of the stories that matter from voices that too often remain unheard.