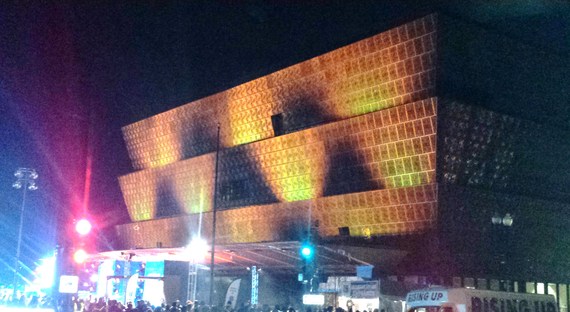 The countdown to the grand opening of the National Museum of African American History and Culture (NMAAHC) in D.C. began on November 16 in a three-day event that featured performances by Grammy award-winning R&B and gospel vocalist BeBe Winans; pianist, composer and conductor Darin Atwater and his 55-member Soulful Symphony; and the Heritage Signature Chorale directed by Stanley J. Thurston. Actor Erik Todd Dellums served as master of ceremonies. The program also included readings of works by poets Robert Hayden and Margaret Walker and the writings of historical figures such as Ella Baker, Frederick Douglass, William Lloyd Garrison and others.
Three annual anniversaries were commemorated: the 150th anniversary of the end of the Civil War; the ratification of the Constitution's 13th Amendment ending slavery; and the 50th anniversary of the Voting Rights Act.
"I think the museum tells a powerful story. Having a museum like this as a six-year-old would have been great," said D.C. resident Sylvea Hollis.
"We traveled from Brooklyn for this," said Sonja Neill-Turner, who was there with her son, Chase, and a college friend. "It is an important moment for the nation."
The most prominent feature of the 400,000 square-foot museum's design is the bronze corona, which was inspired by the Yoruban Caryatid, a traditional wooden column that features a crown or corona at its top.
"This building is an homage to the fact that so much of our history is hidden in plain sight," said Lonnie Bunch, director of the Smithsonian's NMAAHC.
On the night of the celebration, the south and west exterior façades were transformed into five-story-tall, one-block-long 3-D canvases that showed an eight-minute film of historic images related to slavery, abolition and the Reconstruction, the Civil War and the civil rights era.
"The museum broke ground on February 22, 2012. In the next 10 months the interior will be finished. September 16, doors will be opened to the public," said Kurin. He acknowledged that some said that the history and culture of African Americans has been forgotten on the National Mall, and spoke candidly about past prejudices toward African Americans.
"The first head of the Smithsonian would not let Frederick Douglas speak at the Smithsonian...Even decades ago, the idea of a museum documenting the African American experience was killed in Congress," he said. "Yet now, portraits of accomplished African Americans now grace our national portrait gallery."
Those present also included Secretary of the Smithsonian Institution, David J. Skorton; mayor of D.C. Muriel Bowser, congressional delegate to the United States Congress, and congresswoman Eleanor Holmes Norton (D-D.C.).
"When we open the building next year, it belongs to the world. But tonight it belongs to Washington, D.C.," said Bunch in his closing remarks.
Calling all HuffPost superfans!
Sign up for membership to become a founding member and help shape HuffPost's next chapter