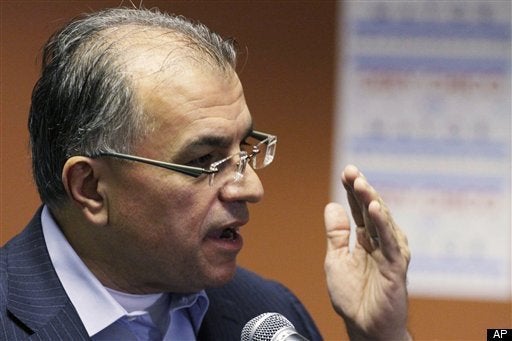 Down to 26 days remaining until the city elections, and we're back at you with the day's news. The first ballots will start coming in next week, and the candidates are trading body blows before Round 1 begins.
Stay tuned to HuffPost Chicago from now until February 22 for "The Countdown," a daily roundup of election news, gossip and other fun tidbits. You can also sign up to receive "The Countdown" via email daily by checking the "Chicago Brief" box here.
Already made up your mind about the mayor's race? Know who you want to back for alderman? Don't want to have to pay attention to the news cycle (or these delightful updates, for that matter) for the next three weeks? Well, you can cash your chips in early and vote in the city elections starting next Monday, January 31.
Locations will be open Monday through Saturday, 9 a.m. to 5 p.m., every day between now and February 17 (except for President's Day, Friday, Feb 11). From the Board of Elections: "Ballots cast in Early Voting are final. After casting ballots in Early Voting, voters may not return to amend, change or undo a ballot for any reason. It is a felony to vote more than once -- or to attempt to vote more than once -- in the same election."
CHICO HARPS ON THE "RAHM TAX"
Gery Chico is hoping to score some points against the race's front-runner / heir-apparent, Rahm Emanuel, before those early ballots start coming in. At a barbershop in Hyde Park, Chico had some harsh words for the former White House Chief of Staff's revenue plan, which would include a tax on a wide range of services. From a Chico press release:
"Need a plumber? Pay the Rahm Tax. Need a taxi? Pay the Rahm Tax. Need to park your car? Pay the Rahm Tax," Gery Chico said. "If Rahm Emanuel gets his way, we will all pay the Rahm Tax."

The Rahm Tax could be a nine percent increase on everyday services, including things families rely on a daily basis like barber shops, car repair, home repairs, plumbing, laundry, bowling and movie tickets. The Rahm Tax would also hurt small businesses and kill jobs by creating a massive new burden on employers.

The speech may have won over some barber shop owners, but it's not actually true. A Chicago for Emanuel spokesman reached out to HuffPost Chicago and pointed out that Rahm's tax plan would not put any extra tax burden on barber shops or haircut services.
Turns out, we weren't the only people who thought that Miguel del Valle had by far the best performance at last night's mayoral debate. NBC Chicago came out with a "scorecard" of the debate: Miguel pulled down an A, Chico got a B, Emanuel scored a C, and Carol Moseley Braun came in last in their estimation with a C-.
We can't help but agree with first and last place: Carol was all over the map, boasting about herself and her failed small business while addressing few if any specifics about how she'd make the city better. If that kind of performance deserves a C-, then grade inflation really is a problem.
While Moseley Braun was meandering, Miguel del Valle was making a strong case for a little more media attention. The cash-strapped underdog is hoping to force his way into the conversation with his strong reform message and grass-roots organization, and his command performance at the debate could help him do just that.
We had a long interview with del Valle today, in which he talked about his political background and addressed a number of the issues that are on the minds of everyday Chicagoans. We'll have the full conversation next week, but here's a little teaser: del Valle's reaction to the decision that Jon Burge would continue to receive his pension despite his conviction for lying about torturing suspects.
"I thought it was a terrible decision, a terrible decision. Awful, awful, awful. I think it sends the wrong message. There are a lot of people who lost their pension -- you've got a governor in jail who lost his pension, a governor of the state of Illinois. For this man to keep his pension after what he did... I think the individuals who voted for that made a big mistake."
Stay posted for the rest of that interview, and more tidbits from the mayoral race.
If you have any juicy gossip about the Chicago elections, or a story you think we should see, send us an email at chicago@huffingtonpost.com.

Calling all HuffPost superfans!
Sign up for membership to become a founding member and help shape HuffPost's next chapter