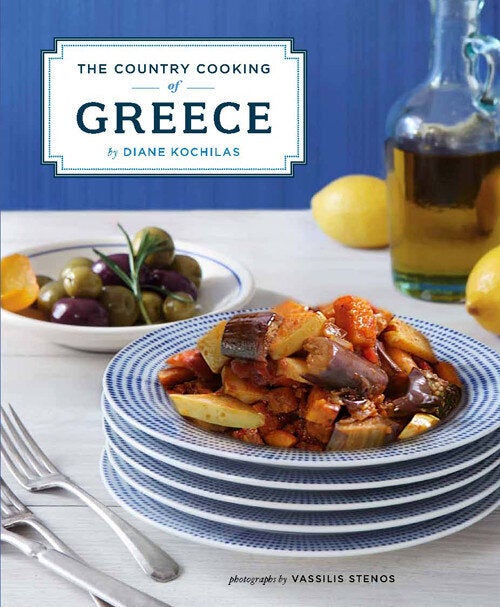 There will always be people who say, "Who needs another cookbook?" But I'm not one of them. Not when something as rich and engaging as Diane Kochilas's The Country Cooking of Greece comes along. I do agree that we've probably had our fill of manuals, "how to" instructions on everything from baking bread to boiling eggs, though a new trick from Cook's Illustrated could easily prove me wrong.
Nevertheless, the cookbooks this food writer treasures are those that open windows onto a culture, give us insights into a society and its customs, slip us palatable nuggets of history, and generally celebrate all the ingredients that make up that complex and multilayered subject, a national cuisine.
Diane Kochilas is a master at this. Ever since her first book, The Food and Wine of Greece came out in 1993, she has explored the various threads of Greek cooking -- whether its vegetarian dishes, meze tradition, ethnic influences, or regional specialties -- in depth and with love. In fact, I thought that with her Glorious Foods of Greece, a superlative collection of lore and recipes from the country's 11 regions, she had exhausted the subject.
Not at all. In The Country Cooking of Greece, published in 2012 by Chronicle Books as part of a series that includes Italy, France and Ireland, Kochilas delivers new material with her customary aplomb, knowledge, and enthusiasm. The book, 380 pages of recipes and photographs, is one that some might be tempted to leave on the coffee table, because it is both beautiful to look at and eminently readable, but its more than 200 original, mouth-watering recipes that demand to be brought into the kitchen.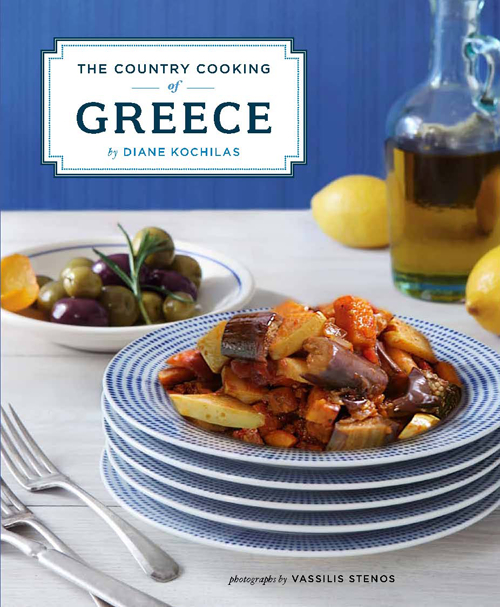 These are collected under 17 headings, with one- or two-page introductions, which in turn are broken up by short essays on Greek products from lemons to olive oil to saffron; the regions, from Thrace to Mani and the Aegean to the Ionian; and aspects of Greek life, such as farmers' markets, beekeeping, Easter and much more. In addition, each recipe is prefaced by a description of where it is found, how it evolved and who makes it, which gives a reader hungry for more than food a deeper appreciation of its significance, while whetting the appetite.
Consider this "word on Greek lemons":
Greece is a country filled with lemon trees -- big, generous trees that bear big, generous fruit with thick, oily, perfumed skin at least twice a year. The aroma of lemons -- the fruit, the blossoms, even the leaves -- fills the Greek kitchen and the national psyche. There is a famous passage in Nikos Kazantzakis's Report to Greco, where he describes the arrival of the mountain-dwelling grandfather, who brings a gift of roasted suckling pig wrapped in lemon leaves, the aroma of which pervades every corner of the living room.
Kochilas goes on to detail the way in which Greeks use lemons, "squeezing them over nearly everything," so that in just two paragraphs we have a clear picture of a very characteristic idiosyncrasy. Her every comment is infused with affection, without being trite, as in "Greeks like their salads clean and simple... the better to let the flavor of the country's excellent vegetables sparkle."
But she also allows a personal flavor to enrich the text. This is not simply the voice of an expert social anthropologist/food historian; Kochilas gives us a look at her own background -- as a Greek-American from New York and as a member of a family intimately rooted in the island of Ikaria, where she runs a cooking school and picks vegetables from her garden. Ikaria is in the Blue Zone, where people refuse to die, according to the New York Times article; so it seems to me dishes from there might well possess a soupçon of the elixir of life.
Altogether, the recipes show off a variety and complexity that even a philhellene who knows the classics may not have suspected. Yes, you will find moussaka, but it will be made with pumpkin and sweet potato or artichokes with caramelized onions and feta; garlic sauce (skordalia) is mixed with walnuts, chestnuts or fava beans rather than bread; tomatoes are stuffed with octopus and octopus braised with quince. In fact, there are several unusual pairings of, say, quince and sweet potato with eggplant; chestnuts with salt cod; walnut fritters with bread and potato. But there are countless more "typical" combinations and, as Kochilas says, such unfamiliar dishes speak volumes about the frugality, imagination and resourcefulness of generations of Greek women trying to feed their families on what the seasons and the land had to offer, frequently in times of hardship.
On the other hand, there is nothing remotely "hard up" about these recipes, which have me debating which to try next. The chicken stuffed with figs and green olives sounds a winner, but what about ouzo-glazed duck with honey and orange juice from Macedonia, or pistachio-crusted feta saganaki (fried cheese)? I'll have to wait for fresh vine leaves before I prepare a velouté soup with them, but pasta with yogurt and caramelized onions from Kassos can be made any time, and giant beans baked with roasted peppers and pastourma sounds perfect for a winter day.
In short, this is a cookbook for all seasons, with plenty of fodder for both vegetarians and carnivores. And being a chef as well as a writer -- Kochilas is a consultant at four U.S. restaurants -- she has performed some discreet tweaking on certain recipes, whether modifying ingredients for American shoppers or streamlining procedures. Some dishes emerge more sophisticated than the originals -- we will probably never be able to replicate the experience of fish soup boiled in sea water -- but they always remain true to the Greek ideals of straightforward tastes, freshness, and of food that "goes beyond mere nourishment."
The Country Cooking of Greece is also a wonderful antidote to any current notions of Greece as a sad, crisis-plagued state riddled with scandals and debts. These recipes and their stories are a testimony to Greek resilience, ingenuity, and kefi (joie de vivre) as well as Kochilas's meraki (dedication and flair). As for the photos by Vassilis Stenos, they portray a rustic Greece quite different from the tourist posters, with appetizing renderings of the dishes and quite "ordinary" scenes -- of a vegetable stand, a fishing caique, or a woman rolling pastry, for example, that seem deliberately unromanticized.
My only criticism of the book is that the texts that introduce each chapter are printed in baby blue on a dark blue background and practically impossible to read. And that it was "manufactured" in China.
The Country Cooking of Greece is available from www.amazon.com and major bookshops. Anyone seeking a guide to the basics of Greek cooking will do well to start with Diane Kochilas's Food and Wine of Greece.
Related