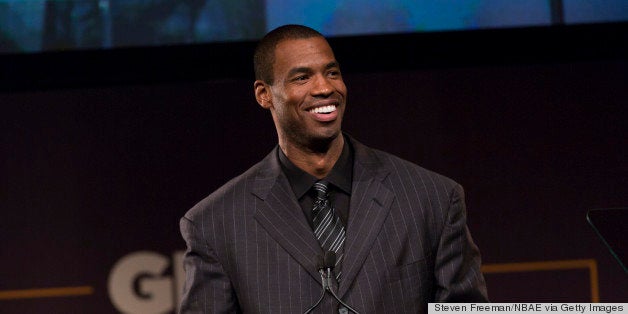 For me, the adjective "brave" has always brought to mind images of police officers, firefighters, military personnel and others who react heroically to extraordinary challenges. When NBA player Jason Collins recently revealed that he is gay, he was lauded in the media for his bravery. This perplexed more than a few people on the right. While hardly perplexed, I suppose I'd never really pondered the amount of courage it takes, even in this day and age, to come out of the closet. And it does take more than a fair amount.
Though there is something profoundly liberating about finally being able to admit the truth about who you are, there is a substantial element of self-preservation surrounding staying in the closet. After all, you are never quite sure how your family and friends will react to the news that you are gay. For a public figure, admitting to being gay can potentially be a career killer. But that's just the tip of the iceberg. For anyone, coming out of the closet and deciding to live as an openly gay individual, regardless of what it entails for you personally, is tantamount to asking for all sorts of judgment, vilification and self-doubt. In the case of Jason Collins, right after his coming-out piece in Sports Illustrated, along with an immense amount of support, he received more than his share of condemnation. Matt Barber, Vice President of Liberty (University) Counsel Action, tweeted:
When will thefirst brave athlete "come out" & acknowledge that he's a sadomasochist? Weneed role models for BDSM kids!Courage!

— Matt Barber (@jmattbarber) April 30, 2013
As perverse and offensive as that is, it was one of the milder reactions. Collins also received such venomous tweets as:
"Yous a dead f****t talkn on tv Boy."
"Listening to Jason Collins describe his gayness as 'beautiful' makes me wanna puke. And kill him."
"Jason collins comes out the closet! Kill that biiitttchhhh!!!"
"First jason collins say he gay.. Now he on espn w lipgloss on kill him now !!!"
"Jason Collins should get the death penalty lol how u a 7 foot gay dude lol the west is crazy smh"
The stark realization that there are people (not many of whom are English majors, apparently) who think that you deserve to die simply because you are gay never fully loses its shock value. Over the years I have become accustomed to detaching myself from such nonsense. If you allow it to, hate rhetoric will eat you alive. However, it's virtually impossible to dismiss hate when it escalates into physical violence. One of the reasons I've loved living in New York City is that it was always such an easy place to be gay, and it still is. Unfortunately, it's become a little less easy thanks to a recent spike in anti-gay assaults. So far this month alone, there have been nine reported attacks on gay men in the city. One was so brutal that, as a result, the victim had to undergo eye surgery. And in the early morning hours of Saturday, May 18, a young man named Mark Carson was shot and killed by an assailant who allegedly shouted anti-gay slurs at him in my neighborhood, Greenwich Village, which is often considered the cradle of the gay rights movement. It's frightening, and it's unacceptable.
Anti-gay organizations like the American Family Association, the Family Research Council and the National Organization for Marriage, which bristle at being categorized as hate groups, are in complete denial if they truly fail to understand that their relentless slandering of gay people can inevitably incite reactive violence against the gay community. However, as they continue to learn, it's extremely difficult to intimidate a group of people who have battled tremendous adversity to come as far as we have, and we are far from giving up what we have accomplished and what we have yet to achieve: full equality. With the courage of our convictions, the bravery to keep coming out and the truth on our side, we can only succeed.
REAL LIFE. REAL NEWS. REAL VOICES.
Help us tell more of the stories that matter from voices that too often remain unheard.