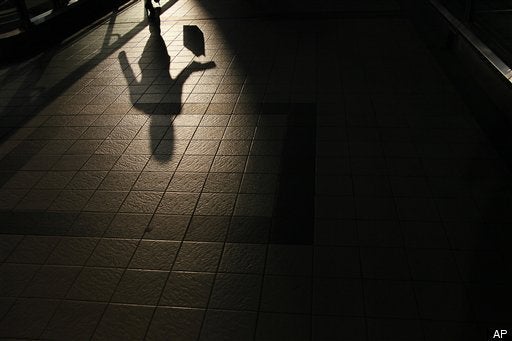 On Monday, when the Dow was up about 127 points during the stock market's first trading session of the year, a co-owner of one of New York City's Italian restaurants got a call from his stockbroker. "You gotta get in," the restaurateur was told. "The worst is over; this market could go the moon."
Even the media is caught up in this moon-bound euphoria, with one commentator on Bloomberg TV recently declaring "we're off to the races." Another commentator from the Fox Business Network took it one step further, asserting that "anyone who stays on the sidelines is a fool."
Who knows? Maybe they're right and the nightmare is over -- which seems highly questionable -- but the broker's rosy pitch to his client was devoid of any cautionary words, the restaurateur told me. Totally ignored were the lingering affects of the vicious $12 trillion hit that the balance sheets of U.S. households took between late 2007 and early 2009, reflecting a biting recession and the concurrent crashes in the stock and housing markets. Likewise missing in the broker's sales pitch was any mention of a bevy of risks that still abound.
It was as though the brutal 2007-2009 period was a figment of someone's imagination, an unreal turn of events reminiscent of the plot of the 1959 film On The Beach, where the residents of Australia, following a global nuclear war, must come to grips with the fact that all life will end in a matter of months from radiation poisoning.
Still, the masses, namely the army of retail investors, are starting to get swayed by the media's bullish blitz, signs of a peppier economy and rebounding equity prices (as seen by double-digit gains in 2010's major stock indices, topped off by a 20% rise in the last four months of the year, and a rising trend in early 2011).
Investors are by no means rushing headlong into stocks again. But the word from the brokerage community is that the masses are starting to get their feet wet again; likewise their fears are showing signs of diminishing and the expectations in some quarters are that U.S. stock mutual funds, after a recent drout, could see inflows this month of between $1.5-$3 billion.
Numbers from West Coast liquidity tracker TrimTabs Research clearly show less investor fear, with U.S equity fund outflows declining from $16 billion in August to $6 billion in November and down again to $1 billion last month.
If you're one of those investors ready to take the plunge, a word of caution from one incisive market watcher, Olivier Garret, the CEO of Casey Research, an international advisory firm in Stowe, Vt., that provides financial and investment analysis to some 40,000 moderate and high net worth clients in more than 150 countries around the globe. His basic message: Watch out! These are dangerous times and too many things could go wrong.
In other words, there are still plenty of lurking nightmares out there.
Garret, in sharp contrast to the bullish sentiment sweeping Wall Street, but by no means a doomsayer, lays out the ingredients for what he expects could spur an inevitable market crash this year. In effect, he's anticipating, he tells me, "bad events," among them the collapse of both Spain and California, a bashing of the bond market, with yields rising 100 basis points or maybe more, the very real chance we could see a wave of defaults among cities, states and municipalities, the likelihood of decreased spending at the consumer and corporate levels, considerably more downward pressure on real estate and the prospects of a substantial rise in inflation because of heavy money printing.
In addition, he says, you can't rule out a possible German split from the European union, which would cause the union to fall apart and lead Greece, Spain and Portugal to all default on their debt. Noting that the European debt crises haven't improved in six months and that the debt to GDP ratios in most European countries (as well as in the U.S) exceed 100%, he believes this situation is more alarming than investors generally realize and could easily blow up again.
Garret also envisions the possibility of a major failure in the financial arena, noting the world's 25 largest financial institutions all have risk profiles, exaggerated by overvalued assets, too much debt and insufficient reserves. He further notes that we're near to the point where various governments, including the U.S., which is spending $1.5 trillion more than it earns, will not bail out the financials because they themselves have too much debt.
Still, taking note of our economic recovery, Garret sees two plausible market scenarios in 2011 -- either a 5%-10% gain in stock prices, assuming no major shocks, or a 20% to 50% decline, with the Dow conceivably falling to around 6,000. In any event, Garret says "we don't think we can go through another year without a crash."
The anticipation in the market is for good news, but a more realistic expectation, he says, would be bad news, which is why Garret is convinced "we could experience a swift, violent downward reaction at any time."
So how does one protect themselves against a 2011 crash? He's especially gung-ho on commodities, largely because of increasing demand from China and India. His best bets: precious metals, notably gold and silver, plus energy and agricultural companies. Likewise, he says, "I would hold a lot of cash."

What do you think? E-mail me at Dandordan@aol.com
Popular in the Community