"The Crash Reel" shows us that it's time we learned to Love Our Brains
"The Crash Reel" is a new documentary that premiered as Opening Night film at Sundance and has won awards all over starting with the South By Southwest Audience Award. It's about American champion snowboarder Kevin Pearce - the thrills of his intense rivalry with Shaun White that almost took him to Olympic gold, and the spills of his life-changing crash on Dec 31st 2009 that left him with a severe Traumatic Brain Injury (TBI). The film isn't an advocacy/issue kind of a film. It's a compelling narrative kind of nonfiction with twists and turns and emotion that'll suck you in for an hour and a half and stay with you forever. So grab some tissues to watch when it premieres tonight on HBO at 9pm/8c.
However, in making this movie, we were so shocked at what we learned about Traumatic Brain Injury and about safety in extreme sports that we launched a campaign called #LoveYourBrain which comprises a range of initiatives designed to address the serious gaps we observed.
1. Do you know what to do when you hit your head?
We were shocked that even pro athletes don't know what to do when they hit their head, despite doing it a lot. The message about concussion awareness is getting through to school-based coached sports like football, but if there's no coach around, how do you know how to tell whether or not to go see a doctor? You might remember the tragic death of actress Natasha Richardson. Our wonderful Assistant Editor on The Crash Reel saved his friend's life because he knew from working on the movie to take him to the hospital immediately. Wow. We were so inspired we created this infographic so please share it to save lives.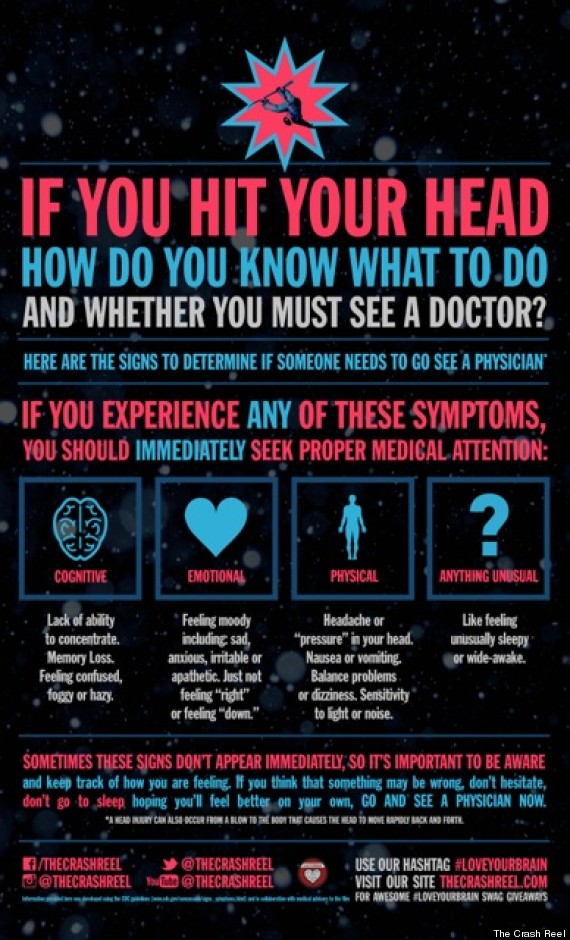 2. Veterans with Traumatic Brain Injury need more help
There are 1.7m Traumatic Brain Injuries (TBIs) in the US every year, and 250-400,000 veterans are returning from Iraq and Afghanistan with TBIs. It's called the "Signature Injury" of these recent wars and it's caused by Improvised Explosive Devices (IEDs). However it's an "invisible injury" usually without visible wounds, so we don't see who is suffering from it. It's also invisible because it's hard to pull apart whether symptoms such as moods or impulsivity are coming from the injury or the person or related challenges like PTSD. So it's famously difficult for the patient and for those around them, and medical help makes a massive difference. Yet right now in California there is a 600-day wait for veterans to get their first medical appointment. This is a scandal and it needs to be improved. Meantime we want to get copies of @TheCrashReel to every veteran and every rehab facility along with special DVD extras that help inspire and inform TBI survivors.
3. Helmets today are like seatbelts fifty years ago - life-saving, and it's time to buckle up
Here's what Kevin Pearce says about helmets: "Question: What do you say to those the old-schoolers who won't wear a helmet? KP: I think it's a joke. I think if they knew what it was like to go through a brain injury or realized what can happen they would wear one. Tell them they are idiots. Tell them to live a day in my shoes." Neurologists joke that young people are effectively brain-injured because their frontal lobes, the sensible judgement and planning department of the brain, hasn't developed fully yet, and less than 50% of 18-25-year-olds wear helmets. So we partnered with mountain resorts to pilot a #loveyourbrain discount scheme which incentivizes helmet use by giving discounted lift tickets to those wearing a helmet. Because young brains don't like being told what to do, but they do like discounts. Please commit to #LoveYourBrain by taking our Helmet Pledge here.
4. We all need health insurance, and the right kind of health insurance, even extreme sports stars
It breaks our hearts to hear about families who need help with medical costs because an injured loved one is under-insured. Working on the film we couldn't believe that despite the extreme risk of catastrophic injury, paralysis or death, many pro athletes don't have any health insurance, and don't even think they need it. There's a misperception that it's cheaper to pay bills as you go. Hopefully with Obamacare a lack of insurance will be less of an issue. But having the right kind of coverage is also imperative. Kevin learned the expensive way that he wasn't adequately covered for outpatient or rehab costs. Do you know if you're specifically covered for the activities you enjoy, and for the kind of medical help you might need?
5. We need honesty in extreme sports
Many athletes' sponsorship contracts forbid them from discussing any injuries. Watching people getting hurt may have a long history in entertainment (Greek tragedies, Roman gladiators). But where is the line? Nobody wants the X Games to be too much like The Hunger Games. Kevin wants athletes to be aware of the risks they are running. He'd never heard of a Traumatic Brain Injury before being nearly killed by one. The stakes are high, but the ignorance shouldn't be. This past January we were invited to be the first ever movie to screen at the X Games. Then a snowmobiler Caleb Moore was killed in action a couple of days later. We didn't want the movie to be topical and prescient. Statistics are hard to come by, but at least 11 action sports stars were killed in 2011. It's even harder to know how many more young people have been inspired to try stunts at home and been hurt or killed. After our screening at the X Games, one athlete got up and asked "what is our responsibility to ourselves, to one another, and to the kids who look up to us?". We applaud that question and want the sponsors and contest organizers and athletes to step up to lead the conversation about what can be done to protect athletes. Basic steps must be taken such as mandating helmet use and adequate insurance. We applaud the X Games for asking whether athletes are adequately insured, however organizers also need to follow up as athletes have told us that it's too easy to lie in answer to this question.
6. The conversation about safety needs to be keeping pace with the evolution in extreme sports
We all want more kids to be doing sports. But none of us want tragic consequences. Where's the balance? In recent years the half-pipe has been raised from 6' to 22' high, and athletes do tricks 20' above that. So kids are flying at 30mph over 40' in the air in variable weather conditions above hard ice in helmets that are only designed to help at speeds of up to 17mph. That's just in the half-pipe. There hasn't been a fatality yet in MegaRampTM skateboarding, but it looks like it's configured to result in just exactly that and it's just a matter of time. Athletes will push themselves to the limits. What should the limits be? How should these sports be configured? Don't ask me. I'm a filmmaker. But when athletes such as the supremely talented and pioneering Sarah Burke are getting killed, I want to know who is having that conversation about safety. There's a lot of glory and contest and sponsorship money as well as the passion for the sports. As well as the marketing of the passion for the sports. This is big business. And young people's lives. We ask that everyone takes the responsibility that befits the athletes' lives being in their hands.
These are my personal reflections. Again, The Crash Reel isn't a policy movie. It's a compelling, enthralling narrative film that happens to be true and gives you front row seats on an incredible drama inside an incredible family. It's about passion and how to live and how to dig deep and accept disability and embrace change and be a family and be an athlete and be an inspiration. And glass-blowing! (Seriously, Kevin's dad Simon Pearce is the world-famous glass-blower). And Down Syndrome (Kevin's brother David has Down Syndrome, or as he prefers to call it, Up Syndrome - and watch out, he steals the show). Please tune in on HBO at 9pm/8c tonight or catch it in theaters opening in December 2013 and visit our website for more about how to get involved with #LoveYourBrain.
REAL LIFE. REAL NEWS. REAL VOICES.
Help us tell more of the stories that matter from voices that too often remain unheard.