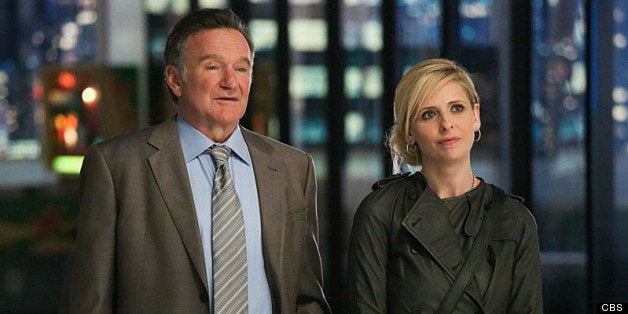 "The Crazy Ones" marks Robin Williams' return to series TV, his first regular gig since "Mork & Mindy" in the late 1970s. The new CBS series also marks Sarah Michelle Gellar's first half-hour TV comedy. The two are joined by co-stars James Wolk, Hamish Linklater, Amanda Setton and Kelly Clarkson appears in the pilot episode.
"The girl can act," Gellar said of Clarkson on CBS's Upfront 2013 red carpet.
"The group of people we have on this show is pretty wild ... They can go one-on-one so it's not like all you riffing. There's a lot of people doing great stuff backing it up. The writing is really great," Williams said.
In the series from David E. Kelley ("Chicago Hope," "The Practice" & "Ally McBeal"), Williams plays ad executive Simon Roberts, who's known for his unique way of thinking. Gellar plays his daughter, Sydney, a fellow executive at the firm.
What drew you to "The Crazy Ones" as your return to TV?
Robin Williams: Initially the script, and then all the people. Working with the people has been amazing.
Sarah Michelle Gellar: I get to be on television with Robin freaking Williams. I mean, hello! I didn't need anything else. And they pay me too, which is great.
Williams: Yeah, and the checks will clear because it's CBS.
Gellar: Yes, exactly!
Sarah, had you been looking for a comedy?
Gellar: Ultimately that is what I wanted to do. To me, some of the greatest parts of "Buffy" were the funny moments. You get to a point where it's like, "You know what? I've cried a lot. I'm ready to be funny."
Why are Sydney and Simon "The Crazy Ones"?
Williams: Literally, it's based on an Apple ad [from] years ago, the one that said, "Here's to the crazy ones." They didn't even have a product. They were just selling the idea of innovation and that's kind of the idea [of the show]. I'm kind of [playing] the idea guy. He's been on everything but skates. He's kind of crazy. When I watched a documentary about [ad] guys -- a lot of them, they live on the edge. All their ideas are outside the envelope, but at the same time, they get the simplest, purest image you can and go primal and in many cases, can go right for our consciousness. So that's what they're doing. [Gellar's] character is basically there to draw the line [while] I'll cross the line.
Sarah, are you the straight man in this dynamic duo?
Williams: Not at all.
Gellar: Hey, you know what? I would be the straight man to him any day. And I would be honored.
Williams: That's a loaded question.
Gellar: Yeah, sorry, I didn't get --
Williams: No, no. It's too late.
Gellar: Too far?
Williams: It's too late. That's the next movie.
Gellar: Just don't tell my husband, OK?
Robin, I loved your Kim Kardashian tweet.
Williams: Thank you! It was literally a response. A friend sent this picture and I said I did [think Mrs. Doubtfire wore it better].
Gellar: I say Robin.
Williams: It's really interesting to wear a couch. When I saw that floral pattern I said, "WOW!" [In "Mrs. Doubtfire" voice] Oh dear, I would know.
Gellar: Was it scotch-guarded too?
Williams: No. Oh God, it was scary. The number of tweets that hit after that and it was just me responding.
Did you like that it was single camera?
Williams: I love that it's a single camera.
Gellar: Well, there's a single camera, which is the Robin camera.
Williams: I have my own.
Gellar: Then there's the camera getting everyone else.
Williams: At home too. It's this weird thing -- it's mounted right here. [Motions to chest.] What is this? Me? The me network?
Gellar: I would watch it, by the way.
Williams: It'd be way beyond an upfront.
"The Crazy Ones" airs on Thursdays at 9 p.m. this fall on CBS.
Click through the gallery below for more new CBS shows.
PHOTO GALLERY
CBS New Shows 2013-2014
Calling all HuffPost superfans!
Sign up for membership to become a founding member and help shape HuffPost's next chapter
BEFORE YOU GO